The public is invited to the virtual MLK Day Celebration hosted by Washtenaw Community College from 3:30-5 p.m. on Thursday, Jan. 13. Join using this Zoom link.
This year's theme of "Beloved Community" is inspired by Rev. Dr. Martin Luther King Jr.'s 1960 message that "our ultimate end must be the creation of the beloved community."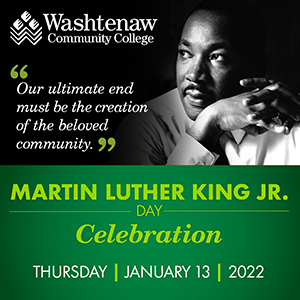 Dr. King envisioned this "beloved community" as a global society based on justice, equal opportunity and love of one's fellow human beings — with racism and all forms of discrimination, prejudice and systematic oppression replaced by an all-inclusive spirit of humanity.
The keynote speaker for the event is Washtenaw County Chief Assistant Prosecutor Victoria Burton-Harris, who is passionate about the relationship between law, social justice and equality. Other speakers will include WCC students and college President Dr. Rose B. Bellanca.
The celebration will also include the announcement of this year's Equity in Action Awards, which recognize WCC employees or a member of the surrounding community that have made outstanding contributions in the areas of equity and inclusion. (Meet past winners: 2021, 2020).
The event is sponsored by WCC's Office of Diversity & Inclusion.