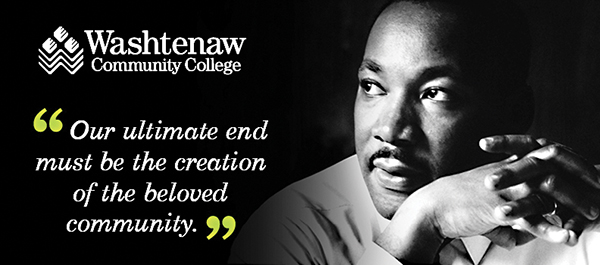 Dr. Martin Luther King Jr.'s legacy of a nonviolent approach to equality for all was honored by Washtenaw Community College in a virtual celebration that united people from all walks of life, including a representative of Congress and a county prosecutor.
U.S. Congresswoman Debbie Dingell and Washtenaw County Chief Assistant Prosecutor Victoria Burton-Harris joined WCC faculty, staff and students along with other members of the community for the virtual event on January 13.
This year's theme was "Beloved Community," a community of love, justice and solidarity for which Dr. Martin Luther King Jr. worked unceasingly. Dr. King popularized this term and emphasized unconditional love and a nonviolent approach to achieve a world in which justice and equity is for all.
"Today, his words are more important than ever," WCC President Dr. Rose B. Bellanca said in her welcome.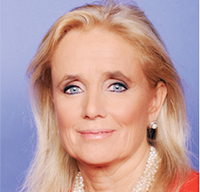 Congresswoman Dingell (right) spoke of the day as a high school student when she met Dr. King, who was giving a speech in Michigan.
She said Dr. King's advocacy and vision forever changed the world and "inspired people across the nation. Today I can't think of a more critical time to take a deep breath. … We are still living in a time of uncertainty and divisiveness," she said.
"As young people, I'm begging all of you today to read Dr. King's words, to learn from his life but to know you've got to help us bring people together," Dingell added.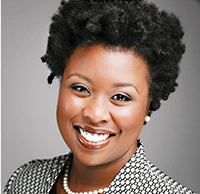 Burton-Harris (right), a champion of reform in the criminal justice system, delivered the keynote address, echoing the power of Dr. King's "love method" of redemption and reconciliation which builds up and unites communities.
"We have an opportunity to change our criminal legal system … expand capacity for empathy, to love ourselves, love our fellow man and build the beloved community we all deserve," Burton-Harris said. "We need to fight for people, all people, to be recognized as human beings and not be defined by a moment in time," Burton-Harris said. "Justice is so precious because it's not guaranteed. We must work for it."
WCC students Joshua Truchan and Jasmine Bryant, both members of the college's Collegiate Recovery Program, shared their personal stories and struggles and how their beloved communities at WCC and other places have supported and encouraged them, and influenced their paths toward helping lift up others.
Truchan, who has completed his nursing program applications, wants to serve vulnerable populations "during these uncertain times. In doing so I will be in a position to care for all members of the community at large with Dr. King's aspirations in mind – to treat one another with love."
Bryant aspires to one day help impressionable youth as a guidance counselor, imparting Dr. King's wisdom to the next generation. "I hope that by showing love, understanding and encouragement to all the young people they may be able to grow with the self-esteem necessary to continue building our beloved community worldwide," she said.

The annual MLK Day Celebration is also the day that WCC honors college employees and community members with Equity in Action awards.
This year's college employee winners are Bayyinah Jackson, Assistant Director of Financial Aid, and Anthony Williamson, Director of College and Career Readiness at the Parkridge Community Center and Harriet Street Center in Ypsilanti.
Jackson was nominated for advocating for being a strong supporter of underrepresented groups and advocating for those students who, due to their social and economic status, may need extra help or accommodations to navigate the financial aid process.
Williamson was nominated for more than 20 years of contributions to the community that "results in uplifting the voices of those who go unheard and providing opportunities for those who go unseen."
The community award was presented to Melvin Parson, executive director of We The People Opportunity Farm in Ypsilanti. He was honored for his mission to break the cycle of incarceration by providing nine-month paid internships at the farm for men and women returning home from incarceration and distributing no-cost food into the community.
Tags: Diversity, January 2022, MLK Day, On The Record