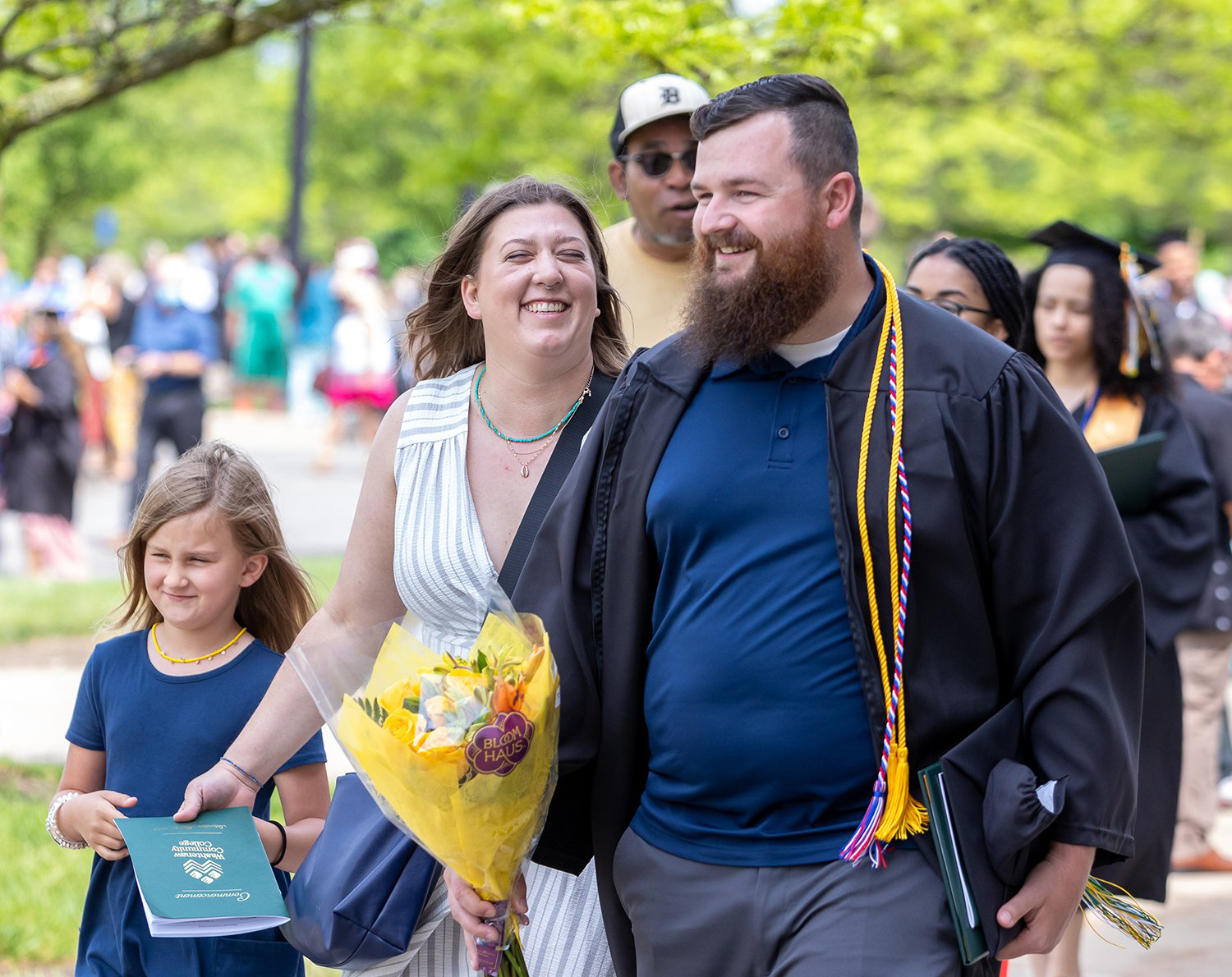 Plenty of individuals hang their hat on the ability to do a job fast and do it right. Recent Washtenaw Community College graduate Austin Mudd took that "fast and right" concept and upgraded it to "accelerated and exceptional."
Dissatisfied with his previous career and "longing for something different in life," the 31-year-old Adrian resident quit his job and enrolled full-time in the Mechatronics program at WCC.
Making such a seismic life change wasn't an easy decision for a man with a wife and two young daughters, but receiving scholarship assistance from the Michigan Reconnect program helped with the financial obstacles.
"I've always wanted to get into the engineering field and found that the Mechatronics program was right up that alley," Mudd said. "My wife (Whittney) and I have made several hard decisions and with every one we've made, our motto was the same: No matter what, we will get through it and it will make our lives better. This decision was no different. We decided what we felt was best for our family and it has proven to be the right decision."
Without the luxury of time to reinvent himself, Mudd set upon an aggressive path to completing the 70 credits required to fill the requirements of the Mechatronics associate degree with an Industrial Electronics Specialty concentration. He finished in just 15 months, a span that included a 19-credit course load in the Summer 2021 semester and 22 more in Fall 2021.
And it turned out that Mudd's high quantity of classes had no impact on the quality of his performance. He earned high honors (3.8+ GPA) in each of his four semesters at WCC and graduated with a 3.95 GPA.
"My only goal was to earn a degree to better myself and my family," Mudd said. "I exceeded that goal by more than I could ever put into words. I did something that I never thought I was capable of doing before now."
Ironically, Mudd didn't have to wait until graduation for his decision to pay off. In mid-January, three months before he received his diploma at the WCC Commencement Ceremony, Mudd was hired as a Project Engineer at Variation Reduction Solutions, Inc., a Plymouth-based engineering services company. He works on the integration of vision systems with robotics and automation in the auto industry.
Mudd, an Army National Guard veteran who served a tour in Iraq as an Aviation Operations Specialist in 2011, credits the WCC Wadhams Veterans Center for helping him stay on track with his academic pursuit. When he started at WCC, he would often sit alone in his vehicle and study between classes before visiting the Veterans Center.
"After my first day in the center, I bonded with several people and that became my second home," he said. "I started spending every day in there, between classes, to work on my computer or just to socialize. The Veterans Center gave me a place where I could go to decompress and stay focused on what was important to me."
Mudd is humble and unassuming when discussing his success, insisting that it wasn't the result of being a gifted student.
"People believe that you have to be smart to get high honors, finish a degree in almost half the time it normally takes, or have a career in this field," he says. "You do not. I do not feel I am a smart person. But I do have critical thinking skills and apply myself to the fullest of my ability, which is what you need."
Tags: Class of 2022, Commencement, Graduation, June 2022, On The Record, Student Profile