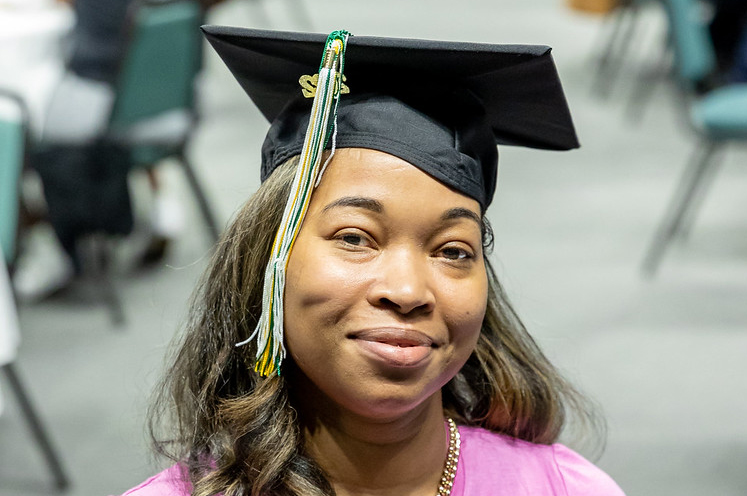 Many Washtenaw Community College students have returned to college with a goal of making a career change. Class of 2022 graduate Bianca Robinson has cycled through an interesting series of career choices herself, all before completing her education.
Robinson was planning for a career in law enforcement while studying Criminology at Eastern Michigan University, but began having second thoughts about that pursuit. So shortly before graduating with her bachelor's degree, she sent off applications that would alter her plan.
One was to the Nursing program at WCC, where she enrolled in 2020.
About one month after starting the nursing program, the Detroit native received notice that another application had been accepted … the one sent to Western Michigan University Thomas M. Cooley Law School.
Already committed to completing her Registered Nursing program, Robinson put law school on hold. For a while, anyway.
She plans to enter the workforce while completing an online Bachelor of Science in Nursing program at Chamberlain College. Once that's complete, she plans to reapply to law school.
"My plan is have my nursing career pay for law school," said Bianca, a member of the WCC chapter of the Phi Theta Kappa honor society. "I really love school, it keeps my mind sharp. I go crazy if I'm not doing something."
Robinson envisions a day when she can wrap the two drastically different fields into one career.
She and her nursing program colleagues closely followed the March 2022 court case that found Tennessee nurse RaDonda Vaught guilty of negligent homicide after administering the wrong medication to a patient, inspiring an interest in representing healthcare workers in similar cases.
Tags: Class of 2022, Commencement, Graduation, June 2022, On The Record, Student Profile