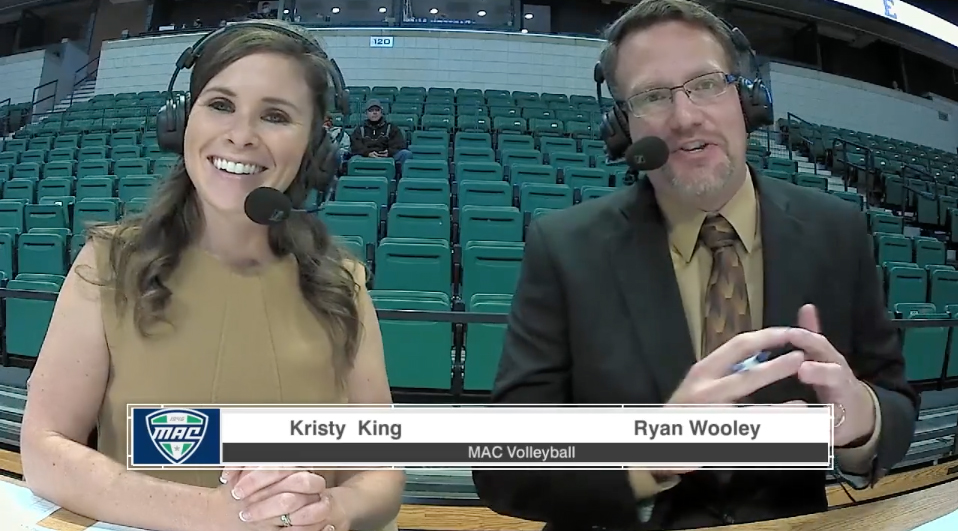 It wasn't a huge surprise when Kristy King won second-place honors in the Michigan Association of Broadcasters' 2022 Student Broadcast Awards. She was, after all, one of eight students statewide to earn a $1,000 scholarship from the organization just one year prior.
What is a bit unusual is that the WCC Broadcast Media Arts student was honored for work done on the campus of Eastern Michigan University.
The award in the Television Sports Announcing category came out of a unique partnership that WCC's Communication, Media & Theater Arts department formed with the EMU Athletic Media Relations Office to place WCC in internship positions on the Eagle Vision production team that broadcasts NCAA athletic events on ESPN3 and ESPN+.
(RELATED: Film Studies graduate wins first-place in MAB radio contest)
Early on, King's work was primarily behind-the-scenes, but she continually earned more opportunities. The MAB award was granted for her color commentary work alongside play-by-play announcer Ryan Wooley during a broadcast of an EMU vs. Ball State volleyball game.
"Kristy took advantage of this amazing opportunity and was promoted to becoming their sideline reporter for many of the games," said Broadcast Media Arts instructor Dena Blair. "Given Kristy's success in the MAB competition, we can see that this partnership is a great success."
King came to WCC to make a career change. Unhappy with a position in sales, she set her sights on becoming a sports sideline reporter.
There's no blueprint for entering that field, so King enrolled in WCC's broadcasting certificate program and supplemented that curriculum by taking electives that would help hone her craft, including Journalism and Communication classes, acting classes from the Drama department and video and photography classes from the Digital Media Arts department.
Outside of the classroom, King signed on as a staff writer for WCC's award-winning student newspaper, The Washtenaw Voice, and got on-camera experience as one of the publication's hosts of "The Week," a student-produced video broadcast. She further refined her oratory skills as an on-air radio host at Orchard Radio, the college's online radio station.
The partnership with EMU's Eagle Vision gave her one more opportunity to gain valuable experience.
"I've really been able to customize my education at WCC to what I want to accomplish," King says. "I'll forever be indebted to and grateful for the instructors at WCC. I'm a huge advocate and can't say enough about them. If anyone wants something there, the instructors will bend over backwards for you."