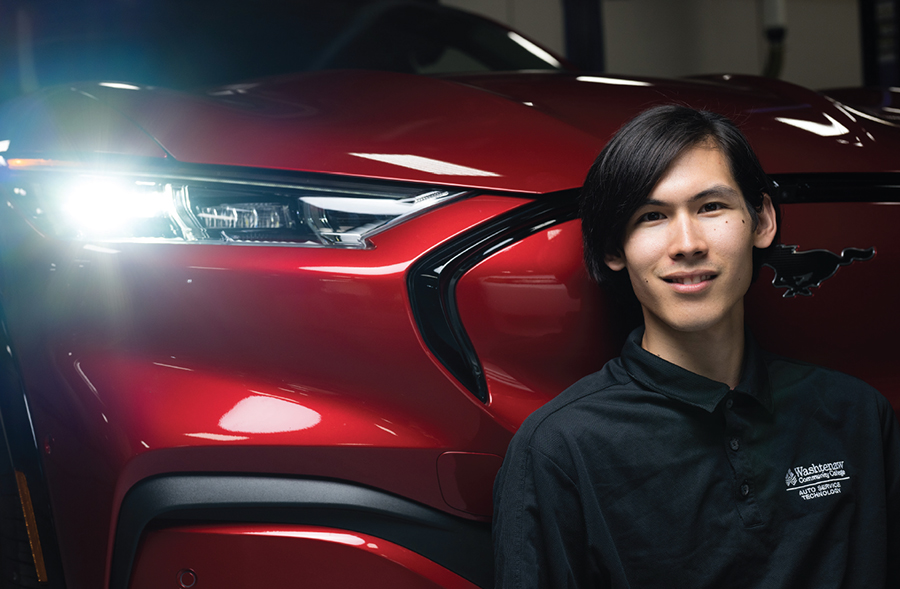 Washtenaw Community College is educating a nimble, highly skilled workforce for the next generation in automated transportation and mobility, and recent graduate Alex Spencer is poised to become one of those new leaders.
Eight years ago, the college established its Advanced Transportation Center (ATC) — the first of its kind among community colleges — to meet rapidly developing needs within the automotive industry.
The same foresight that launched the ATC resulted in the college acquiring a brand new, all-electric Ford Mustang Mach-E last summer. The new EV was added to WCC's cadre of vehicles to teach students on the latest transportation and cybersecurity technologies and to fuel the fast-changing talent pipeline.
Spencer is a recent Phi Theta Kappa Honor Society graduate with an Automotive Test Technician associate degree. His career goal is to lead a team or manage projects related to validation testing, key in integrating software into the next generation of electric and automated vehicles.
"I was always interested in automotive in some form, and WCC has not only given me a lot of opportunities to excel in all things auto but prepared me for the applied or practical side of it," Spencer says.
"If something broke I could always take it apart, but I'd also have to figure out why it broke in the first place. You have to know the cause to be able to correct it, and we talk a lot about that here," says Spencer, pointing to the department's emphasis on the "Three Cs" approach to repairing or improving automotive performance — Concern, Cause, Correction.
Spencer will begin pursuit of a bachelor's degree in Technology Management, with an automotive emphasis, at Eastern Michigan University this fall.
Having previously earned a Transportation Technologies associate degree from WCC, many of his courses required for the four-year degree will transfer thanks to an articulation agreement between the schools, leaving Spencer with about a year's worth of classes left to complete.
"I've taken almost every automotive class (at WCC). From a cost-savings perspective, WCC has helped me fulfill much of the four-year program courses needed but with the reduced tuition rate," he says.
The average cost of one year for a full-time, in-district student at Washtenaw is $2,280, compared to over $13,000 at a public four-year university in the state of Michigan.
WCC's programs to train service technicians offers a solid gateway to many other automotive careers and is especially helpful for those who want to return to college to earn engineering degrees.
"Engineers with hands-on experience are so much more valuable to employers," says Transportation Technologies Department Co-Chair Rocky Roberts.
The disruptive nature of the electric vehicle and electric battery industries will impact education and workforce training. In the past year, WCC received a Michigan Electric Vehicle Job Academy (EV Academy) grant through the Workforce Intelligence Network.
Formerly called the Michigan Revolution on the Electrification of Vehicles (MiREV), the grant will help scale and deliver curriculum and employer outreach, aligning with the governor's priorities to identify current and future training needs of industry partners within the electrification space of mobility.
National and state leaders have called for a significant increase in the production of EVs and public EV charging stations by 2030.
New jobs will include technicians for product development, production, sensors, electric batteries, controls and progressing levels of vehicle automation, as well as for the mainte-nance and customer service of EV systems.
Roberts said that WCC's approach of teaching new technology by incorporating the Mustang Mach-E and its hybrid vehicles sets students apart from their peers. The college also offers a certificate in the highly skilled focus area of automotive cybersecurity, an increasingly critical component of training the next generation of the mobility workforce.
More than 1,000 students are enrolled in WCC's 60 automotive and cybersecurity technologies career pathways and courses at any given time.
WCC's programs and pathways include automotive technology, advanced manufacturing, robotics and mechatronics, cybersecurity, data analytics and business intelligence.
For the past six years, WCC has held a unique role in the Center for Connected and Automated Transportation (CCAT), as the only community college in a coalition of five research universities, led by the Universi-ty of Michigan.
WCC operationalizes the research and knowledge gained from the partnership and applies it to the classroom, arming students with the skills needed to work and thrive in Michigan's automotive, technology and mobility industries.
College President Dr. Rose B. Bellanca delivered a keynote address at the group's Global Symposium held on the U-M campus, also attended by Spencer and other students. WCC will host the 2023 event, which typically attracts several hundred engineers and industry executives, researchers, policy makers and other advanced transportation experts.
---
This story appears in the Fall 2022 edition of Launch magazine. See complete issue.
Tags: Advanced Transportation, Alumni Profile, Automotive, Automotive Services, CCAT, December 2022, Launch, Launch Fall 2022, On The Record, ousearch_News_Launch Magazine