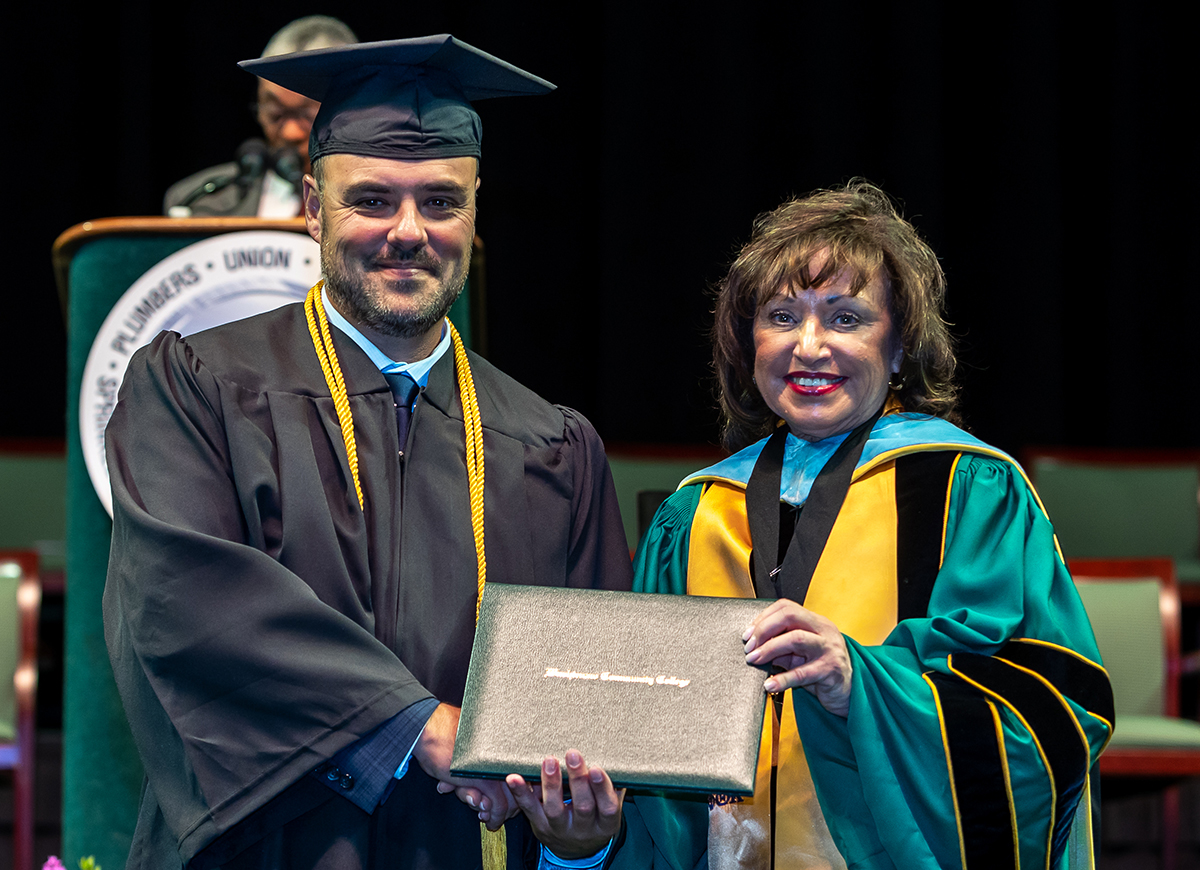 It's been a couple decades coming, but Carlos Rivera's winding path to college graduation makes his new achievement all the sweeter.
At 42, Rivera earned an associate degree in Industrial Training from Washtenaw Community College and proudly added a Phi Theta Kappa Honor Society sash and medal to his graduation gown for this week's ceremony.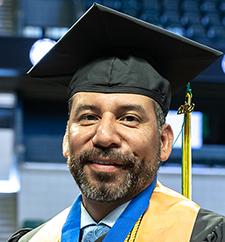 "The sky's the limit now. … I've wanted to do this since I was young, but after high school I didn't have the opportunity to go to college," said Rivera (right), who is the first person in his family to earn a college degree.
He started working with a furniture company a week after graduating from high school in Colorado and eventually became a pipefitter. He has been working at his trade for 18 years and is a United Association member with Local 208.
Rivera, who lives in Denver, has traveled to WCC's campus many times over the years as part of his five-year commitment with the UA Instructor Training Program (ITP). He earned his ITP certificate in 2017.
This week he was among the more than 200 UA members to walk across the stage to receive either an ITP Certificate, a WCC associate degree or, in some cases — like Clint Muller of Washington, D.C., — both.
In all, WCC added 47 new alumni to its ranks — all members of the United Association of Plumbers and Pipefitters. These new graduates earned credits toward their associate degree through intensive ITP required courses, some of which are taught by WCC faculty members, as well as enrolling in extra WCC online courses.
"It's been a lot of hard work," said Muller, 48, an HVAC fitter and member of Local 602, who earned his associate degree in Applied Science. "I'm older and I knew I had a lot to do, so I put my nose to the ground and now I'm finally able to look up and around."
Muller is already exploring WCC's many transfer programs with four-year colleges and universities to continue his education and earn a bachelor's degree.
Rivera said he was inspired to pursue his associate after seeing his UA brothers and sisters accept their diplomas from WCC President Dr. Rose B. Bellanca. He dedicated himself over the past year to earning the remaining credits needed to complete his degree so that he could travel back to Ann Arbor and walk across the stage on Thursday.
"I buckled down and got it all done in eight months, including some accelerated classes. It was tough to get used to managing my time – my day job, my welding instructor job, family and school." After getting one B in his first class, sociology, Rivera, earned all As and a place in the honor society.
His favorite classes were English and Communication, boosting his skills and confidence in "making proposals and writing proper letters."
In addition to WCC's President Bellanca, Thursday's ceremony featured remarks from United Association General President Mark McManus and others.
"When our row got up, I was sweating and I had goosebumps. I was way more nervous than what I thought I would have been," Muller said. "I have a lot of certificates in my line of work and teach at my local union, and you try to downplay it, but actually I was a bit nervous. It was important. It was a very official ceremony that lived up to the amount of work I put into it."
Tags: Alumni, Graduation, On The Record, September 2022, United Association