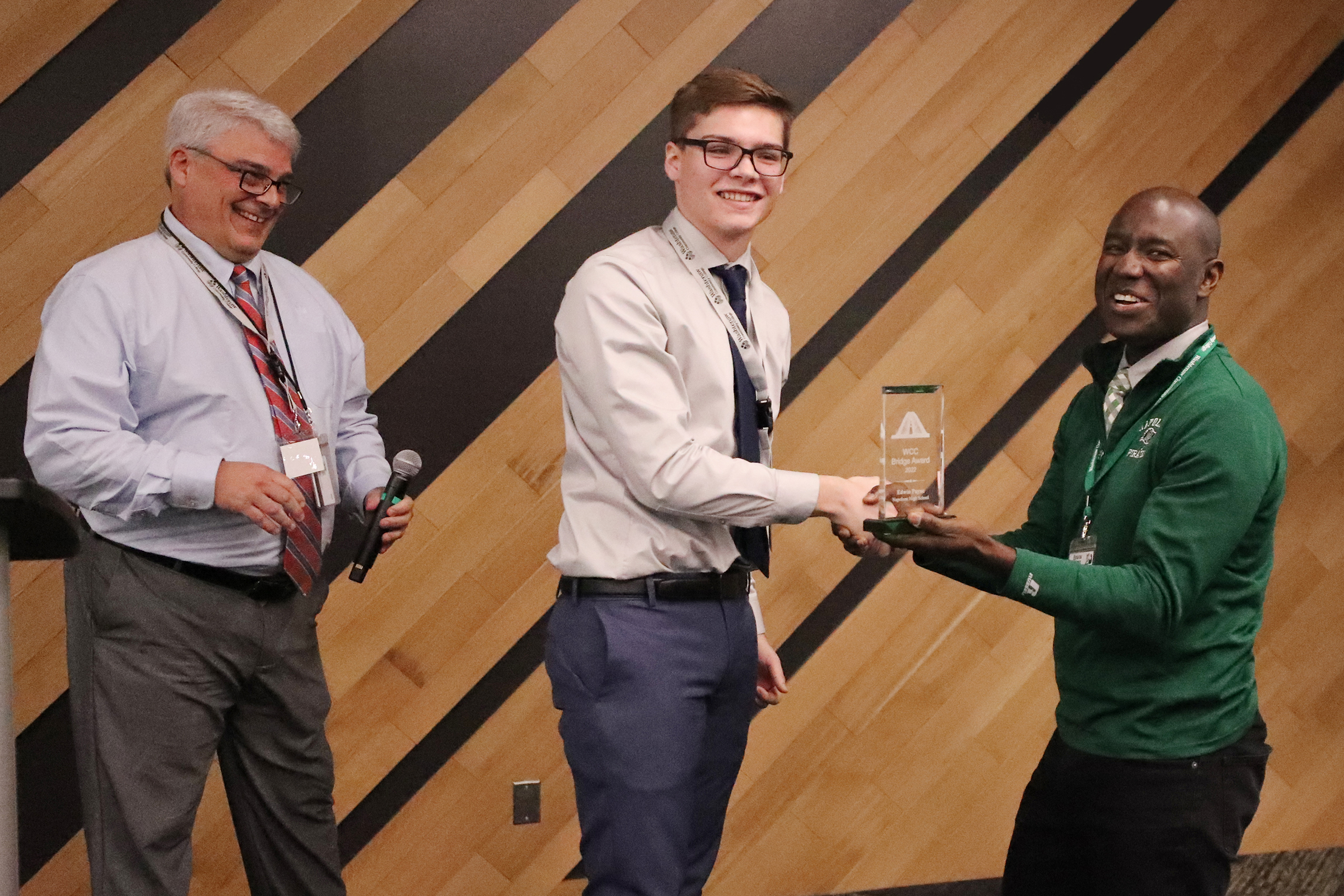 For the fourth consecutive year, an influential high school staff member received the WCC Bridge Award for exceptional dedication to helping students "bridge the gap from high school to college."
Napoleon High School counselor Edwin Payne was presented the award at this year's High School Partner's Breakfast on December 9. Payne was nominated for the accolade by WCC freshman Zachary Spencer.
Payne began working at NHS in 2018. He is highly credentialed and has an abundance of experiences that he uses in his work with high schoolers. Payne holds a Master's degree in Counseling Psychology from Lincoln Christian Seminary, a Bachelor's degree in Family Life Ministry from Lincoln Christian College, and has work experiences in both the public and private sectors, including the Michigan State University Counseling Center and the Jackson County Department of Human Services.
Payne has specific training in the areas of suicide prevention, group crisis intervention and child welfare.
"I am a strong believer that we all have gifts and talents that we are meant to share with others," Payne said. "To WCC, thank you for giving this award out, and giving students the opportunity to reflect on their experiences, and for our counselors to reflect on the work we've done as well."
Payne is an excellent representation of Napoleon Community Schools' motto, "Proudly charting the road to success."
In his nomination essay, Spencer shared how he had struggled in his past and didn't see the future he has now as a possibility.
"I would have never gone to college without Mr. Payne. He changed my life from getting me sober, pushing me to secondary education and making healthier friend groups. He has changed me and my life and there is nothing I can do to repay him," Spencer noted. "I really hope to see him receive this award in hopes others at my school will hear and talk to him as well. He made such an impact on me, that I hope others can change their ways too, because of him."
Spencer graduated from Napoleon High School in 2021, and has plans to transfer to Grand Valley State University.
"I have four older siblings who did not go to college," said Spencer. "Now, I'm on course to completing my Bachelor's in Psychology."
At the hybrid event, Spencer bravely took to the stage, in front of a crowd with nearly 70 guests attending in-person and 25 virtually, and delivered a heartwarming story as he took on public speaking for the very first time.
"WCC is only the beginning. I hope other students are affected by you as I was," Spencer said as he concluded his speech and the entire room stood to give his nominee a standing ovation, a clear reflection of our gratitude for all the hard work done by WCC's High School Partners.
Previous WCC Bridge Award Winners
2021 — Michelle Monahan, Saline High School
2020 — Heidi Kutzley, Clinton High School
2019 — Caitlin Van Cleve, Huron High School
Tags: Awards, December 2022, High School Partners Breakfast, On The Record, WCC Bridge Award, high school counselors