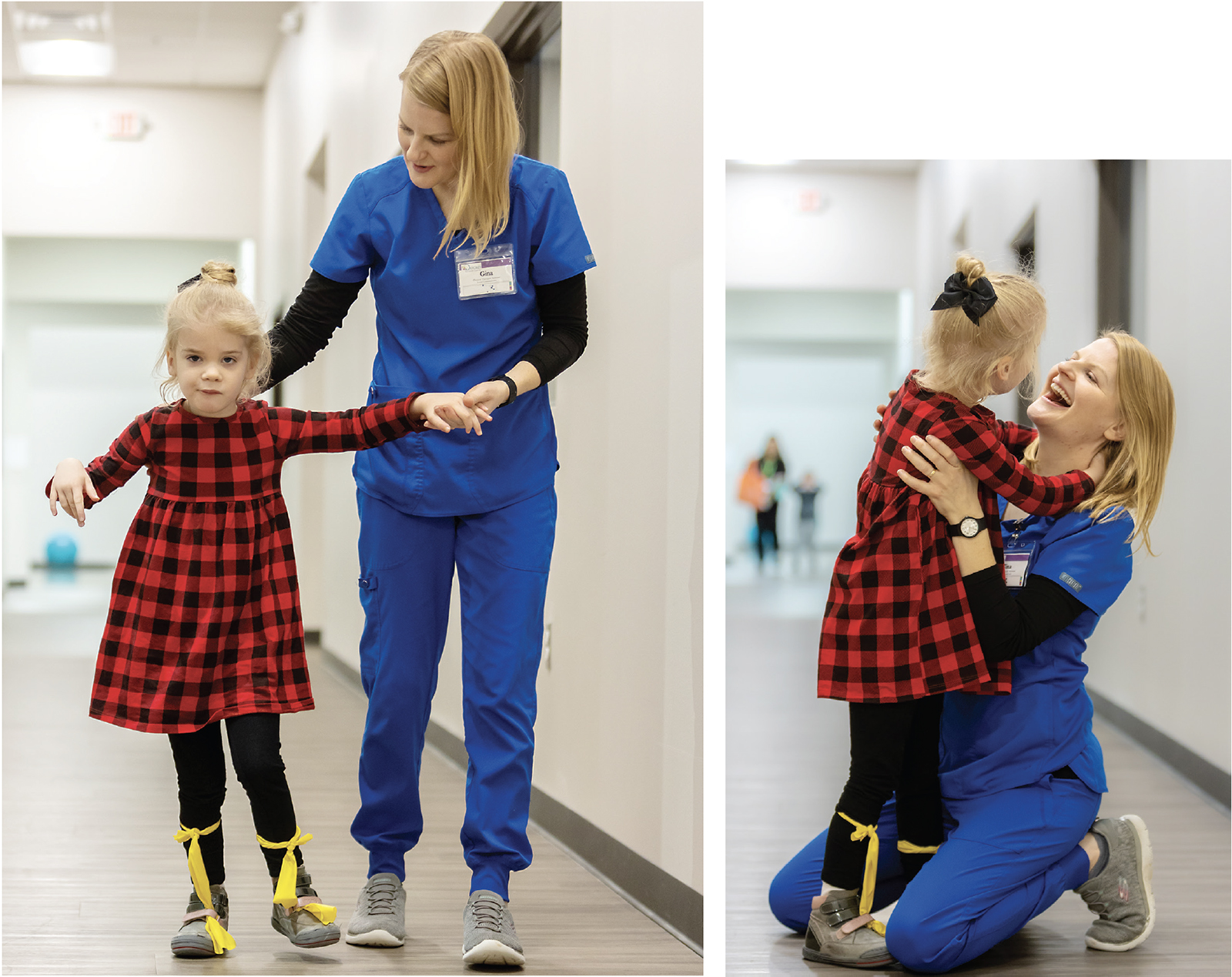 Gina Thompson still can't believe it.
"I won the lottery on my dream job. I still have to pinch myself. Some days I'm writing notes on patients, and I can't believe I get paid to do this," says Thompson, who graduated from Washtenaw Community College's Physical Therapist Assistant program last spring and now specializes in helping patients with neurological deficits at Oxford Recovery Center in Brighton.
As a board-certified physical therapist assistant, Thompson works with patients from ages 2 to 92. The vast majority are children with autism, cerebral palsy, and Down syndrome, whom she helps to reach missed childhood milestones.
Thompson also works with adults with neurological deficits such as traumatic brain injuries, spinal cord injuries, stroke, and Parkinson's disease, helping them to regain function in activities of daily living.
In addition to the Physical Therapyist Assistant program, WCC offers Health Sciences associate degrees in Radiography, Surgical Technology, Nursing, Health Administration and Health Program Preparation.
The college also offers an array of certifi­cate programs in Dental Assisting, Health Care Foundations, Medical Assisting, Medical Billing and Coding, Sterile Processing and Cardiac Telemetry Technician and post-associate certificates in Computed Tomography, Magnetic Resonance Imaging and Mammography.
Programs allow students to go directly into the workforce or transfer to a four-year school to continue their education.
Available health care jobs are expected to steadily rise through. If a recently-released "Michigan Career Outlook Through 2030" report plays out as forecasted, the need for more physical therapist assistants like Thompson will in­crease by 30% over the next seven years.
WCC grads are also in a good transfer position to continue their education at a four-year university to become a physical therapist, an occupation expected to jump 18% in coming years.
The need for and momentum to educate and equip additional health care workers is keeping WCC's Center for Career Success busy.
"Employers are really pushing right now to find the right people," says center director Cheryl Harvey.
The center offers a variety of services for students pursuing internships or work during or after college and has welcomed an increasing number of health care employers on campus that recruit students.
WCC also partners with employers to host boot camps to provide quick training in the care of senior citizens, a program that often leads to immediate jobs.
WCC has a unique advantage being located directly between Trinity Health-St. Joseph Hospital and Michigan Medicine.
"They snatch up our students so fast," Harvey says, adding that employers in general are calling more often because they know the value of WCC skills earned through certificates and courses, and they can train students for open positions.
"There are so many opportunities out there right now," Harvey says. "We get really excited about helping people find the right fit."
The college helped Thompson land her new and fulfilling profession, which is actually her second career. After graduating in 2002 from Western Michigan University with a bachelor's degree in Creative Writing and minors in Dance and World Literature, Thompson owned a dance studio for 13 years. She loved her life's work but the schedule became grueling as she started a family. "I wasn't being the mom I wanted to be."
She took a year off, applied to WCC, and balanced parenthood, work, and classes to reimagine her career path. The Physical Therapist Assistant program exceeded her expectations.
"It was exceptional, and I felt completely sup­ported," she says.
When Thompson graduated last spring, her instructors assured her she would not have a hard time finding a job. They were right. She graduated in May of 2022, passed her boards in July, and was at work by August.
She's not surprised by the need for more health care workers, particularly in the area of physical therapy.
"There's a movement right now for a more holistic approach to medicine," Thompson says, including the use of therapy and other healing options before medication or surgery.
Tags: Cardiac Telemetry, December 2022, Health Administration, Health Care, Launch, Launch Winter 2023, Nursing, On The Record, Physical Therapist Assistant, Radiography, Sterile Processing, Surgical Technology