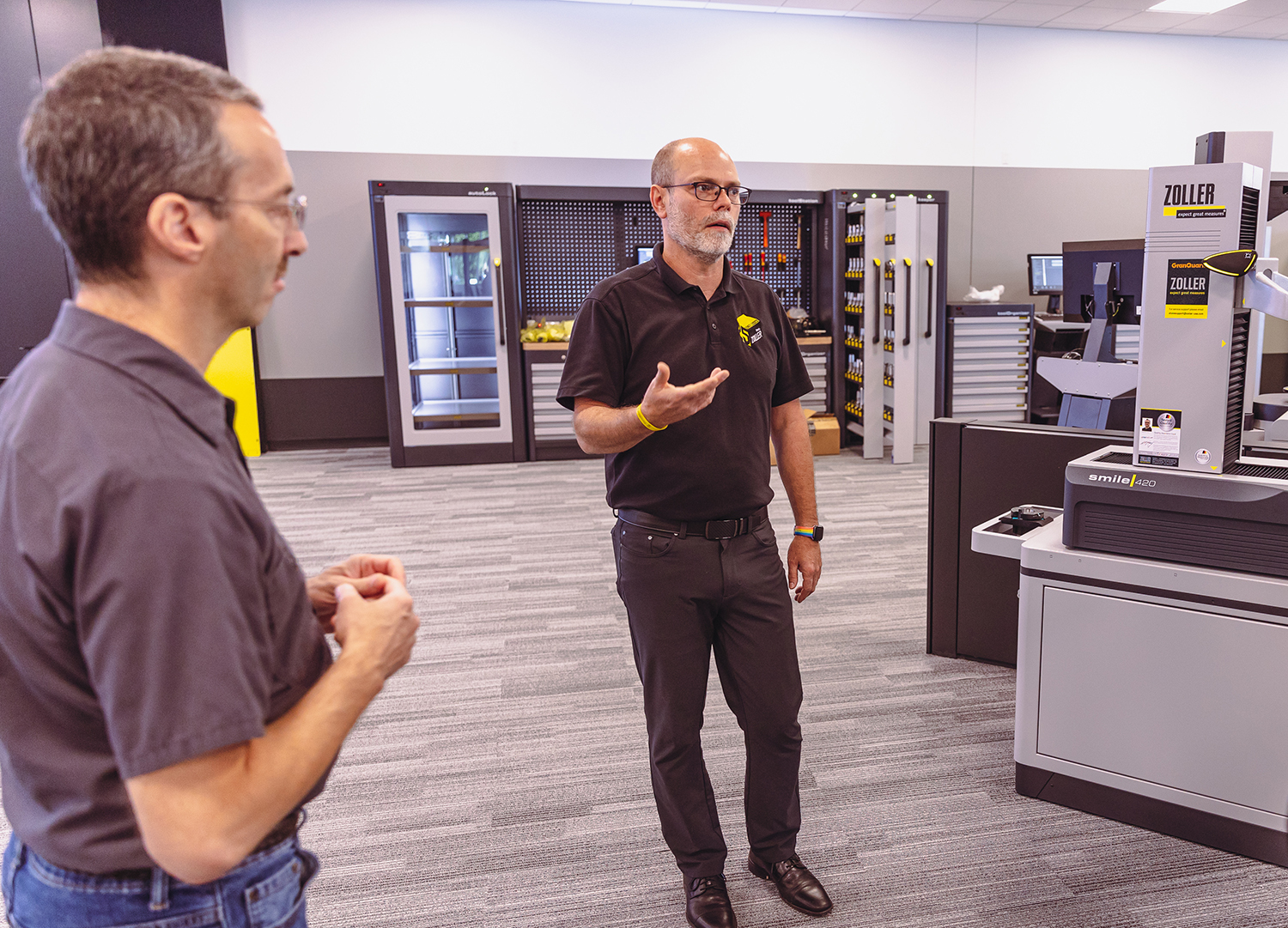 ZOLLER Inc. is deploying a multi-pronged approach in its partnership with Washtenaw Community College to develop a skilled workforce.
The third-generation, family-owned, German technology company, whose North Amer­ican headquarters is located in Ann Arbor, is donating more than $200,000 in equipment to the college so it can train students on state-of-the-art tool measuring and inspection machines.
RELATED: WCC partners with industry to fuel talent pipeline
Together, ZOLLER and WCC are developing a robust appren­ticeship program that will hire and train 4-6 students per year for high-demand careers with the company.
The equipment, which includes a tooling management soft­ware system, tool station with workbench, CNC presetter and numerous other components, will begin arriving on campus in the coming months and be installed in the college's Advanced Man­ufacturing Lab for the beginning of the Fall 2023 semester.
The donation elevates WCC's Machine Tool (CNC) certifi­cates and associate degree in Advanced Manufacturing (CNC) - Machine Tool Setup, Operation and Programming.
"The donation is only one part of the equation. We want to help develop the curriculum and support instruction and have students visit our headquarters for live demos and technical presen­tations," said Michael Stepke, Training and Development Manager at ZOLLER. "We're offering an accelerated journey that no other college is receiving."
Through the company's new Application Engineer Apprentice program, ZOLLER will cover tuition while providing employment with health and retirement benefits and additional weekly stipends, with a minimum commitment from the apprentice of two years of employment after graduation.
Graduates would be part of the service team to calibrate ZOLLER's precision tool measurement equipment installed at manufacturing facilities throughout the country— from automotive, shipbuilding, and aerospace companies to medical devices and energy technology facilities.
"They will learn how to cal­ibrate, install and update our machines, but they will also develop a deep sense of how the tool data flows from point A to point B and what is required to create a connected tool room in a modern machine shop," Stepke says. "I'm not aware of any community college being able to offer this concept. Usually CNC equipment is taught by going to machines or work­benches independent of each other. This will give the edge to these students."
Workforce Development
WCC can partner with you to meet your talent development needs. We provide employers of all sizes and industries high-quality, relevant training— on campus, online or at your place of business. Whether your organization needs corporate training, a customized solution, certificate or degree programs, or guidance in starting apprenticeships, WCC is a partner you can turn to. Learn more.
This story appears in the Winter 2023 edition of Launch magazine. See complete issue.
Tags: Advanced Manufacturing, Apprenticeship Programs, Apprenticeships, Launch, Launch Winter 2023, Workforce Development