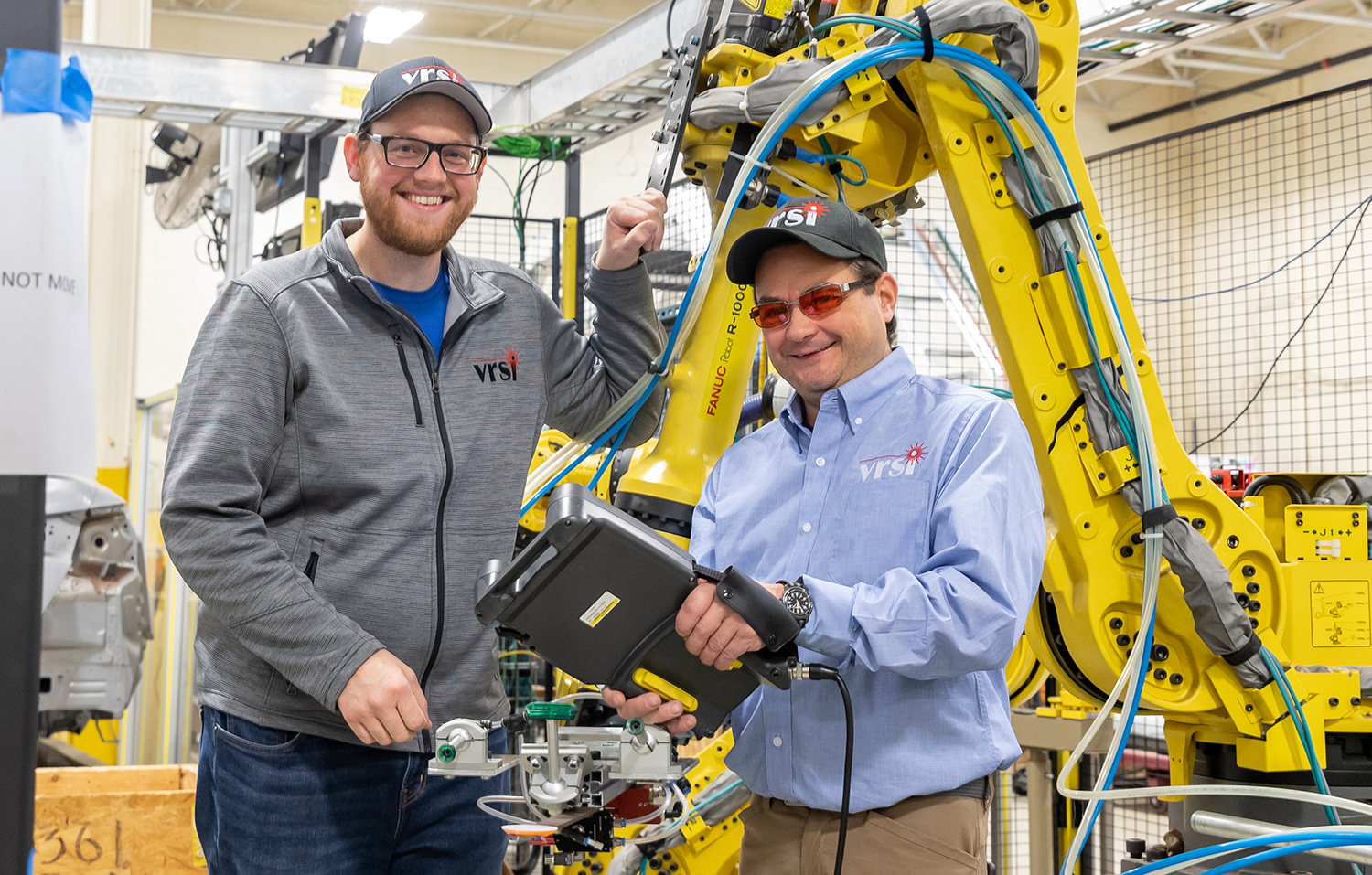 When Ted Hauke graduated from Washtenaw Community College in 2020, it wasn't just the end of his educational journey and the beginning of a new job. Thanks to his WCC studies and connections, he was already well into his new career programming robots at VRSI in Plymouth Township.
"VRSI hired me in a co-op position, so I was allowed to work as much as I possibly could. They were flexible with my school schedule, as well," Hauke said. "They already had one other recent WCC graduate whose degree was similar to mine, which meant they understood what WCC was able to bring to the table.
"If I had not attended WCC, I likely would not be working in a robotics field," added Hauke, who first earned a bachelor's degree in German at Eastern Michigan University before changing career paths and enrolling at WCC.
RELATED: Zoller, Inc. invests in WCC and its own future workforce
At WCC, Hauke earned an associate degree in Mechatronics, concentrating in Electronics and Fluid Power. As project engineer, Hauke facilitates the design, manufacturing, and integration of vision systems for the automobile industry.
Of VRSI's 100 employees, seven are WCC alumni. Hauke and fellow alumnus Eric Knight, a senior robotics engineer at the company, help to guide the college's curriculum by participating on WCC's Advanced Manufacturing Industry Advisory Board.
WCC has always prioritized its partnerships with industry. In fact, "Everything we do is employer driven," college President Dr. Rose B. Bellanca frequently says. But in a market where the need for skilled workers is greater than ever, the relationship seems more and more symbiotic.
Meeting Job Demand
The State of Michigan's recent "Hot 50 Jobs Outlook" and the broader "Career Outlook" forecast high-demand, high-wage careers through 2030. WCC's many academic programs align with occupations that made the list, including those requiring applied health sciences, advanced manufacturing, business and computer science and STEM-related degrees and certificates.
For example, software developers and quality assurance analysts are projected to grow nearly 23%, and WCC's associate degree in Computer Systems and Networking, among other business and IT programs, can put a student on a path to this lucrative career.
Jobs in CNC tool programming are forecast to grow 22%, and the college's associate degree in Advanced Manufacturing (CNC) Machine Tool Setup, Operation and Programming will prepare students well.
Andrew Lixey, senior human resources manager at Penske Vehicle Services in Troy, attended the Fall Transportation Technologies Career Fair. Looking for more than just new, much needed employees, Lixey wants to welcome coworkers who the company can help develop and grow and become part of the family.
"It's so competitive. Instead of trying to find employees, we thought we'd help build them, and WCC is a great place to do that," Lixey says of a new apprenticeship program in the works. "What we do wrenching on cars, it's all in WCC's wheelhouse. We want to get students excited about a career with us and to show them a clear, definite track and make it worth their while financially."
Apprenticeships & Industry Advisory Boards
Most of WCC's apprentice areas are in Advanced Manufacturing, Industrial/Facility Maintenance and IT/Computer User Support.
Additionally, the college has a 30+ year partnership with the United Association, which last summer brought 3,000 people to campus for its annual "Train the Trainer week." These instructors are enrolled as WCC students as part of a five-year program, and many of them go on to earn an associate degree or WCC certificate in addition to their UA certificate.
Among the UA members on campus this year were130 future instructors and another 30 competing in the International Apprenticeship Contest.
Within the past year, Washtenaw has ramped up its commitment to growing apprenticeships.
As a participant in the U.S. Department of Labor (USDOL) "Closing the Skills Gap" grant, WCC is focused on expanding apprenticeships in Advanced Manufacturing-related occupations. Approaches to achieving this goal include reimbursing employers for a registered apprentice's tuition, as well as offering students career guidance and other support services.
Additionally, this fall the college committed to the USDOL's "Apprenticeship Ambassador" initiative, with Kyrsten Rue named as WCC's Ambassador. Washtenaw will increase access and support for underrepresented and underserved populations by launching new, innovative practices and partnerships, among other things.
WCC is also partnering with SEMCA Workforce Intelligence Network on a nearly $6 million "Apprenticeship Building America" grant to enroll hundreds of pre-apprentices.
While the college's apprenticeship program is growing, WCC's partnership with industry through curriculum advisory board seats has long been a practice to cultivate relationships with experts in the field and develop programs to meet workforce needs.
In the transportation technologies and mobility program, Ford, Toyota, GM, Nissan and Roush are among companies with representatives on the advisory board. WCC has also recently become a training center for the Toyota TECS Elite and GM STEP programs, further strengthening relationships and opportunities for students.
VRSI's Knight takes his role on the advisory board seriously.
"We express our concern when needed and offer our input and guidance," says Knight.
He credits WCC's faculty with the knack for stoking creativity and curiosity among students while teaching the critical fundamentals. "The WCC alums are thrown into the fire and are very open-minded and enthusiastic and willing to learn. WCC has a way of making people communicate," says Knight, who started at the college as a dual-enrolled student taking Washtenaw robotics courses taught at Pinckney High School.
Automotive Technologies & Cybersecurity
Through its exceptional programs driven by industry input, WCC has equipped Andrew Wilczynski for two careers. After earning a first degree in Transportation Technologies at WCC in 2016, Wilczynski worked in the parts department for the Ann Arbor Mercedes dealership for six years.
He'd been thinking about pivoting his experiences and education for some time and transitioned into a career of cybersecurity in 2021. He re-enrolled at WCC to pursue a Cybersecurity associate degree and will graduate this semester.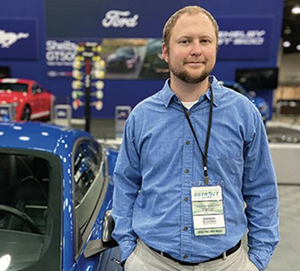 Wilczynski (right) almost immediately found a job in his new career field with SBD Automotive – a research and consulting firm whose primary audience is the automotive industry – and is wrapping up his first year in the company's graduate program, which is sponsored by Ann Arbor SPARK.
"The biggest thing I tell people about Washtenaw is the flexibility – a lot of different programs, a lot of different options. Online classes are nice for working people, or if you have kids, and night classes are helpful if you work during the day – just the flexibility and range is what I definitely recommend," Wilczynski says.
Separately, SBD Automotive, whose North American headquarters is based in Ann Arbor, has reached out to the college to build a relationship and potentially hire WCC students for its growing business.
"I love my new job and working for a company that doesn't just see you 'on paper' and actually wants to see what you're capable of when it comes to doing the job, and at WCC the instructors give you such real world examples and a lot of simulation. They've really prepared me well."
Marrying his automotive and cybersecurity education backgrounds brought Wilczynski to this year's North American International Auto Show in Detroit with SBD. Washtenaw's participation as the only community college at the Auto Show exemplifies its strong partnership with industry.
Eight years ago WCC launched the Advanced Transportation Center to integrate advanced manufacturing, transportation technologies and information technologies to educate and train students for the talent pipeline. Always looking ahead, the college is now integrating automotive cybersecurity and electric vehicle design into its curriculum.
"We work closely with our mobility partners and train students to be job-ready when employers need them," college President Dr. Bellanca says. We focus on the future as well as the present, which is important because you want to be prepared when they call. We have that approach to all of our programs."
This story appears in the Winter 2023 edition of Launch magazine. See complete issue.
Tags: Advanced Manufacturing, Apprenticeship Programs, Apprenticeships, Computer Science, Launch, Launch Winter 2023, Robotics, Skilled Trades, Workforce Development