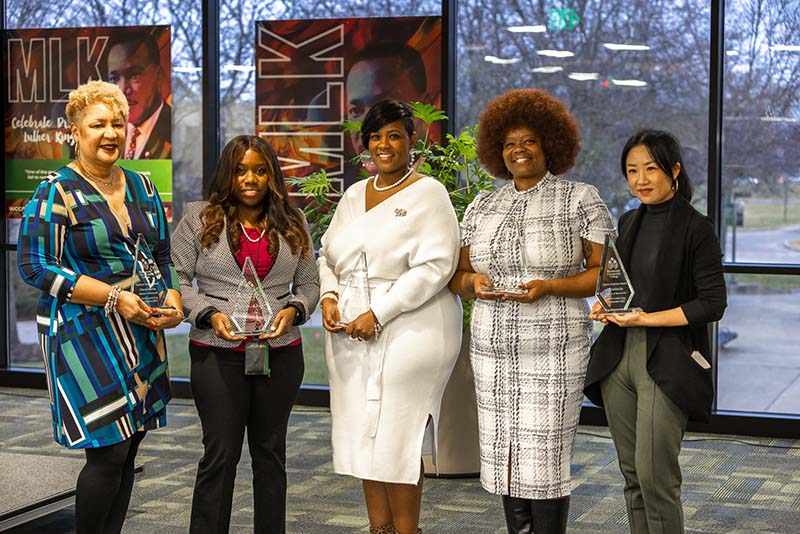 Washtenaw Community College awarded five "Equity in Action" awards during a Martin Luther King Jr. Day celebration ceremony held at the college on Thursday.
The awards were presented to WCC staff members Shana Barker, Cheryl Harvey and Christina Do and community members Kallista Marie Walker and Turquoise Neal for their work that exemplifies Dr. King's legacy.
Awardees were nominated by WCC employees and selected for embodying the college's mission to make a positive difference in people's lives.
The celebration featured a keynote address from Washtenaw County Commissioner Caroline Sanders, WCC Black Student Union President Shemaiah Reeves and Provost Linda Blakey. Musician and former WCC student Kenyatta Rashon, an Ypsilanti native, performed before and after the event.
"Dr. King didn't send people to walk in those marches, he was there with the people," said Dr. Clarence Jennings, WCC's Vice President of Student Services, before recognizing the award winners who have made outstanding contributions in the areas of equity and inclusion at WCC and throughout the greater Washtenaw County community.
Shana Barker
Director of Scholarships, Alumni Association & Emergency Fund, WCC Foundation
Barker is responsible for student scholarships as well as the Student Emergency Fund awarded to students through the WCC Foundation. She consistently prioritizes serving in her community, according to her nomination. Barker is described as a tireless worker, driven, compassionate, loyal and focused on others. "Shana has vastly improved access for many students," the nomination said. "Shana gives so much of herself while working here but even on her off days when she should be relaxing, she is still doing work to help students. Being the leader of the Emergency Fund, there are no off days for Shana because student emergencies don't take a day off."
Christina Do
Coordinator of Student Equity & Inclusion in the Office of Diversity & Inclusion
In addition to her work with the WCC Office of Diversity & Inclusion, Do has served as co-chair for the on-campus Women of Washtenaw group and is deeply invested in work that reflects MLK's vision. Her work is "substantive, intentional and meaningful," her nominators said. "Christina deserves this honor because she makes other planners' events better by thinking of aspects of diversity, inclusion and access without pause. This is an intrinsic habit for Christina."
Cheryl Harvey
Director of the WCC Center for Career Success
Harvey leads the Center for Career Success on campus and serves as co-chair for the on-campus Women of Washtenaw group. She has been "instrumental in having the WOW committee think about inclusion when developing networking opportunities. Cheryl reminds us that, even though the word 'women' is used in the title of the Women of Washtenaw, WOW developmental opportunities exist for all employees," according to her nomination.
Turquoise Neal
Principal at Ypsilanti Community Middle School
As the guidepost of Ypsilanti Community Middle School, a school "that experiences a disproportionate rate of adversities among the student population," according to the nomination, Neal has gone above and beyond to make a commitment to helping students succeed "by bringing in innovative programs, partnerships, and supports for the middle school community. She has developed partnerships with other organizations to support the academic, social and developmental needs of students in Washtenaw County.
Kallista Marie Walker
Founder of Our Community Reads
Walker is founder of Our Community Reads, a local non-profit dedicated to inspiring a love of reading and empowering families. According to her nomination, Walker is a creative leader with a natural ability to engage kids and has worked as a paraprofessional at Erickson Elementary in Ypsilanti. She recently accepted a position working for the Ypsilanti District Library and is part of the countywide literacy coalition. "Ms. Walker is both dedicated and creative; she has a natural ability to engage kids and has used that to help them build confidence though 'Pharaohs Club' and 'Queens Club,' two youth programs that Our Community Reads offers," according to the nomination.
Tags: Awards, Equity in Action, MLK Day