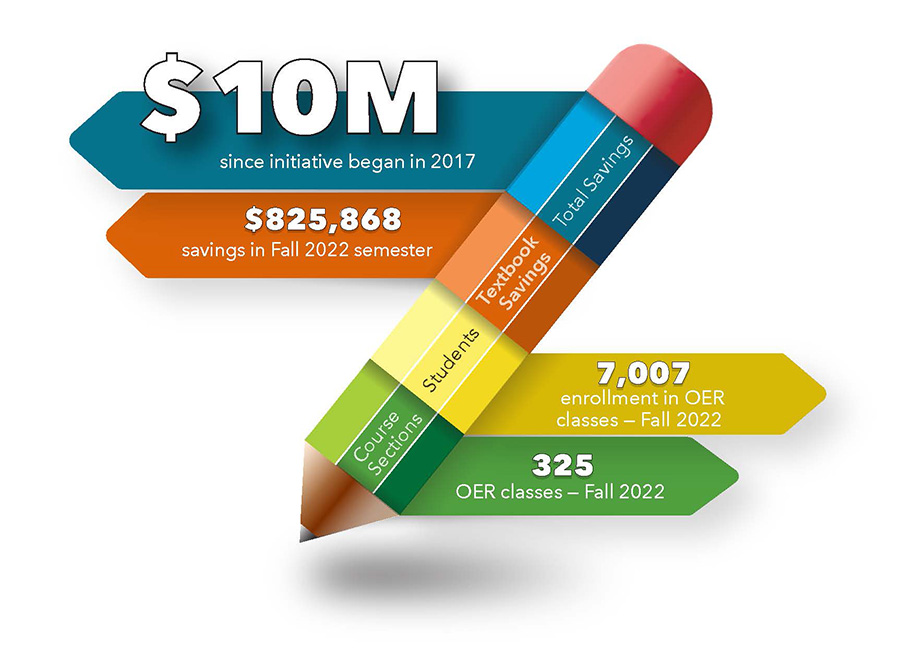 Washtenaw Community College's (WCC) program to help students earn degrees, certificates and general education credits with little or no textbook costs has recently surpassed the $10 million savings mark.
Washtenaw embarked on its Open Educational Resources (OER) program in 2017 and this year launched its first "Z-degree," or zero textbook cost degree, a General Studies in Math & Natural Sciences associate degree, to join four Z-certificates in Business and 325 general education course section offerings.
Instead of a traditional textbook, which can cost hundreds of dollars, students use free OER textbooks created or adapted by WCC faculty or other textbook alternatives.
Globally, Open Education Week will be observed March 6-10, and WCC has much to celebrate, namely $10.1 million in textbook savings since the program began.
In the recently completed Fall 2022 semester alone, 7,007 WCC students saved a total of $825,868 by enrolling in course sections that used OERs.
"Our mission is to make a positive difference in people's lives through accessible and excellent educational programs. Our tuition is already among the lowest in the country, and our OER program makes college even more affordable for our students so they are prepared for the workforce or to transfer to a four-year institution," said WCC President Dr. Rose B. Bellanca.
For Selena Reyes-Burton, 24, every dollar matters as she pursues a General Studies associate degree. The General Chemistry I (CEM 111) book she needed this year previously cost nearly $200, but she's able to utilize an OER instead, thanks to the work of Tracy Schwab, currently Interim Dean of Math, Science & Engineering Technology.
"Saving $178 is a big deal," Reyes-Burton said. "To be honest, if I had to come up with $178 right now, something else might have to go unpaid — like my car insurance or my car loan payment."
As students across the nation face rising college costs, WCC began developing OER courses in 2017. The first faculty cohort to begin adapting material started work in the Winter of 2018 with the goal of adding 20 new OER courses by 2020.
According to a 2018 study by the Florida Virtual Campus Office of Distance Learning and Services, textbook costs continue to have a negative effect on students' ability to pursue higher education goals. The study showed that 64% of students simply did not buy the required textbook for class, and 43% reported taking fewer courses because of textbook costs.
"That's why this new pathway is so important and exciting," said Molly Ledermann, WCC Faculty Librarian, who works with faculty cohorts to develop free materials for students. "When we met and surpassed that initial goal of adding 20 courses within two years, we set a new goal of discovering at least one Z-Degree pathway by 2023 and we were able to do that by the Fall of 2022."
While not all courses have available OER options, the goal is to embrace as many no-cost alternatives for students as possible, especially high enrollment introductory level courses with high textbook costs.
Faculty are currently adapting and developing OER content for Mathematics, Communications and Environmental Science classes that will be used in courses in the next academic year.
There is no doubt it has made a difference for 20-year-old WCC student Natalie Fisher, who is enrolled in WCC's Paralegal Studies program and taking Business Law I (BMG 111) this semester. Faculty member Doug Waters created an OER to replace a $226 textbook previously used in the class, and Fisher is grateful for the savings.
"Paying big money for a textbook can really put a cap on learning," said Fisher, who transferred from an in-state four-year university where she purchased or rented a textbook for every class. The two classes she's currently taking at WCC this semester have zero associated textbook costs. "Providing that material as part of your education really helps a lot, particularly when you have other bills to pay."
Avion Williams, 23, is pursuing a Liberal Arts Transfer degree at WCC and was able to skip what was once a $269 textbook cost for Physical Geology (GLG 114).
"Paying for textbooks is really another added pressure for college students to come up with money to pay out of their pocket," said Williams, who also benefitted from the use of an OER in her Introduction to Psychology (PSY 100) class. "I always pay attention to textbook costs when I'm choosing the classes I'm registering for, but sometimes you can't avoid that expense. It's really nice when you can."
Tags: Affordability, March 2023, OER, On The Record, Open Education Resources, Z-Degree