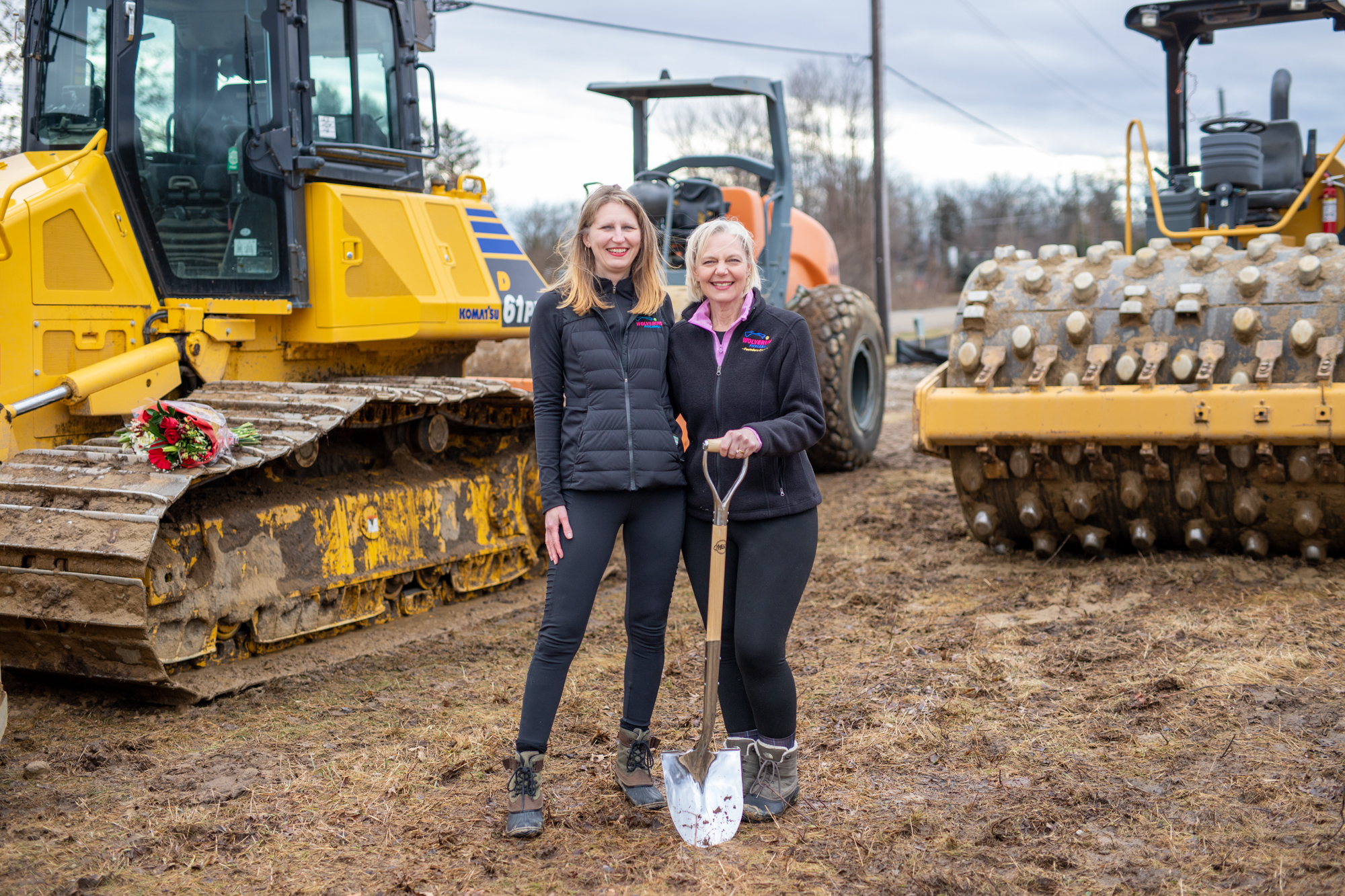 Even though Wolverine Pickleball didn't win Washtenaw Community College's [email protected] contest a couple years ago, big things are happening now for the business, and the owners credit WCC's Entrepreneurship Center with helping guide them to success.
"We just broke ground on a $7 million facility, so we're doing great," said Christy Howden, who, along with Leslie White, co-owns the business at 235 Metty Drive in Ann Arbor.
The 12-court indoor facility will also include space for bocce, cornhole, sand volleyball, beach tennis and a lounge area with beer, wine and cocktails on tap. (See groundbreaking video.)
Howden said they took full advantage of the Entrepreneurship Center's free resources for several years, including competing in [email protected], mentorship, its research library, classes and training.
"It was a great experience," Howden said. "The Entrepreneurship Center gives you the confidence to move forward and helps you build a foundation for your business."
The Ann Arbor college recently partnered with the Small Business Association of Michigan (SBAM) to help employers across the state strengthen their workforce training and to face unique small business challenges head-on.
WCC is the only education institution to become a Friends of Small Business member of the statewide organization and offers customized training, leadership bootcamps, general study programing and assistance and resources for new and prospective business owners through the college's Workforce Development Division and Entrepreneurship Center.
SBAM is the state's largest business owner network, offering assistance in operations, compliance, profit margins, management tools, employee attraction and retention and more.
Marilyn Kapp, Director of College Partnerships and Success Initiatives at WCC, said the college offers training, both on campus and online, for organizations and corporations looking for expanded resources, certificate or degree programs or guidance in starting apprenticeships.
"We really want business owners to understand they don't have to do it all in-house," she said. "We're here to help them grow their business, train and retain their employees, and troubleshoot areas that might be in the way of helping their business really take off."
Start-up business owners, whether existing or future, face a special set of challenges, and WCC's Entrepreneurship Center offers one-on-one appointments via phone, video or in-person. Among its services is an Entrepreneur-in-Residence program with free individualized coaching on topics relevant to new and current business owners such as marketing, customer identification and funding readiness.
"The Entrepreneurship Center is here to help you at any stage of your business journey," said Michelle Julet, Director of the Entrepreneurship Center. "We offer many experiences and formats so people can choose what works best for them – convenient online microlearning that you can do at home any time, in-person mentoring with an expert, or using our co-working space. WCC is a comfortable place to grow your business with lots of opportunities. The EC guides you on your way!"
---
Let WCC help you start or grow your business overcome your hurdles through its customized employee training, management resources, entrepreneurship programs and more.
Contact Workforce Development
Contact the Entrepreneurship Center
Tags: Entrepreneurship, Entrepreneurship Center, Workforce Development, Workforce Training, small business