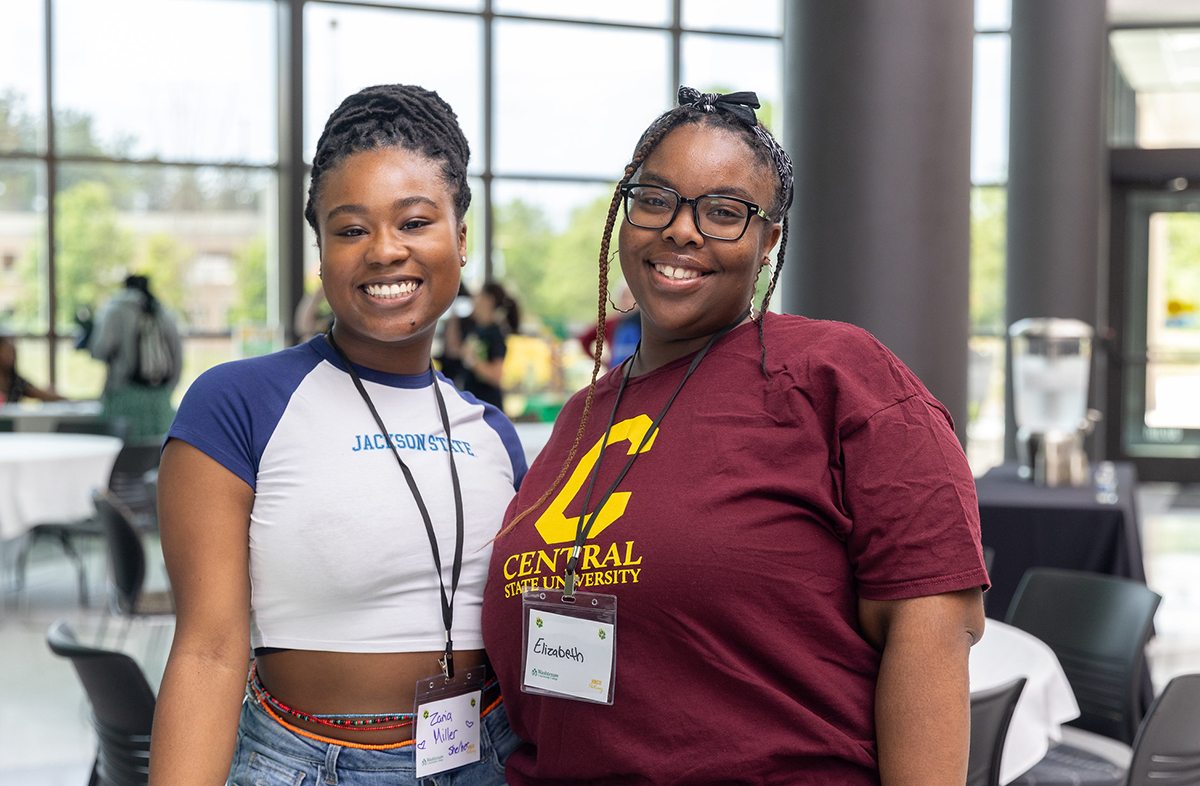 It didn't take long for the impact of Washtenaw Community College's new HBCU Pathway to come into focus.
Less than two years after launching the robust initiative designed to help more local students seamlessly transfer to an Historically Black College and University, WCC filled its Towsley Auditorium with more than 400 local high school students to give them a taste of HBCU life.
At the June HBCU Day, representatives from WCC's five partner schools discussed the benefits of HBCUs, with the highlight of the day being a Divine Nine fraternity & sorority stroll off.
Two of WCC's own alumni-turned-HBCU transfer students returned to share their insights and wisdom. Zaria Miller (above left) and Elizabeth Perryman (above right) are now counted among the 281,000 students enrolled at HBCUs nationwide.
WCC established its HBCU Pathway in 2021 to help students realize their dreams and support a smooth transfer to a four-year school. The program guarantees admission, access to in-state tuition and scholarships at several partner schools, and it offers HBCU campus tours and peer activities.
Partner HBCU institutions are Alabama State University, Tuskegee University, Jackson State University, Mississippi Valley State University and Southern University at New Orleans.
WCC also has a working relationship with Central State University in Ohio — where Perryman is currently studying — helping students identify support systems and scholarship opportunities.
After completing her Liberal Arts Transfer associate degree in May 2022, Miller transferred to Jackson State University in Jackson, Mississippi, where she is majoring in sociology and minoring in Spanish. Her dream job is to help people through community advocacy, potentially starting her own non-profit.
"I mostly chose Jackson State because I had heard all the hype and how great it was, and if it wasn't for WCC's HBCU Pathway I wouldn't have been able to go," Miller said. "They're trying to help us get to these schools, and they're seeing us. It also helped me keep my drive to further my education. These schools are very expensive, and the in-state tuition really helped, also."
At WCC, Miller led the Spanish-speaking student group, was involved in the Black Student Union and also volunteered through the Best Buddies campus chapter to support people with intellectual and developmental disabilities.
Her activities and relationships with instructors and mentors helped prepare her for success at Jackson State.
"Everybody worked hard with me, and that made me confident as a student because sometimes I didn't really see it in myself," says Miller, who credits faculty and staff for going the extra mile to support her.
---
This story appears in Fall 2023 edition of Launch Magazine. See complete issue.
Tags: Diversity, Fall 2023, HBCU, HBCU Day, HBCU Pathway, Launch, Student Success, Transfer