December 7, 2018 Robin Witte

If you think Washtenaw Community College has a great Nursing program, you would be right. But you don't have to take our word for it. This fall, the National League for Nursing (NLN) designated WCC as a Center of Excellence in Nursing Education. WCC is the first college in Michigan to receive this prestigious recognition and joins a select number of colleges around the country to receive this honor.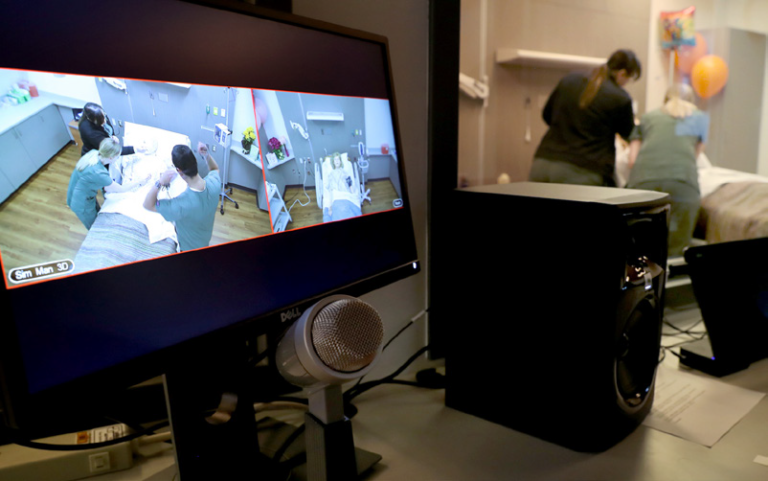 The NLN formally recognized WCC during their 2018 Education Summit in Chicago on September 14. "To be the first in the state of Michigan – and one of only a handful of two-year colleges in the nation – to receive this honor is something that WCC should be exceptionally proud of," said WCC President Dr. Rose B. Bellanca. "We're all so thankful to the Nursing faculty and staff that built such a tremendous program."
While the college celebrates this achievement, the group that will gain the most from it is our students.
"When they graduate, they're going to have the Center of Excellence in Nursing Education icon on their diploma, and that's significant," continued Bellanca. "Prospective employers can be assured that our students graduated from one of the top-tier programs in the country.
Feedback from the NLN indicated that the selection committee was particularly impressed with the first-of-its-kind in Michigan Collaborative Nursing Program that WCC formed with Eastern Michigan University (EMU).
To address the growing demand for bachelor's degree-prepared nurses, WCC and EMU created a program that allows students to complete five semesters at WCC and seamlessly transfer to EMU to complete a Bachelor's of Science in Nursing (BSN) in three additional semesters. Therefore, students earn their BSN in three years attending classes year round.
"I had been a veterinarian technician for 10 years, and knew I wanted to become a nurse like my mother. I'm so glad that I decided to join the program; it was an excellent decision," said 2017 EMU/WCC BSN Collaborative program graduate Laura Antuna.
When students complete the EMU/ WCC BSN Collaborative program they will have saved approximately $18,585 versus attending EMU alone.
Reducing the number of credits required to graduate from 72 to 63 is another innovation introduced by WCC to help students save money and complete their BSN. The WCC Nursing program is one of the first in the state to institute such a reduction. It's also one of the lowest number of credits required for graduation among schools without a state mandate. This allows students to further their education and enter the workforce with less debt. This credit reduction was established by utilizing a concept-based curriculum under the guidance of Donna Ignatavicius, an internationally recognized nursing author and educational expert.
---
When students complete the collaborative program, versus attending EMU alone, they will save approximately $18,585
THE EMU/WCC Bachelor of Science in Nursing Collaborative is the first of its kind in the State of Michigan
Tags: Featured Article, Launch Winter 2019, ousearch_News_Launch Magazine