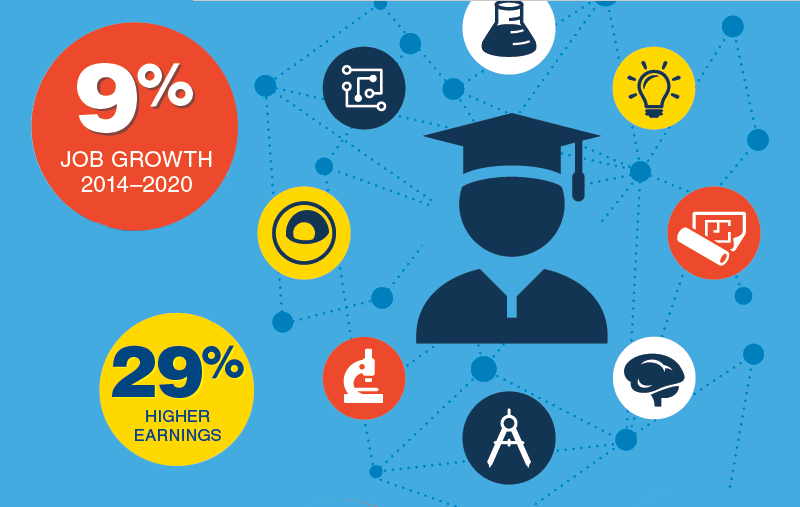 WCC Sets up the Next Generation for Success in School, Careers and Beyond
The facts say it all: The need for people to fill STEM careers will remain in demand as technology continues to be woven into the makeup of everyday life. The growing need is being met by many higher education institutions, including Washtenaw Community College.
Jobs such as computer programming, mechanical engineering, cybersecurity and health services fall under the umbrella of the sciences, technology, engineering and math career fields—better known as STEM.
WCC offers comprehensive programs to train the next generation of STEM workers, and offers additional support including the STEM Scholars Program—created in partnership with Michigan State University, University of Michigan, Wayne State University and Western Michigan University as part of a National Science Foundation grant.
"With this program, you actually have people with the same goals trying to take the same steps you are that are pushing you to be great," Emijoel Lantigua, a STEM Scholar, explained. "I just feel that there are more people who have my back and are supporting me."
Through relationships built with other institutions and the Michigan Transfer Agreement, WCC students in any STEM career path can easily roll their credits into earning a bachelor's degree.
The STEM Scholars Program also opens doors for summer research opportunities.
"I really think the STEM Scholars Program is going to help build a network and community through the STEM field," engineering student Alicia Schmidt said. "I can see us in five, seven years down the line having each other's back and pointing each other toward job openings."
---
Benefits of Becoming a STEM Scholar:
Working with a community of peers, mentors, faculty, and administrators who are dedicated to assisting you
Quality academic coaching and customized curriculum that is designed to help you succeed at the university level
Summer research experience and internship opportunities
Scholarship opportunities
Attending a summer intensive program that helps prepare you for your first two years at WCC and for successful transfer
What Is the Michigan Transfer Agreement?
The Michigan Transfer Agreement (MTA) allows for the transfer of 30 credits of core general education courses from a Michigan community college to a Michigan four-year college or university. Students may complete the MTA as part of an associate's degree or as a stand-alone certificate.
Tags: Featured Article, Launch Winter 2019, ousearch_News_Launch Magazine