July 20, 2019 Washtenaw Community College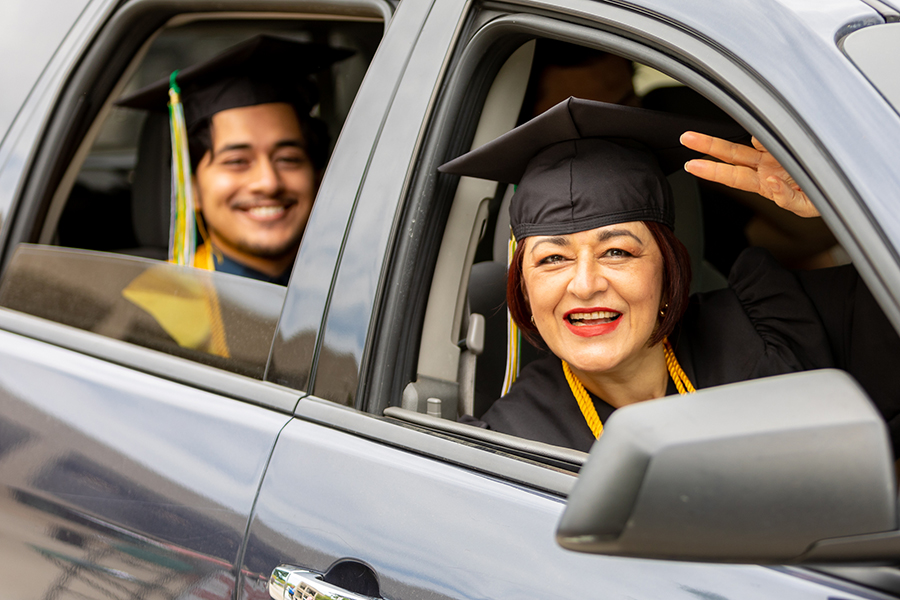 Maria Acuna has always stressed the importance of education to her three children, so she envisioned the day they would receive a college diploma. What she didn't anticipate was graduating herself on the very same day.
That happened on May 22, when both Maria and her son, Pablo Garcia, wore their full cap-and-gown regalia to the WCC Commencement Parade & Celebration on the college's Ann Arbor campus.
"My mother has always been a motivation for me, so having a chance to graduate right next to her was really nice," Garcia said. "It was something really beautiful."
Acuna was performing janitorial duties for the Environmental Services department at the University of Michigan Hospital when she learned about WCC's Sterile Processing certificate program, which prepares students for the high-demand field after just 16 credits.
She completed the program, passed the national certifying examination and had a new job — with a boost in pay — preparing surgical instrumentation, supplies and equipment in the University of Michigan Hospital operating rooms just two weeks later.
"I never thought I'd be graduating at the same time as my children," said Acuna, who also had a daughter graduate from Ann Arbor Huron High School this year. "We were all very happy and made a lot of fun out of it."
Garcia, who received his Pre-Engineering Science Transfer associate degree from WCC, was considering enrolling at several different four-year universities after high school but couldn't resist the free tuition provided by the President's Scholarship, which is awarded to six students from each public high school in Washtenaw County.
In retrospect, Garcia says choosing WCC "was the best decision I could have made."
"Saving money was important, but also Washtenaw is a good school and I met really great people along the way and had a great experience," he said. "The STEM Scholars program, in particular, was a blessing. It taught me a lot of things, boosted my confidence and prepared me well for a four-year university."
Garcia was accepted into the Electrical & Computer Engineering school at the University of Michigan, where he will begin in the fall semester.
Of course, the things he's learned at WCC and will learn at U-M wouldn't have happened without the lessons he learned at home.
"Throughout my life, my parents have been really hard-working and have always pushed me to do my best," Garcia said. "They always reminded me of how important education was and my mom graduating with me proves they haven't given up on educating themselves more.
"You never stop getting educated. There's always more to learn in life."
---
WCC Keeps College Affordable
In-district tuition only
$95/credit hour
Nearly all students are eligible for financial support
Open Education Resources program reduces buying expensive textbooks
Learn more at wccnet.edu/afford.
Tags: Launch Fall 2021, Pre-Engineering, STEM, STEM Scholars Program, ousearch_News_Launch Magazine