Note: If you are a continuing student who has received accommodations from LSS, you will not be required to make an appointment or submit documentation.
Initial appointments to discuss accommodations will be set by LSS staff once your request has been reviewed.
If you have general questions, please call (734) 973-3342 or email [email protected].
---
Instructions
How to Submit the LSS Student Registration Request
1. Complete and submit the LSS Student Registration Form as an initial request for accommodations.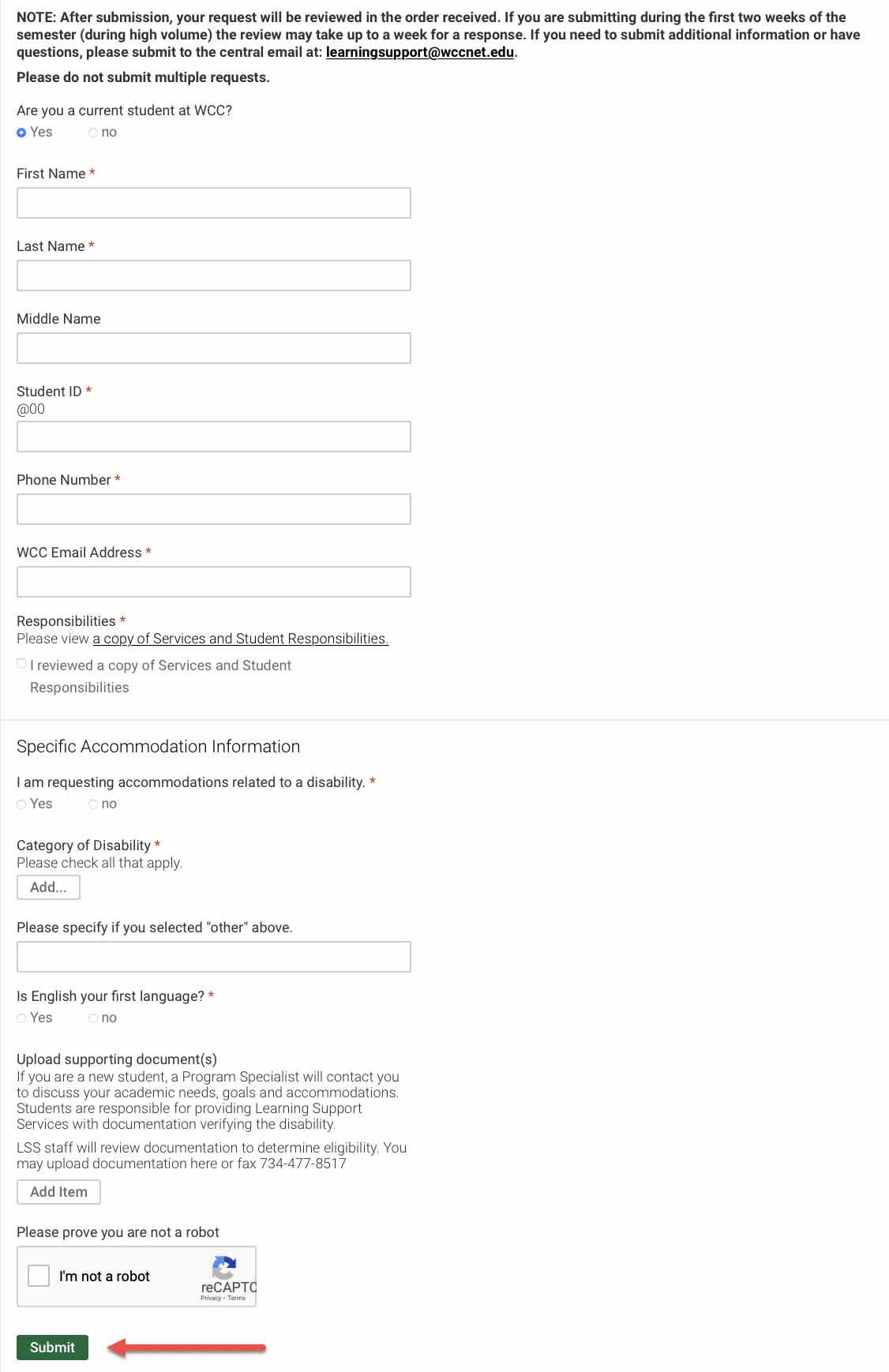 2. If documentation is available, the preferred way to submit documentation is to upload it to the LSS Student Registration Form before submitting using the "Add Item" button.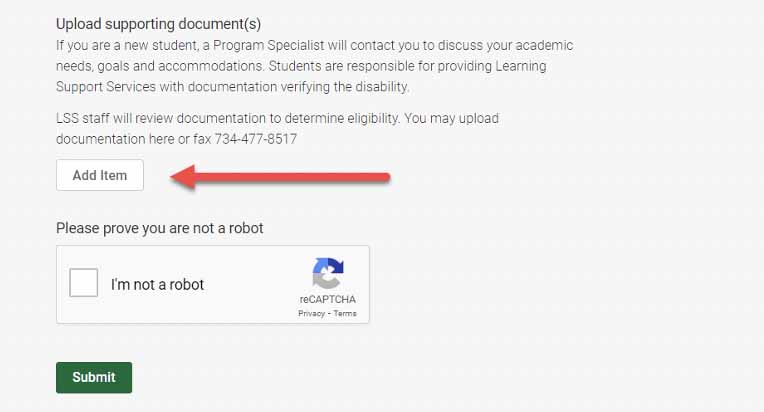 3. Add Document Title: "Student Submission"– upload the file, add a description, complete the Captcha and Submit.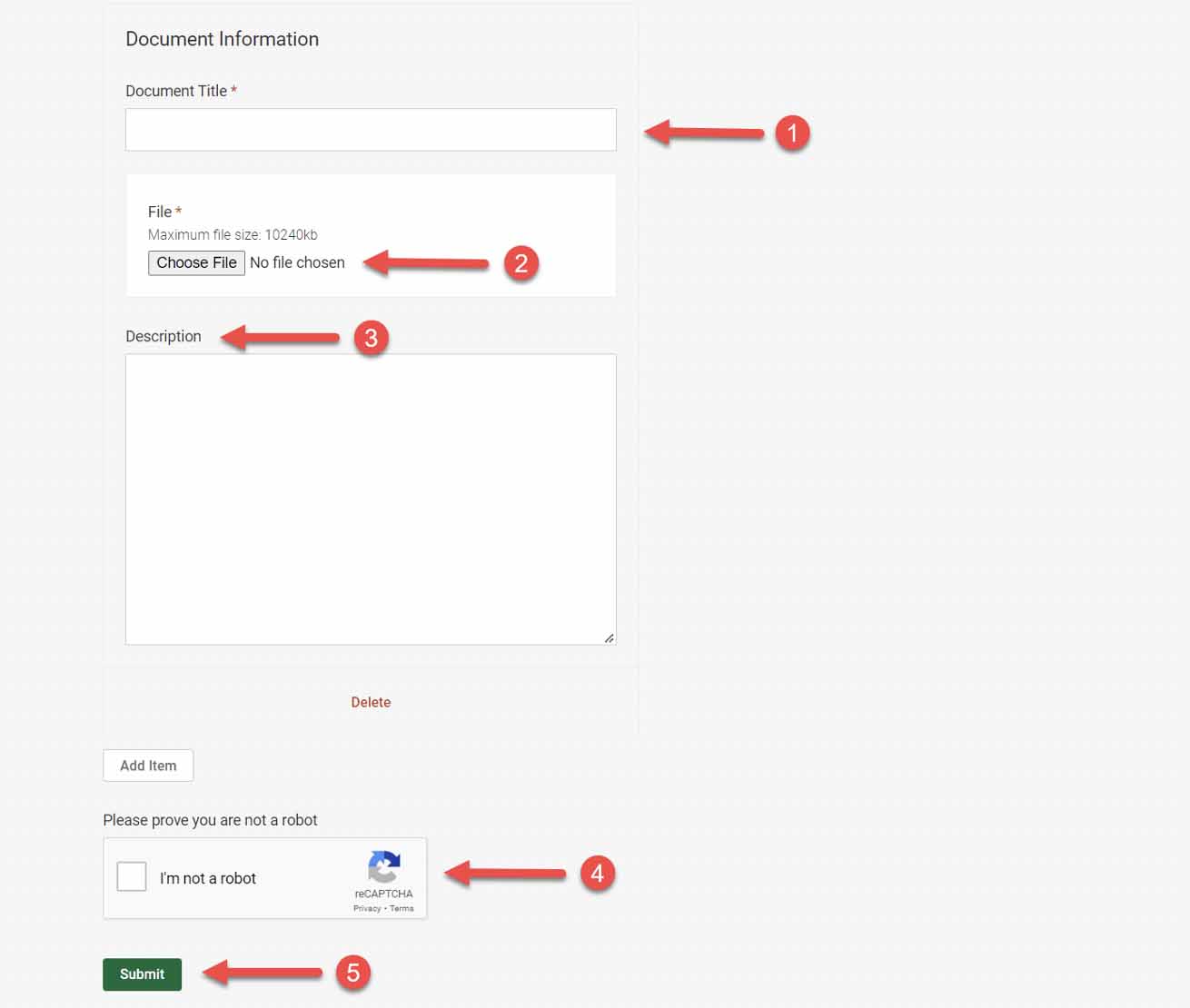 Upload Documentation (alternate method)
1. If documentation is unavailable to upload when submitting the LSS Registration Form or is additional, login to Accommodate and select "Student".
Login to Accommodate and select "Student".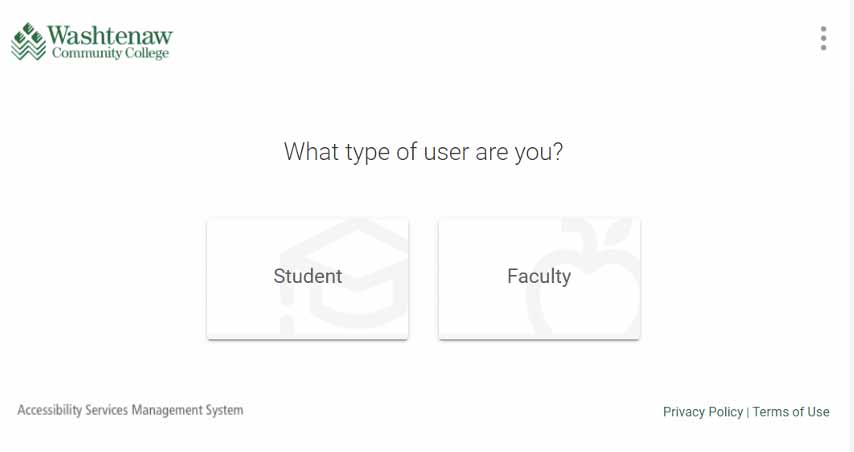 2. After you log in you will arrive in the "Home" section. To upload documentation click "Accommodation" then "Documents" then "Add New Accessibility Document".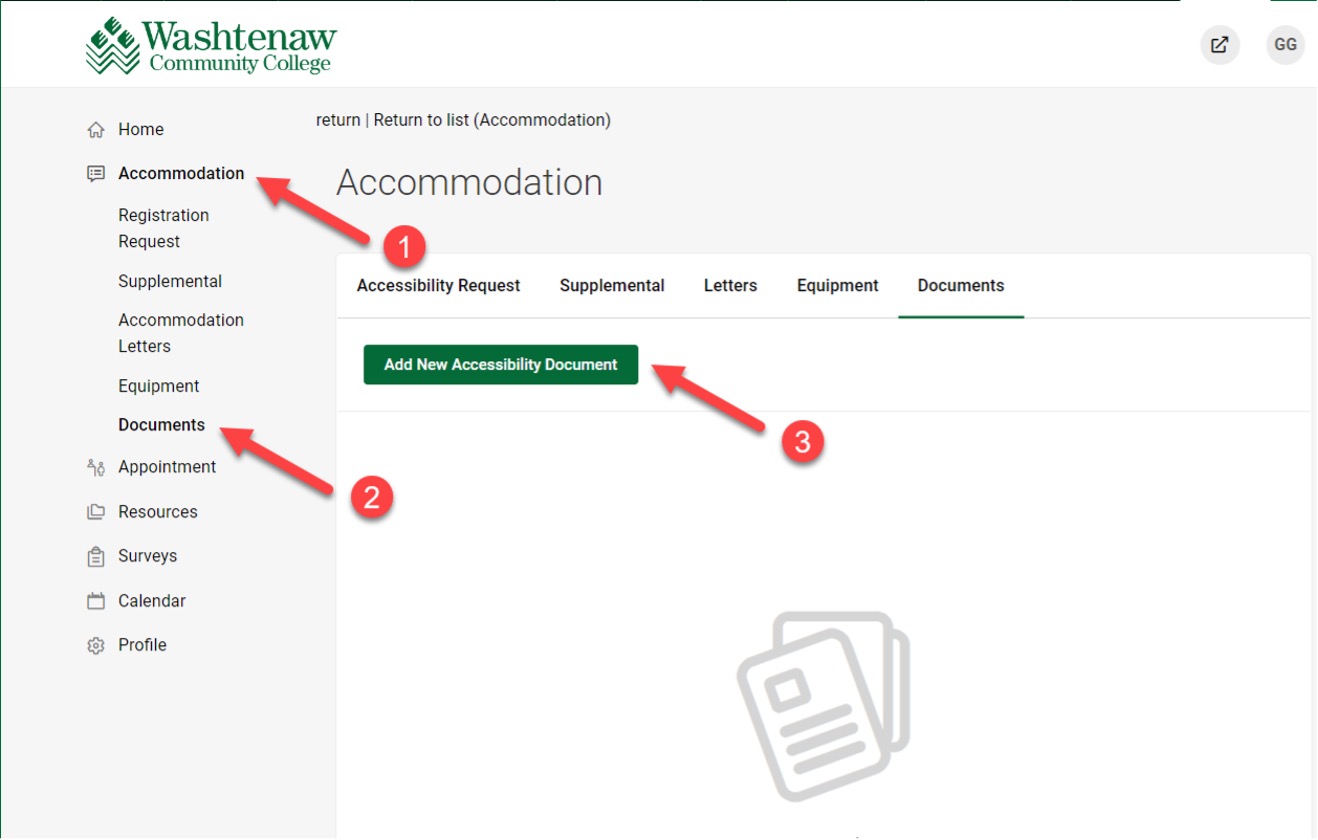 Schedule Appointments
1. All first-time Accommodate users must request a meeting with a Program Specialist to begin the process of reviewing your request for accommodations. Once the LSS Registration Form is submitted, schedule a meeting with a Program Specialist. Select "Appointment" then "Request New Appointment".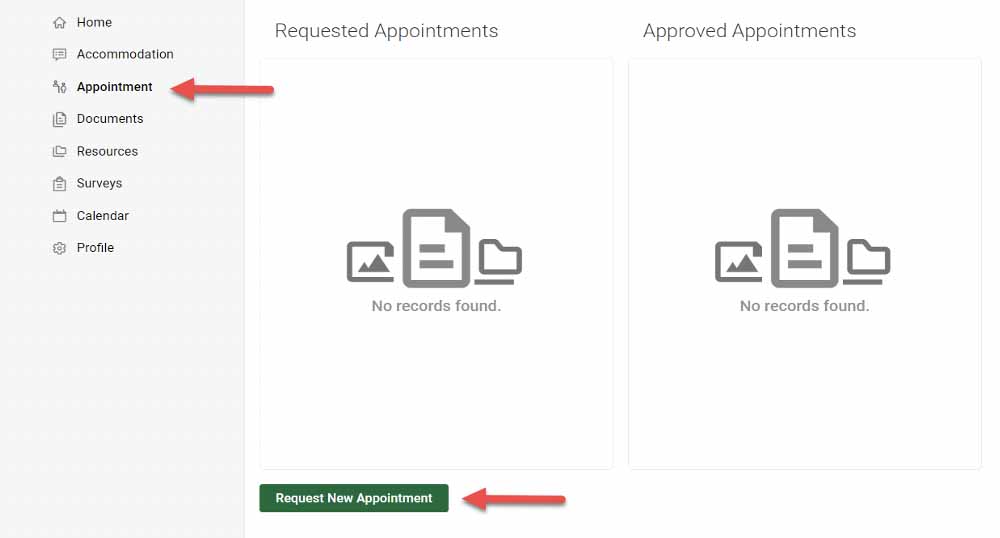 2. Choose "Meeting Type".
New students that have not met with LSS choose "Initial Appointment".
Returning students that have been through LSS choose "General Appointment".
3. Choose "Location" (Options: Main Campus, Phone, Virtual).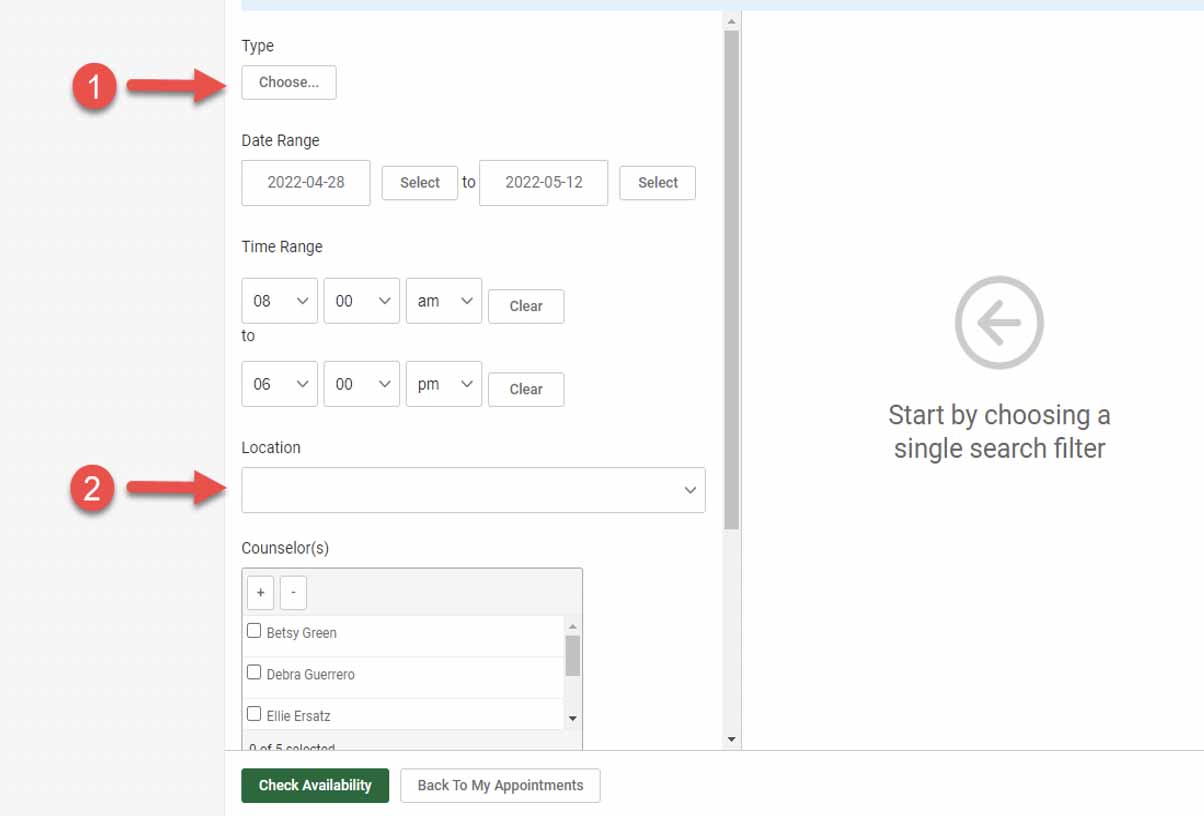 4. Choose an appointment time select "Time and Date Range" and "Counselor" then "Check Availability "to see availability. Click on counselor name under the day and time to select that appointment.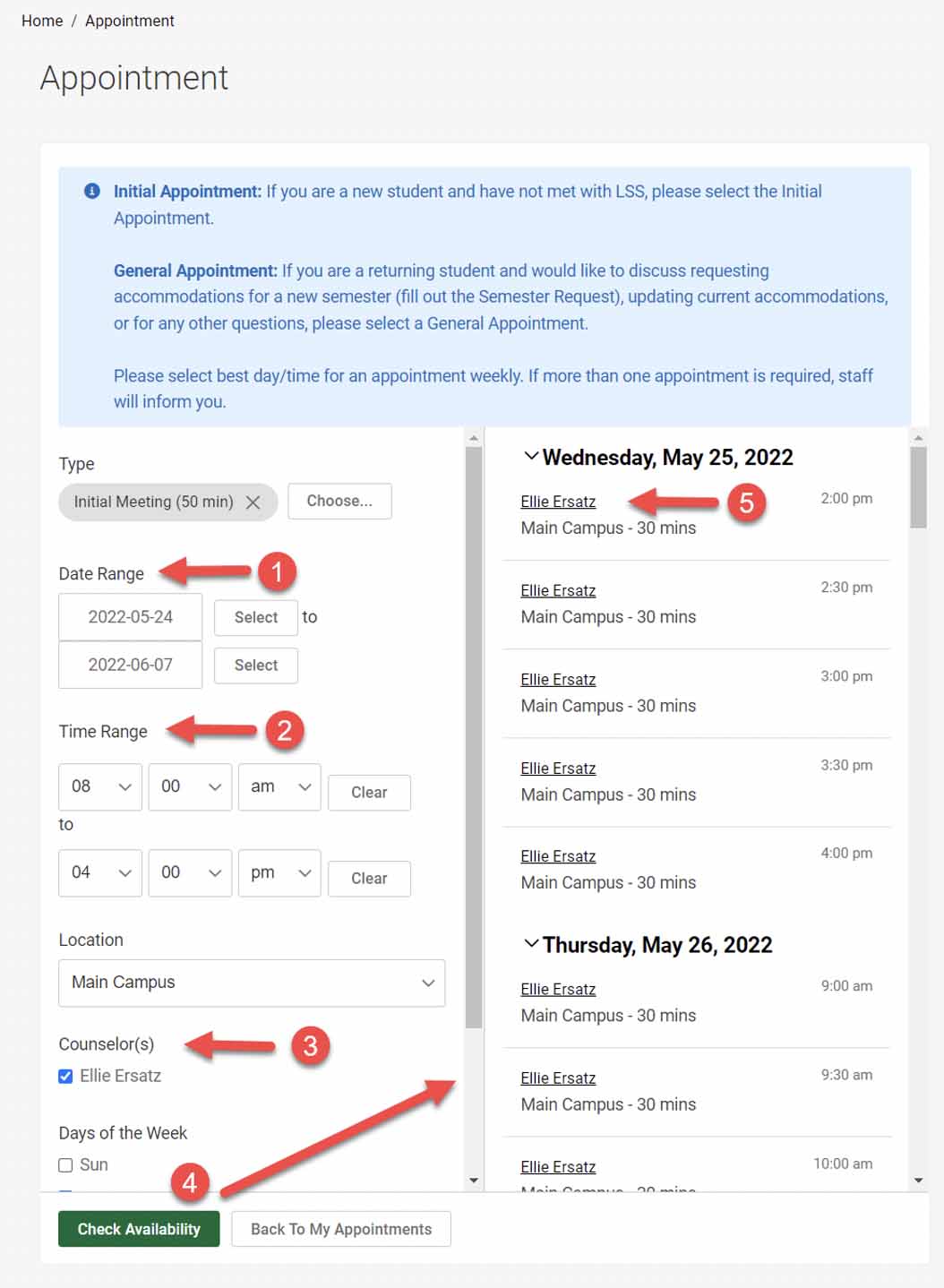 5. Confirm the appointment. Choose reason from drop-down "What do you want to discuss", Add "Additional Notes" if needed – then click "Submit Request".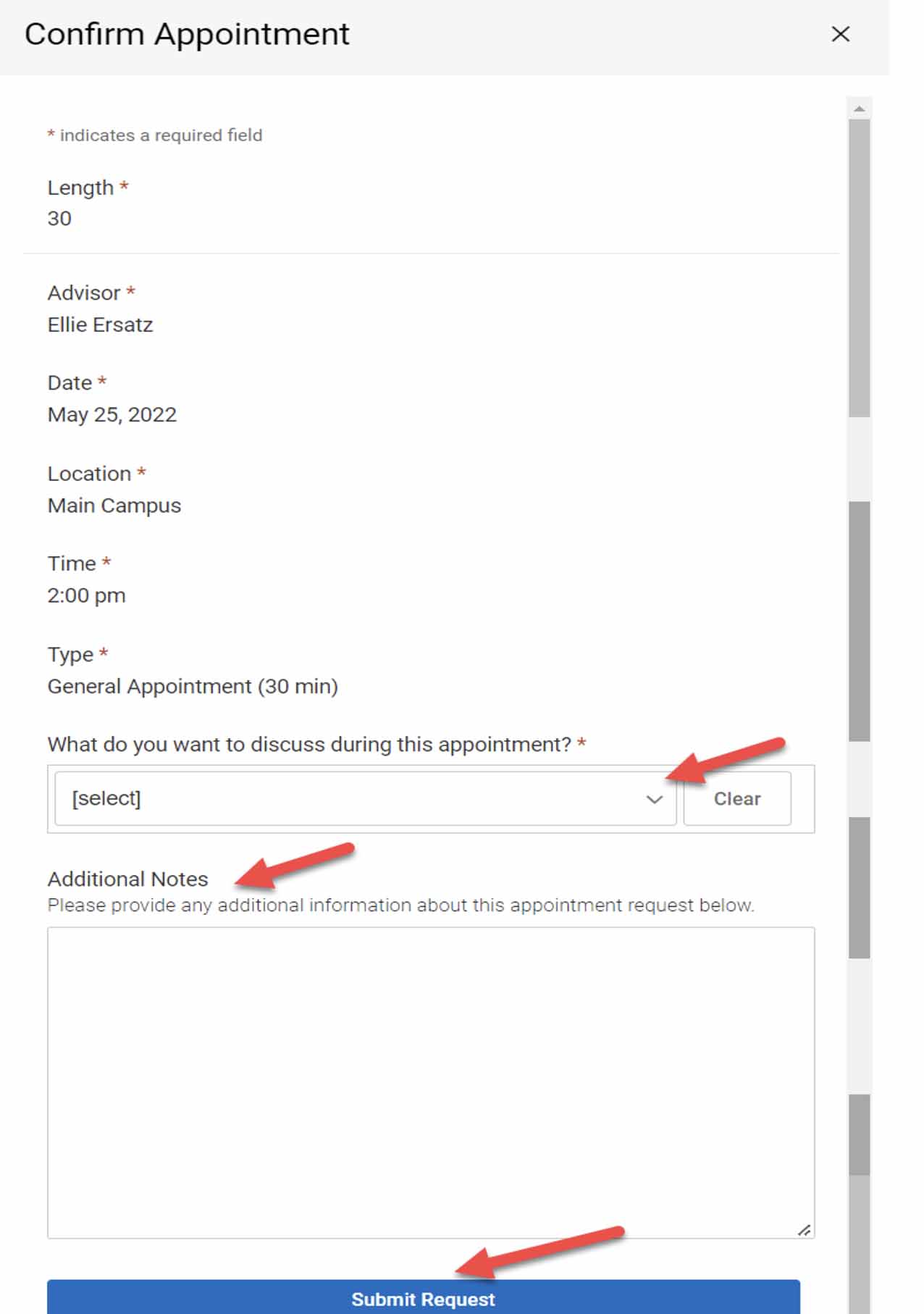 6. Confirmed appointment will show under "Approved Appointments".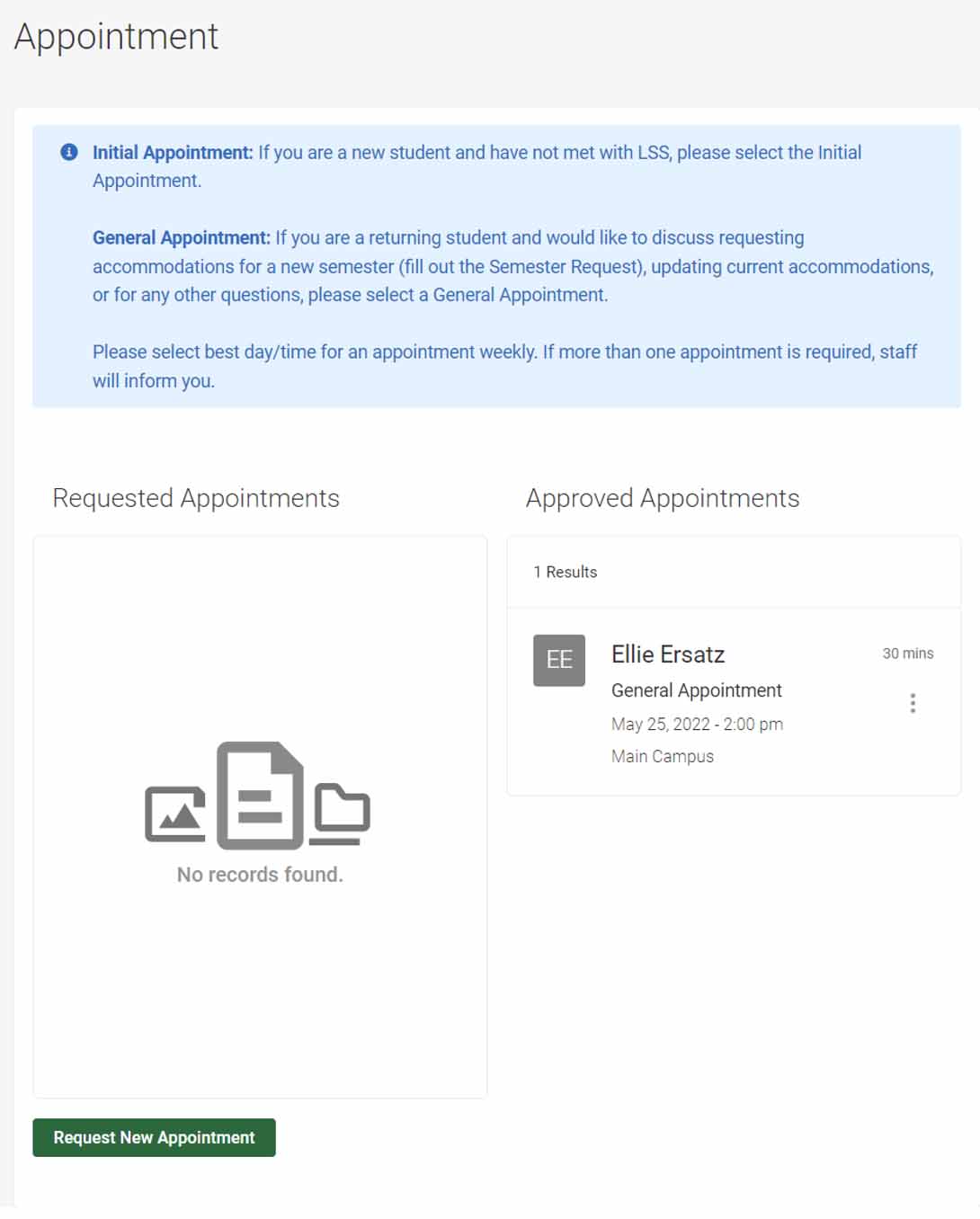 Cancel or Reschedule Appointments
1. Login to Accommodate. Click "Student". Click "Appointment" from the left side menu.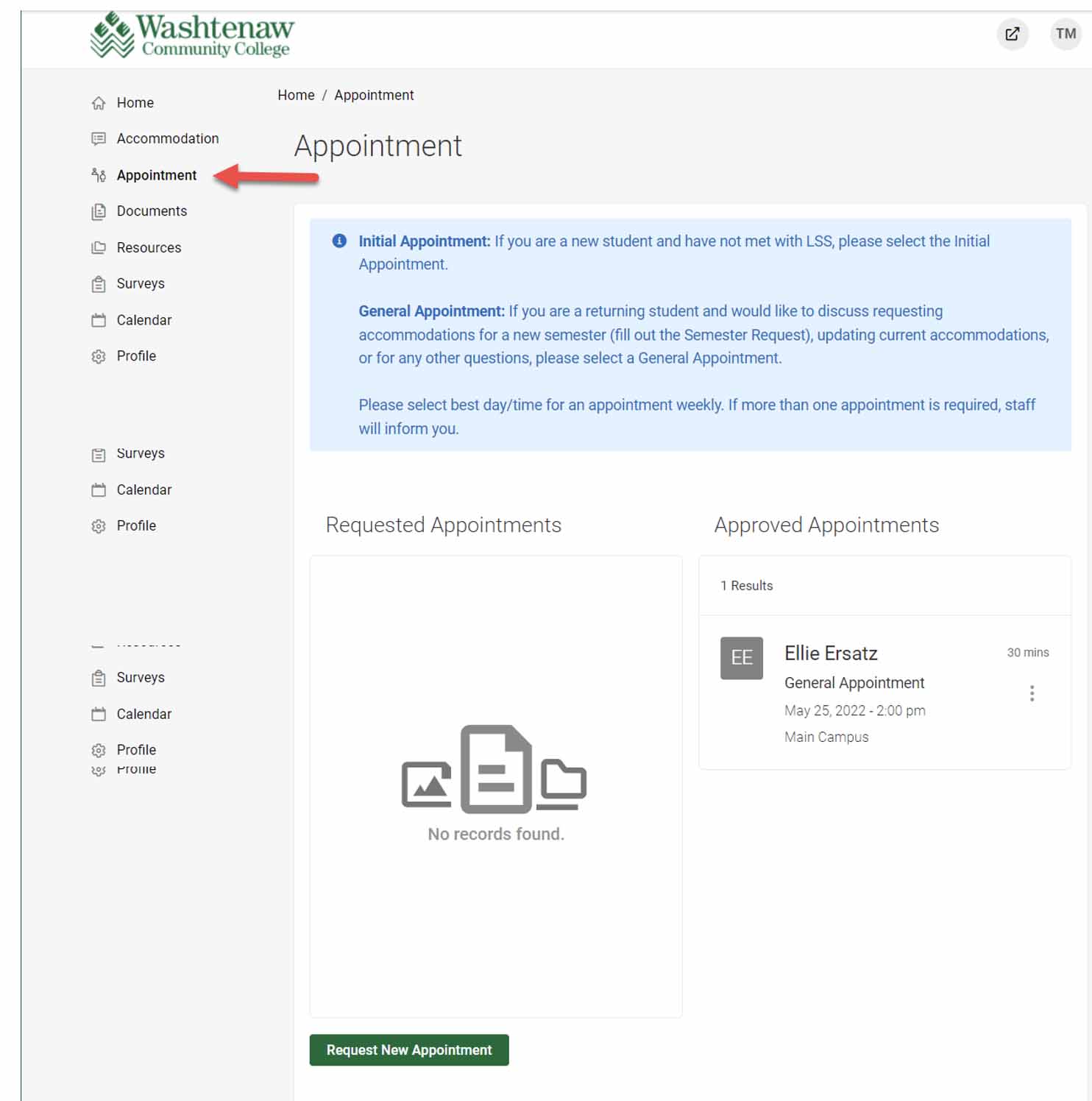 2. Click on the icon with 3 vertical dots to the right of the appointment.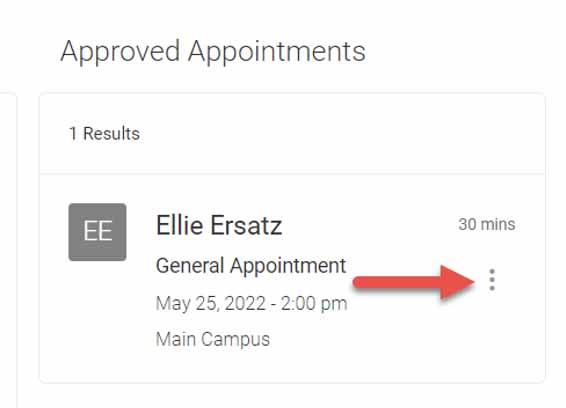 3. Click on "Cancel" (if rescheduling, click "Reschedule" and chose a new meeting time).
4. For cancellations, choose a reason for cancellation from dropdown ad click "Cancel Appointment".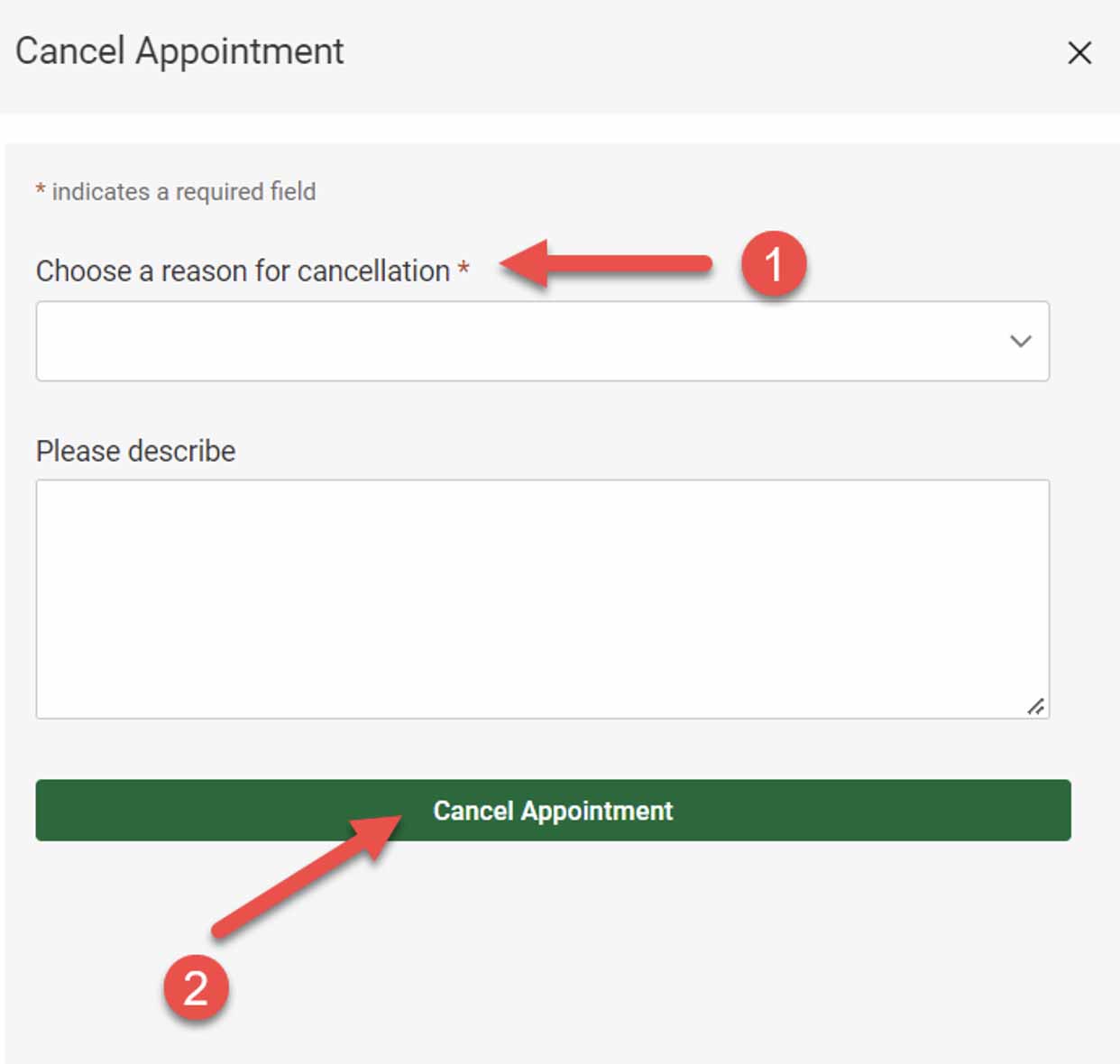 You will then be redirected to the appointment page.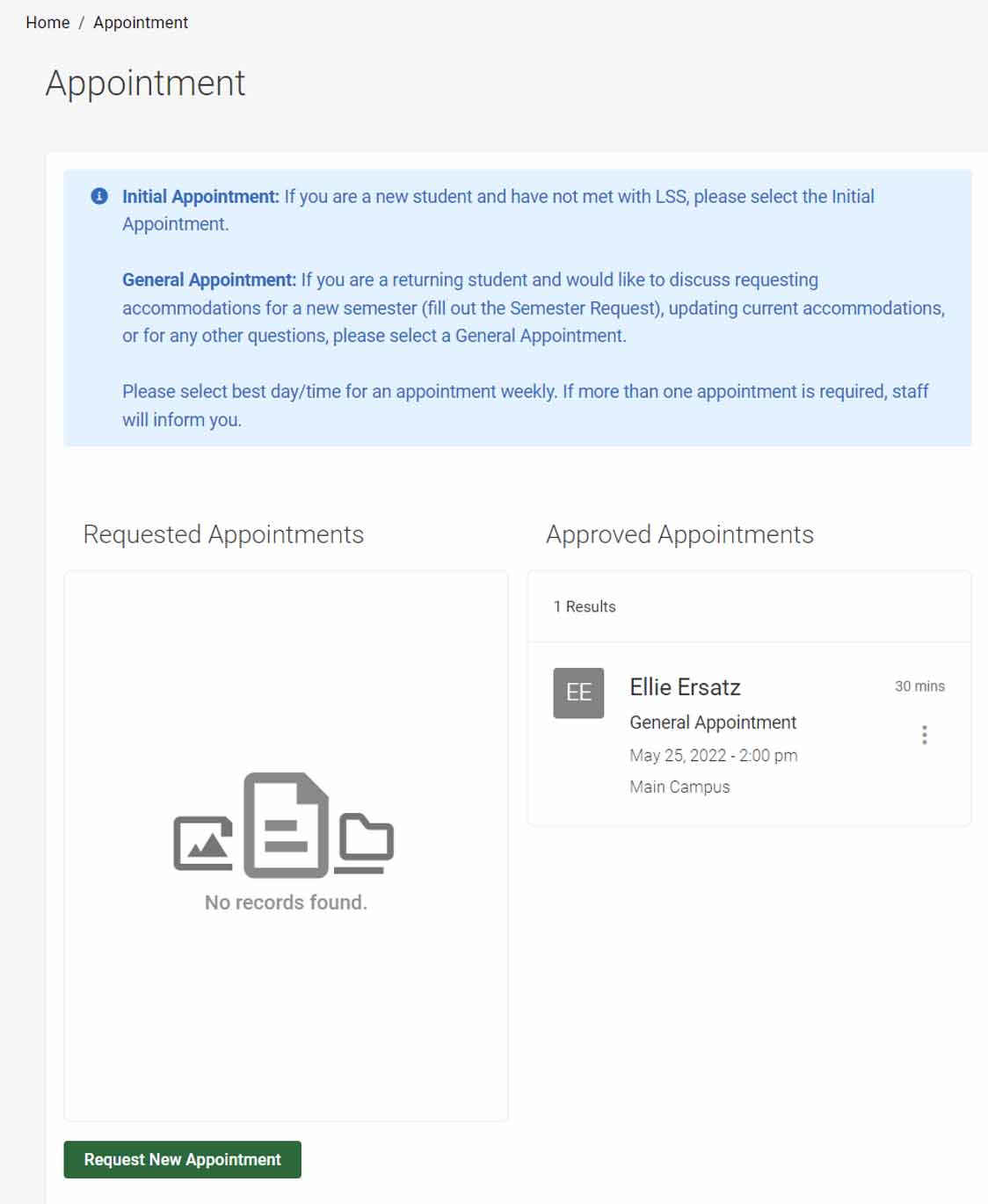 Submit Semester Requests
Each semester, students will log into Accommodate to request their approved accommodations for their courses.
This will submit a request to LSS to review and approve for the semester. Once approved, an Accommodation Letter will be shared with the instructor(s) on record in Accommodate. Once completed, students will be able to create a PDF of the Accommodation Letter to share as necessary.
1. Log in to Accommodate. Click "Student". Select "Accommodation" on the left side menu.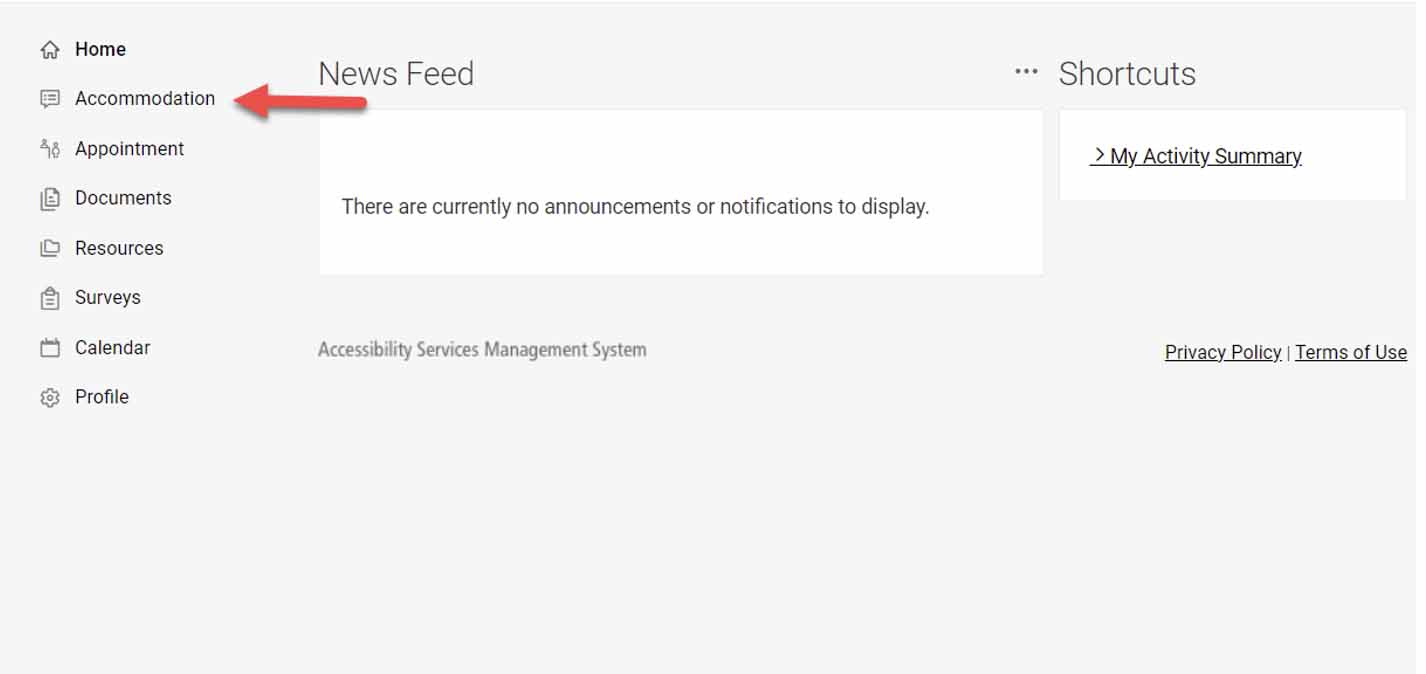 2. Click "Semester Request".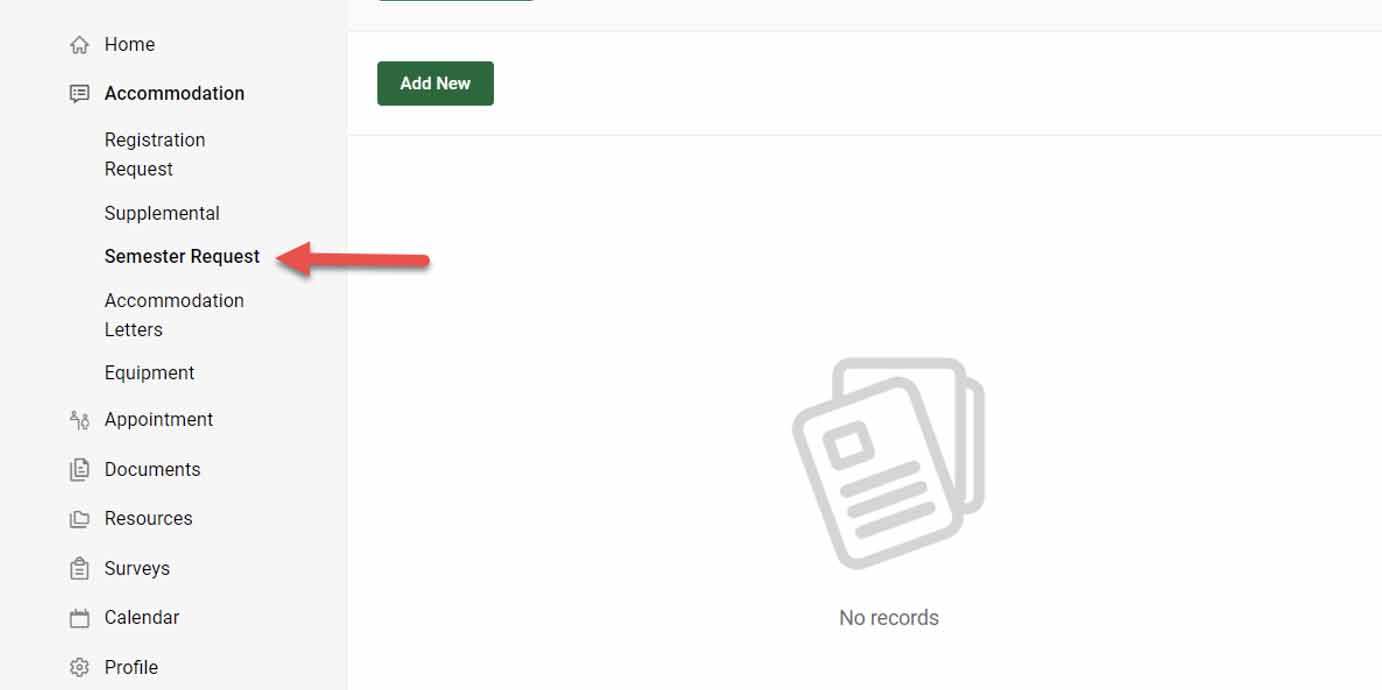 3. In the "Semester Request" tab click "Add New". To view previous semesters, select from the drop down and click "Apply Search".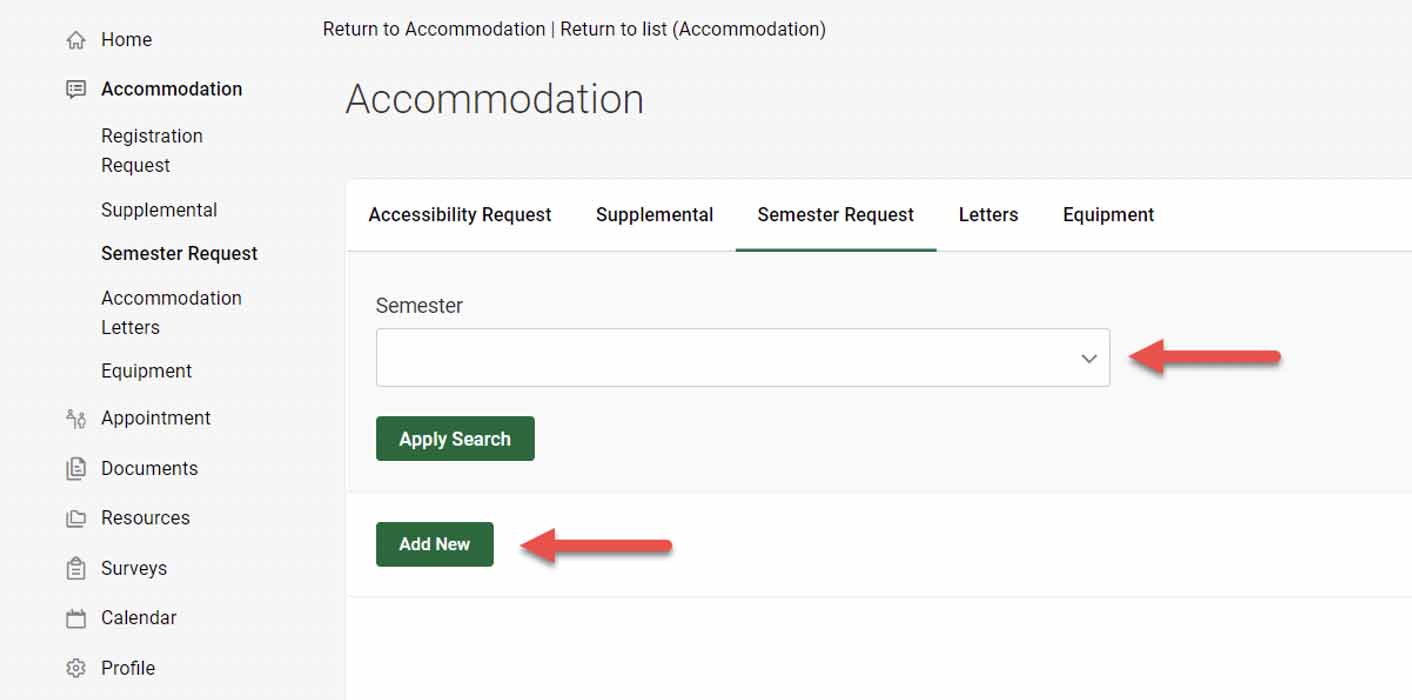 4. Request your accommodations.
To select accommodations for all classes, click "Submit for All Accommodations" to add accommodations for all courses.
To select accommodations for individual classes, click "Semester" and click "Review The Record".
Please Note: If a notetaker is an approved accommodation, and not needed, deselect that course from your semester request by selecting "Review the Record."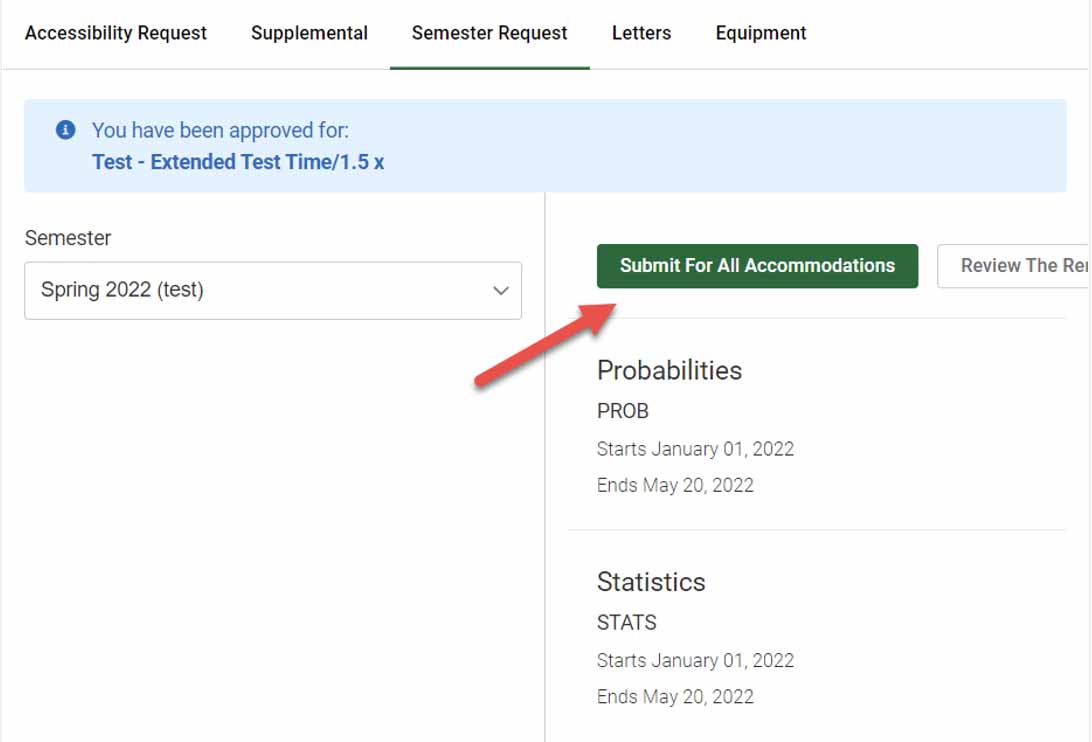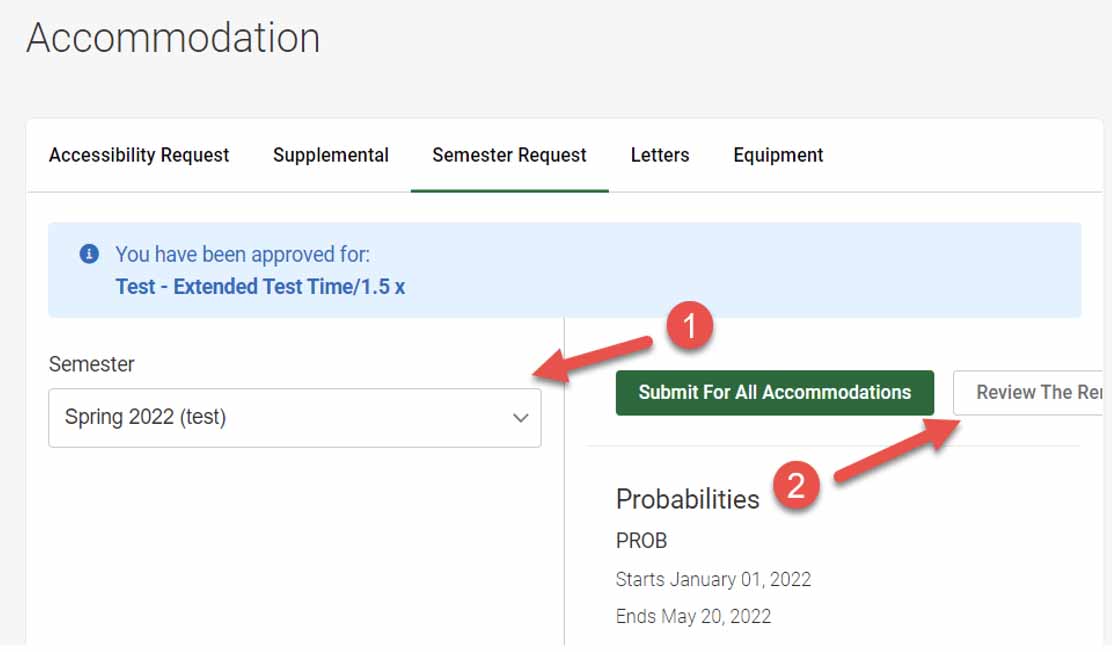 Select the "Course" and "Accommodation(s)". Green check mark indicates accommodation(s) chosen. Then click "Submit".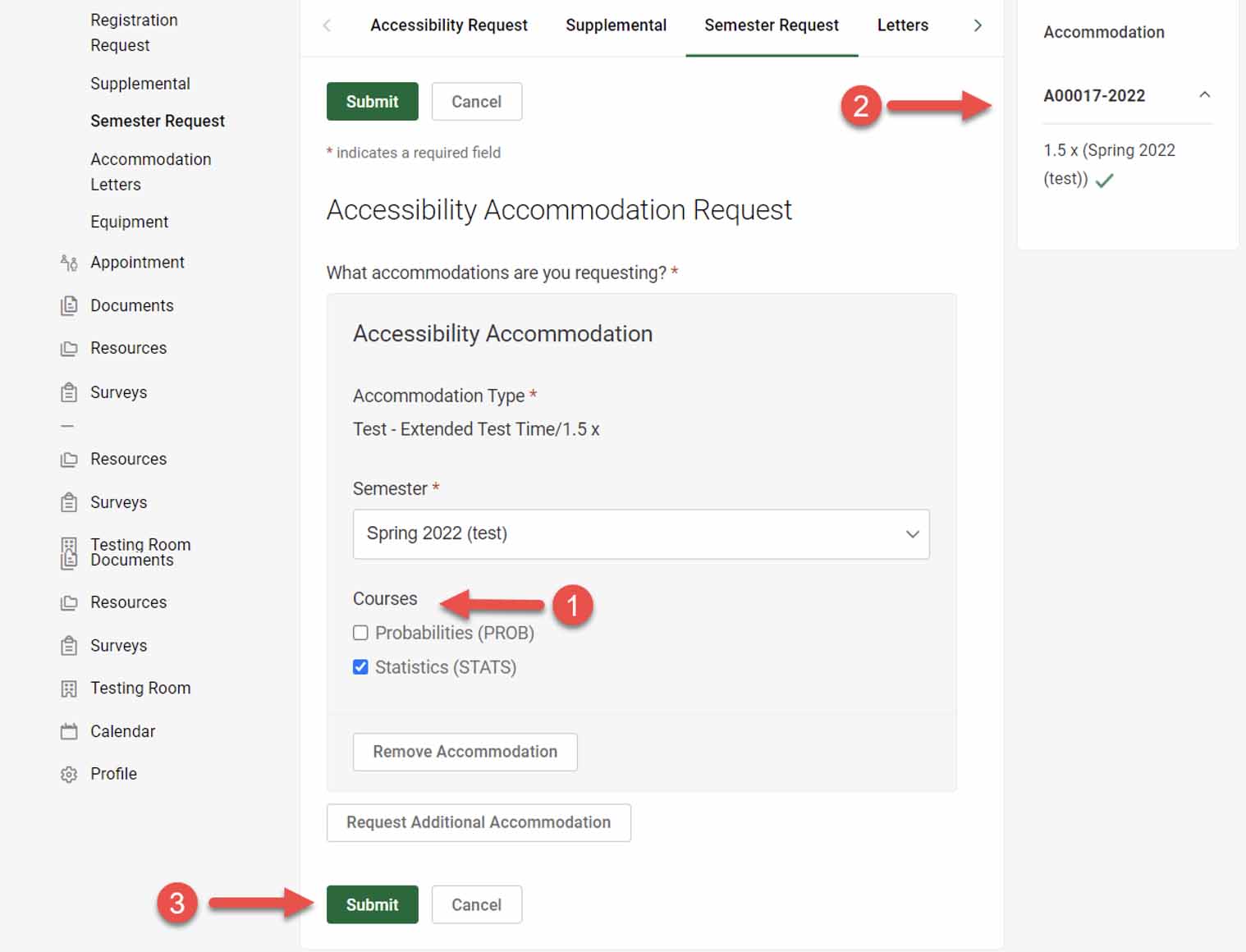 5. Semester Request for accommodations is complete for all classes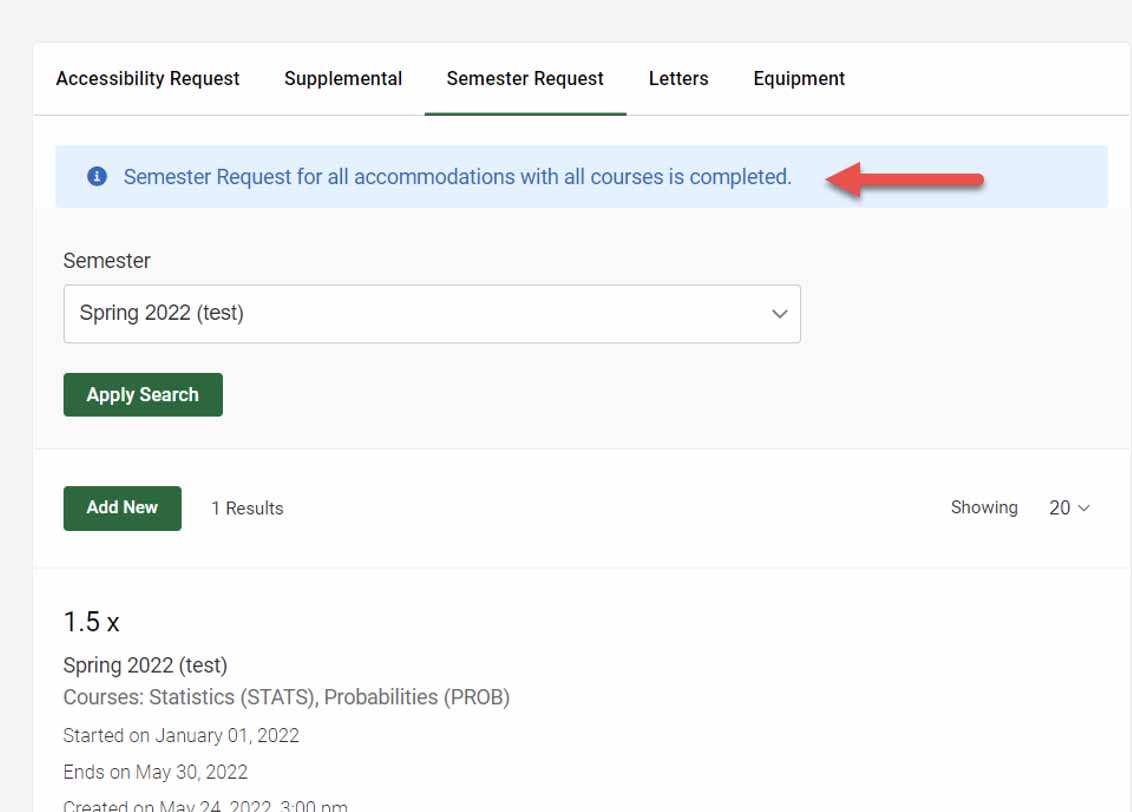 Or Semester Request for accommodations is complete for one class.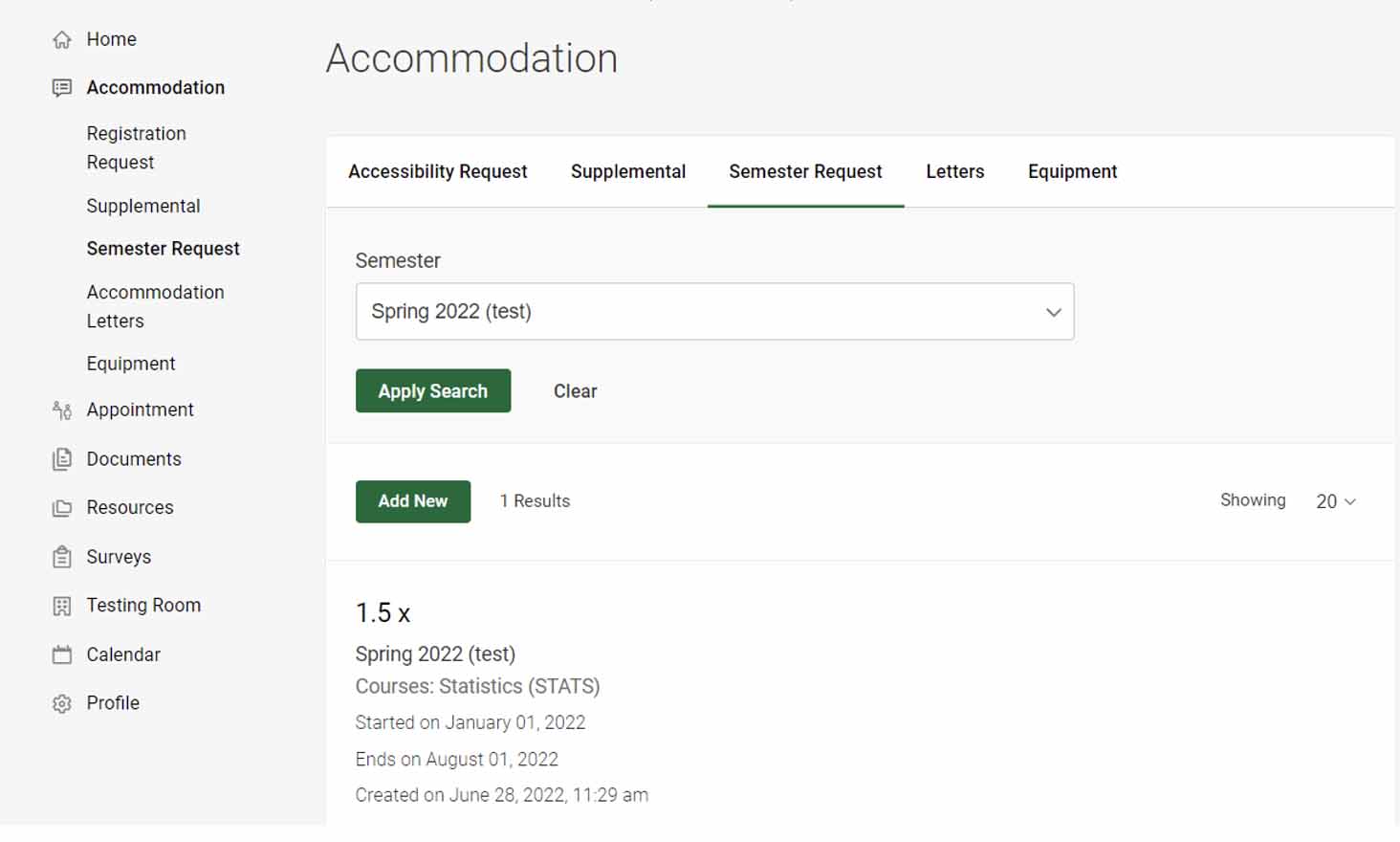 A Program Specialist will approve your accommodations and your Accommodation Letter(s) will be sent to your instructor(s).