Announcing: Bold Futures CANCELLED
Since WCC students and staff will mainly be online for fall 2020, and SPARK has moved its a2Tech360 event to a virtual format, we can no longer have our large group event on WCC's campus. As a result, we had to cancel Bold Futures for 2020, which was to have happened on September 26th at WCC, alongside SPARK's a2Tech360 event. We have been able to offer some of the content for teens in smaller online group settings throughout the summer of 2020, but our traditional all-day larger event on WCC's campus will have to wait until 2021. Thank you to the EC staff, our great partners at the University of Michigan's optiMize organization, and our dedicated committee, including EMU's Optimize group, the YMCA, founder Jayne Burch, and many other local business owners who have committed time and energy over the past five years. We look forward to coming out stronger than ever in 2021!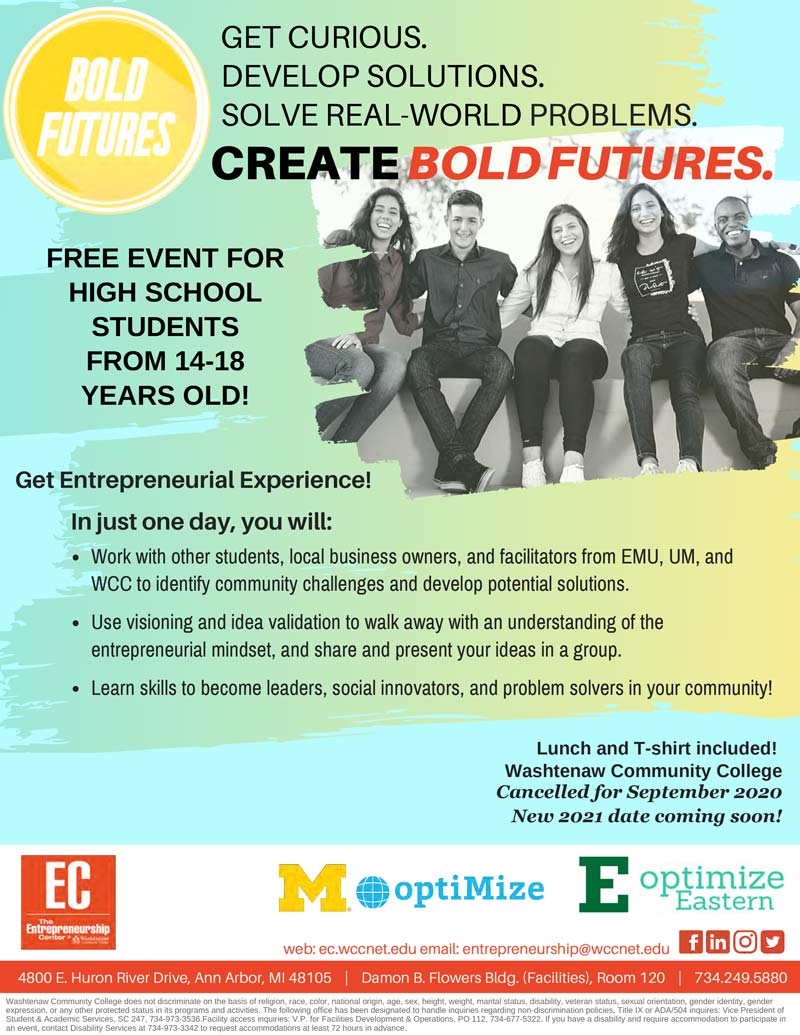 Bold Futures
Bold Futures is an annual FREE day-long event that was created to empower 14-18-year-old students in Washtenaw County with the skills to become leaders, innovators, and problem solvers in their community.
Bold Futures 2019 Event Photos
Past Years: Bold Futures Press Coverage & Event Photos
"Launching The OptiMize Campus Innovators Program," Medium, August 29, 2017, https://medium.com/@optimizeMI/launching-the-optimize-campus-innovators-program-d7d055c011cf
"One-day business program at Washtenaw College to help high school students", MLive, August 22, 2016, http://www.mlive.com/news/ann-arbor/index.ssf/2016/08/bold_futures_project_teaches_t.html#incart_river_home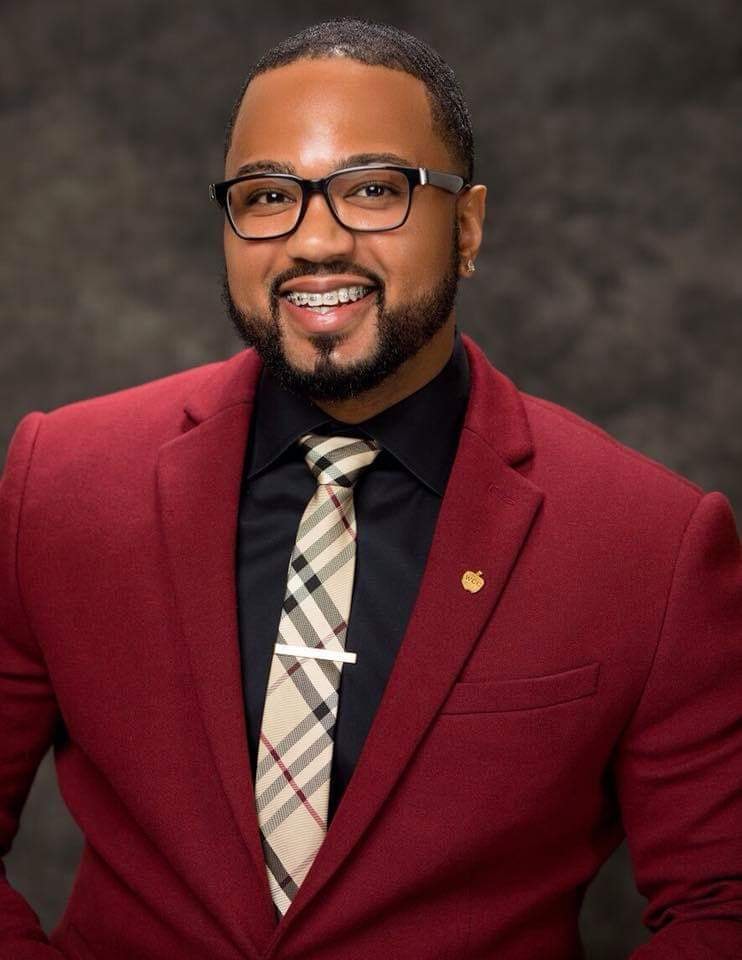 2019 Bold Futures Keynote Speaker:
Loren D. Townes Jr is a sought-after motivational speaker who is fiercely passionate about helping others maximize their full potential! His teachings and messages are geared towards overcoming adversity in pursuit of educational leadership, personal development, and professional advancement. Loren also works as a College Relations Coordinator at Washtenaw Community College (WCC), serving as a driving force to engage prospective students within fields of Advanced Technologies & Public Service Careers! Currently, Loren is pursuing a Master's in Business Administration at Wayne State University (WSU) within the Mike Ilitch School of Business. He currently holds a Bachelor's of Science in Business Administration from WSU and an associate in Arts in Business from WCC. His demonstrated ability to excel academically and professionally, has led to a plethora of profiles in magazines and publications, scholarships, and prestige awards such as being selected as a 30 under 30 Honoree for Manufacturing Engineering Magazine, a 25 under 25 honoree of the Mike Ilitch School of Business, Commencement Speaker for his graduating class at WCC, and the list goes on. Although Loren is very active in leadership with civic engagement duties, much of his time is devoted to assisting individuals in overcoming adversities to achieve measurable results – through his company Gather Momentum LLC. You will often see him on 'Facebook Live' or 'Instagram' motivating people to not only pursue their dreams but to do so with passion and commitment – despite their circumstances. Loren is a shining example of a world-renowned Game Changer that has interwoven a personal passion for helping others succeed with challenging them to push beyond pressure!
---
Washtenaw Community College does not discriminate on the basis of religion, race, color, national origin, age, sex, height, weight, marital status, disability, veteran status, sexual orientation, gender identity, gender expression, or any other protected status in its programs and activities. The following office has been designated to handle inquiries regarding non-discrimination policies: Executive Vice President of Student & Academic Services, SC 247, 734-973-3536. Facility access inquiries: V.P. for Facilities Development & Operations, PO 112, 734-677-5322. If you have a disability and require accommodation to participate in this event, contact Learning Support Services at 734-973-3342 to request accommodations at least 72 hours in advance.