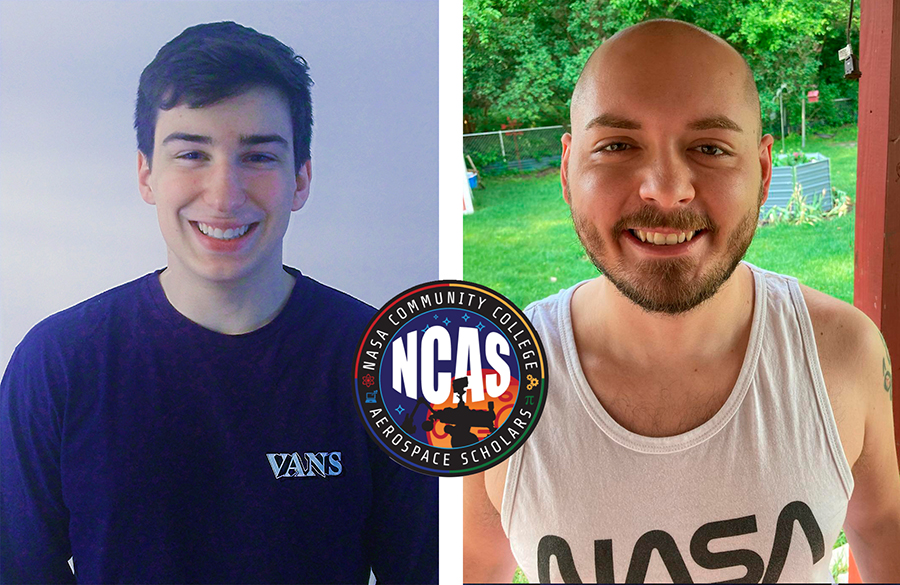 Two Washtenaw Community College students have been accepted into the NASA Community College Aerospace Scholar (NCAS) program for Fall 2021.
Justin Washburn and Philip Stolarski will take part in a five-week online course and final project beginning in October. Those who excel in the course modules can be selected to participate in an all-expense-paid, four-day learning experience at a NASA center.
"Just being part of NASA in any capacity has always been a dream of mine, so the opportunity to work with them is great," said Washburn, a Pre-Engineering Science Transfer major with a goal of working in the robotics engineering field. "Before this opportunity, I didn't think working with NASA was feasible or attainable."
Stolarski, a Secondary Education student who hopes to teach high school physics, concurred: "I'm really excited to learn more about NASA, their missions, their goals and what makes them the great organization they are. I plan to work as hard as possible because I really want to go to the on-site experience."
Both Washburn and Stolarski learned about the program in a General Astronomy course (AST 111) taught by WCC faculty member Daniel Majaess, a proponent of the program. Majaess invited former student Emilee Seghi – the first WCC student to be accepted into the NCAS program in Spring 2020 – to discuss that experience with his current students.
Fellow WCC students Maximilian Ehinger (Fall 2020) and Donaven Lee (Winter 2021) participated in the program after Seghi.
The NCAS program is described as giving community college students "an authentic NASA experience" that allows them to get a closer look at the organization's unique missions, diverse workforce and world-class facilities; and learn how to develop their talents, interests and passion to become future STEM professionals
While this will be Washburn's first time exposed to NASA, he does have some significant aeronautics experience. He enrolled in the United States Air Force as a 17-year-old after graduating from Memorial Pathway Academy in Garland, Texas, at the age of 16.
He served as an aircraft loadmaster, responsible for mathematically pre-planning the correct placement of cargo and passengers to ensure aircraft balance and safety. The 26-year-old moved to Michigan in January 2017, started attending WCC last year and hopes to continue his engineering studies at the University of Detroit-Mercy.
Stolarski, a 2020 graduate of Ann Arbor Father Gabriel Richard High School, said he always liked astronomy as a kid, but Majaess's class was his first "structured" learning on the subject. He liked it so much – and performed so well – that he's working as an instructional aide for the class during the Summer semester.
"I'm really grateful to Dan and WCC for creating so many cool opportunities for students," said Stolarski, who plans to transfer to Eastern Michigan University. "To be able to do this stuff as a community college student is really great."
Tags: Astronomy, NASA, Student Success, ousearch_News_2021