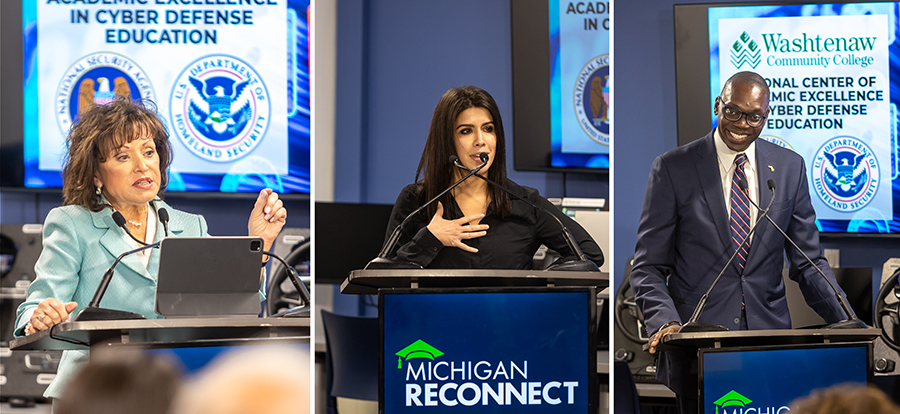 Washtenaw Community College served as the backdrop for a State of Michigan press conference to spotlight $6 million in additional funding that students in the Michigan Reconnect and Futures for Frontliners programs can use to cover expenses beyond tuition.
Lieutenant Governor Garlin Gilchrist II and Michigan Department of Labor and Economic Opportunity director Sarah Szurpicki explained the new funding, which will support Reconnect and Frontliners students who are pursuing tuition-free associate degrees or skills certificates with up to $550 per academic year for college costs beyond tuition; which may include books, childcare, internet access or transportation.
RELATED: SEE PHOTO GALLERY FROM EVENT
RELATED: VIEW A REPLAY OF THE PRESS CONFERENCE
WCC President Dr. Rose B. Bellanca, Michigan Representative Felicia Brabec and Ann Arbor SPARK Senior Vice President and Chief of Staff Phil Santer each spoke glowingly about the impact the Reconnect program is having on the local and statewide economy and workforce development.
The star of the show, however, was WCC student Carmen Samaniego, a 33-year-old Ann Arbor resident and single mother of two who enrolled in a computer science program with the help of the Reconnect program.
"I've been in the program for a little over a year now and I can't believe everything I'm learning," Samaniego told those assembled for the press conference. "I've learned so much about computer science, I've learned how to take my future into my hands for the benefit of me and my family. I just couldn't be more happy to be a part of it."
Samaniego said she's already made an appointment with the WCC Student Resource Center to figure out how she can best utilize the additional funding to help her achieve her goals.
"It's going to help people like me be able to take more classes and get through these programs faster and better," she said.
The event was held in WCC's new automotive cybersecurity lab space, which is outfitted with state-of-the-art Umlaut workbenches that allow students to interact with a vehicle infotainment system in an engineering and cybersecurity capacity.
You can watch the press conference in its entirety on the Michigan Department of Labor and Economic Opportunity Facebook page.
Following is the complete press release issued by the State of Michigan immediately following the event:
Lt. Gov. Gilchrist II Highlights $6M Investment to Help Students Overcome Barriers to Higher Education
Statewide Tour Kicks off at Washtenaw Community College, Spotlighting New Grants For Michigan Reconnect and Futures for Frontliners Students
LANSING, Mich. — Today, Lt. Gov. Garlin Gilchrist II launched a statewide tour from Washtenaw Community College to spotlight Michigan's $6 million bipartisan investment in grant funding designed to ease the path for working-age adults who returned to college or enrolled for the first time through the Michigan Reconnect or Futures for Frontliners programs.
The new grants, which will be distributed by the state's community and tribal colleges, can be used for books, childcare, internet access and transportation to help students pursue tuition-free associate degrees or skills certificates. Washtenaw Community College and other eligible institutions can distribute the allocated funds directly to the student – with as much as $550 available per student per academic year.
"Michigan Reconnect is helping tens of thousands of hardworking people take the first step toward a brighter future, and it is providing employers with the highly skilled workers they need to keep and grow their businesses throughout the state of Michigan," said Lt. Gov. Gilchrist II. "We need to spread the word to more Michiganders. These new grants are an example of how government can and should partner to put every Michigander on the path to prosperity."
In launching the statewide tour, Lt. Gov. Gilchrist II was joined by officials from the Michigan Department of Labor and Economic Opportunity's Office of Sixty by 30 Director Sarah Szurpicki, Washtenaw Community College President Dr. Rose Bellanca, Ann Arbor SPARK Senior Vice President and Chief of Staff Phil Santer, and WCC and Michigan Reconnect student Carmen Samaniego.
The tour's aim is to highlight how programs such as Michigan Reconnect and Futures for Frontliners are creating a rewarding path to in-demand careers for tens of thousands of Michiganders and celebrating the state's latest Sixty by 30 achievements. It also seeks to encourage more participants in the Michigan Reconnect program.
We admire all those Michiganders who have used Reconnect and Futures for Frontliners to take the first step to achieve their educational dreams. We know it's not an easy path, and we want to keep providing the support they need. This is a critical investment to help more people successfully complete a certificate or degree program," said Szurpicki. "By removing barriers to education, we can help more hardworking Michiganders stay on the path to bigger paychecks and a successful future."
Michigan's public community colleges and tribal colleges will use the $6 million in wraparound grants from LEO to provide additional financial support for Michigan Reconnect and Futures for Frontliners students.
Dr. Bellanca called the additional support for Reconnect and Futures for Frontliners students an important step in overcoming the barriers that often stand in the way of a college education for so many adult students. Washtenaw Community College has enrolled 2,038 Reconnectors and 2,287 Futures for Frontliners students.
"Michigan Reconnect is an important key to helping community colleges like WCC attract, train and graduate students for the high-paying and high-demand jobs that will drive Michigan's future," said Dr. Bellanca. "We are a proud partner in that effort."
Santer praised Michigan Reconnect and the new investment as vital to economic growth in the Ann Arbor region.
"The reliability and adaptability of talent is a key factor in keeping existing jobs in a community, and in attracting new companies to a region," Santer said. "The talent pipeline is strong in the greater Ann Arbor region. Michigan Reconnect and this new investment will make it even stronger."
A single mom, Samaniego and her young family understand the value of the Reconnect program. In her early thirties when the COVID pandemic hit, Samaniego found her job as a cosmetologist at risk due to pandemic restrictions. With two young sons to support, she never thought college was an option. Then she heard about the Michigan Reconnect program and its free tuition provision. She took advantage of this opportunity and is now enrolled in WCC's computer science program.
"College is very difficult to do on your own and just didn't seem doable for me with two little kids to support," Samaniego said. "WCC and the Reconnect program are making a college education attainable for me. If you're over 25, you can go to college for free. It sounds too good to be true, but it is true."
To be eligible for the grants, students must:
• Be Michigan Reconnect or Futures for Frontliners scholarship participants.
• Have completed at least one semester within the respective scholarship program they are participating in.
• Be enrolled or be in the process of enrolling for a following qualifying semester.
Grants will be awarded based on the proportion of Michigan Reconnect and Futures for Frontliners students at each community college or tribal college. Institutions will have one calendar year from the date of the award to distribute funds — up to $550 per student per academic year — and Frontliners and Reconnect students are encouraged to talk to their community or tribal college about these grant opportunities.
The wraparound grants build on Michigan's network of people and resources in place to provide students with the critical support they need to successfully enroll in classes and complete a skill certificate or associate degree program.
To help Reconnect students succeed with the steps leading up to enrolling with a community college, the state's Reconnect Navigators are available to help applicants complete admissions and financial aid requirements, set career goals, identify relevant educational opportunities and create a plan to graduate. Navigators, who reach out to students after they have been accepted into the Reconnect scholarship, will also connect students to additional programs and assistance offered by their community college and local partners to remove barriers to education.
Since Michigan Reconnect launched in February 2021, over 98,000 Michiganders have been accepted into the scholarship program and nearly 16,000 have enrolled in a community college, helping to drive success toward Gov. Whitmer's Sixty by 30 goal of having 60% of Michiganders with a postsecondary degree or skills certificate by 2030. In Washtenaw County alone, there have been approximately 800 Reconnect enrollees.
More information is available at Michigan.gov/Reconnect.
Tags: Dr. Rose B. Bellanca, Futures For Frontliners, Michigan Reconnect, On The Record, Press Release, September 2022