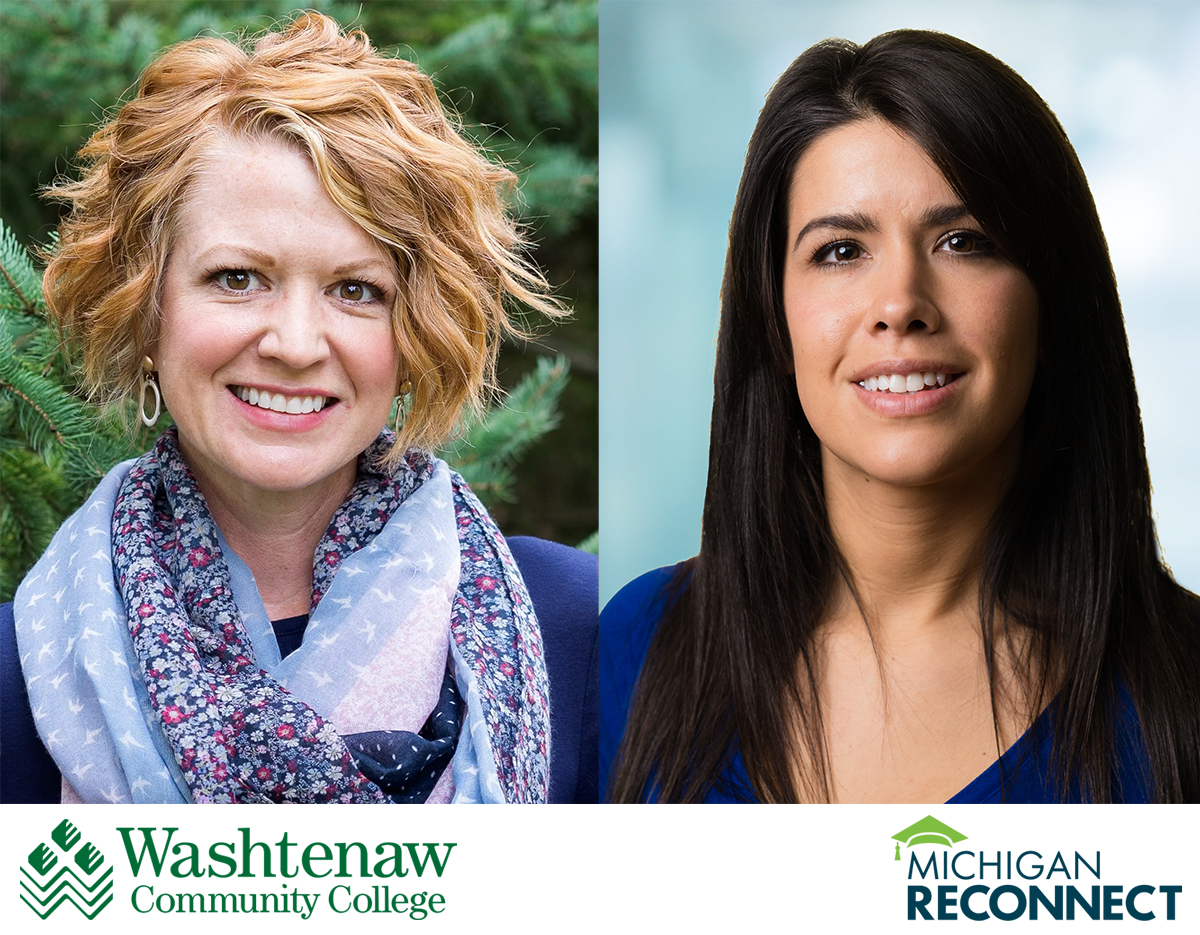 A television news report over a year ago announcing the Michigan Reconnect state tuition program to help older students return to college was all the spark Amanda MacDonald needed to fulfill her career aspirations.
The Chelsea resident immediately turned from her TV to her computer.
"I hopped on and researched it and applied right away. Enrolling in college was always in the back of my mind, but was not something I was necessarily planning," she said. "Initially I thought there might only be X number of spots and there would be a rush to apply, so there was a lot of urgency behind me."
Fast forward a year: MacDonald, a wife and mother of three who is employed full-time, is pursuing a Medical Billing and Coding certificate at Washtenaw Community College.
She is among nearly 1,300 students who have taken the next step and enrolled in their first classes at WCC.
Michigan Reconnect pays the cost of in-district tuition for eligible adults wanting to pursue an associate degree or skills certificate at any of Michigan's public community colleges, including its three tribal colleges. Out-of-district students who receive the scholarship must pay the difference between the in-district and out-of-district tuition rates.
To be eligible, Michiganders must be 25 or older, not have a college degree and have lived in the state for one year.
Since the Reconnect program's launch in February 2021, more than 12,000 scholarship participants are currently enrolled at schools statewide in a degree or skills certificate program, according to the state.
MacDonald's dream of helping people navigate the sometimes-complicated world of medical bills and advocating for insurance coverage is in sight thanks to her WCC education. She anticipates that once she earns her certificate next summer she'll stack her credits toward pursuing a Health Administration associate degree at WCC.
"I'm 46 and wished I'd done this sooner because once I started, I loved going to school. In the past I've only taken jobs to make money. Now I can do something that I have a passion for," said MacDonald, who has worked as a human resources generalist for a decade and at one time found herself needing to advocate for her own family members.
"It's been great for my confidence. Without Reconnect, I'm not sure I would have come back. I would have made excuses and seen too many obstacles," she said.
WCC's Financial Aid office serves as a resource and starting point for many incoming students, and the college's Success Coaches and Career Counselors support students throughout all aspects of their educational journeys, including assisting with applications and transfers.
Reconnect information sessions are offered weekly for prospective students who want to learn more about the state tuition program and enrollment in the upcoming Summer or Fall semesters at WCC.
"We are so proud of our Reconnect students, many of whom are balancing families and full-time jobs. They've chosen to enroll at Washtenaw because they have big goals for themselves and their families and know this is the next step to their dream job," said WCC President Dr. Rose B. Bellanca.
From Cosmetology to Computer Science
Like MacDonald, Carmen Samaniego rushed to learn more about Reconnect after hearing about the program. She'd spent 16 years in her first career of cosmetology and was unable to work much during the initial stages of the pandemic.
"During COVID I wasn't able to work for a long time. There were a lot of salon restrictions,: Samaniego said. "My best friend told me this bill was passed and that if you're over the age of 25 you can go to college for free. I thought 'That's too good to be true, but if it is true, I'm going to sign up as soon as I can'."
So she made a phone call that changed her life.
Today, the Ann Arbor resident is pursuing a Computer Science: Programming in Java associate degree as a Reconnect student at WCC and is excited about the world of possibilities as a computer scientist.
"This has opened so many doors that I couldn't have imagined," says Samaniego, who is learning about emerging careers in artificial intelligence, smart cities, autonomous vehicles and more. She's even thinking about how to marry her new tech savvy with her beauty skills.
"WCC has really held my hand all the way through," said Samaniego, who has taken advantage of WCC's support system, including free tutoring for a math course offered through the WCC Bailey Library and Learning Commons. "If you are desiring a higher education, WCC and Reconnect make it very attainable."
How to Reconnect
— Register for a virtual Reconnect information sessions, held from 5-6 p.m. every Tuesday, or view a recent presentation.
— Schedule a 1:1 virtual appointment to discuss Reconnect at WCC.
— Enrollment opens March 16 for the Summer semester (May 9 start) and Fall semester (August 29 start).
— Plan ahead by viewing class schedules for the Summer and Fall semesters.
———
A version of this story was published in the Summer 2022 edition of Launch Magazine. See this and previous editions at wccnet.edu/launch.
Tags: Computer Science, Health Administration, Launch Summer 2022, March 2022, Medical Billing and Coding, Michigan Reconnect, On The Record, Reconnect, Student Profile