The public is invited to the MLK Day Celebration hosted by Washtenaw Community College from 3:30-5 p.m. Thursday, Jan. 12, on the second floor of the Student Center building on campus. The event will also be livestreamed.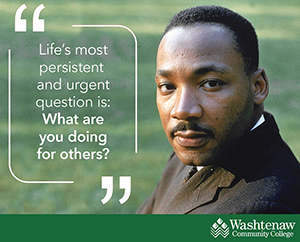 The celebration will include live music and awards and will highlight an upcoming student service project. Speakers will address one of Dr. Martin Luther's King Jr.'s most famous quotes, "Life's most persistent and urgent question is: What are you doing for others?"
The keynote speaker will be Washtenaw County Commissioner Caroline Sanders. Other speakers include WCC President Dr. Rose B. Bellanca and Black Student Union President Shemaiah Reeves. Musician and former WCC student Kenyatta Rashon, an Ypsilanti native, will perform.
The theme for this year's event is service, which will be highlighted by an invitation from the college to take part in an upcoming service day. Students who recently attended WCC's Minority Student Leadership Retreat developed a community and family service day that will be held at Parkridge Community Center, 591 Armstrong Drive, Ypsilanti, from 3-6 p.m. Friday, Jan. 20.
The event will provide a meal, college and career services, activities for kids, and giveaways. Kids will be encouraged to work on fun activities that reflect on Dr. Martin Luther King Jr.'s famous "I Have a Dream" speech and how it relates to their own life. They will also create a timeline of Dr. King's life.
"Our hope is that families will get out and do something together," said Mia Lanier-Durkins, who recently transitioned from her former role as Coordinator of Student Engagement with the Office of Diversity and Inclusion to Manager of College and Career Readiness at WCC's Parkridge Community Center.
"We know that families can transition out of poverty through college and career opportunities, and we want them to know what WCC offers. We are giving families affordable and tangible options."
Other organizations participating in the service day activity include the WCC Workforce Development and WCC Student Outreach and Recruitment offices, the Corner Health Center, Michigan Reconnect and Molina Healthcare of Michigan.
The link for Thursday's MLK Day Celebration livestream is wccnet-edu.zoom.us/j/89140668083.
MLK CELEBRATION 2023
For details on these and other MLK Celebration events hosted by Washtenaw Community College, visit wccnet.edu/mlk-day.
Tags: Equity in Action, MLK Day