July 5, 2019 Washtenaw Community College
For the second straight year, a Washtenaw Community College student is the recipient of a Jack Kent Cooke Foundation Undergraduate Transfer Scholarship that awards bachelor's degree-seeking students up to $40,000 annually for as many as three years. Ahmed Ghalib, a 22-year-old Ann Arbor resident, is one of 61 community college students from across the nation awarded the scholarship and one of only two from the state of Michigan.
"This scholarship is absolutely phenomenal, so for WCC to get backto- back winners is like winning the lottery," WCC Vice President of Student & Academic Services Linda Blakey said during a congratulatory meeting with Ghalib.
WCC alumna Maria "Paula" Salazar was awarded the same scholarship last year.
Ghalib, a Computer Science major who graduated from WCC in May with a 4.0 GPA, was born in Baghdad, Iraq, and came to the United States with his family in 2008. After graduating from Ann Arbor Pioneer High School in 2015, he worked for two years in retail and hospitality positions while focusing on his own tech-related project during his free time. He enrolled at WCC in 2017 to become more technically involved with other engineers in that software venture.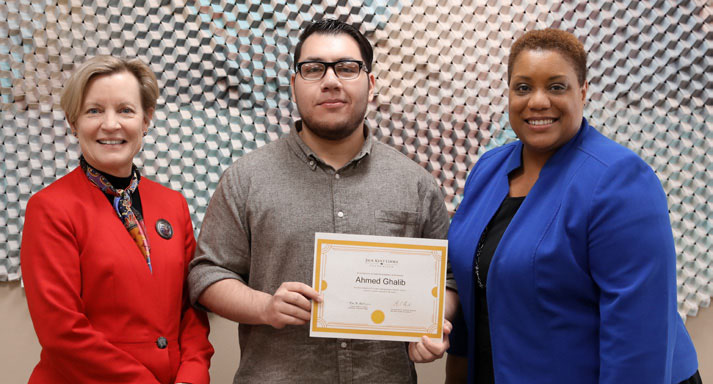 Linda Blakey and VP of Instruction Kimberly Hurns congratulate Ghalib on being named a Jack Kent Cooke scholarship winner.
---
"I started from the very bottom of the math sequence, but was fortunate enough to meet (WCC faculty member) Mr. Jason Davis, who not only made me love mathematics, but inspired me to aim for more than an associate degree.
"I have been more than fortunate to have spent the past two years at WCC. Beyond the priceless education and personal skills developed at this institution lies the foundation of its greatness – the instructors. They've made a profound impact on my life, personality and mindset. I will forever be in debt to their efforts, kindness and wisdom."
Ghalib was one of nearly 1,500 students to apply for the 2019 Cooke Undergraduate Transfer Scholarship. According to a release, the Jack Kent Cooke Foundation evaluates each submission based on academic ability, persistence, leadership, and service to others.
---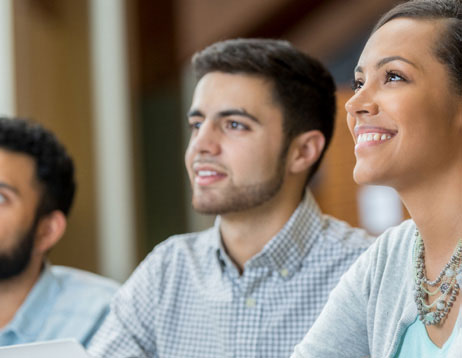 Start Here. Save Money. Then Transfer.
WCC makes it easy to transfer anywhere with a 2-year associate degree or transfer 30 credits to a four-year institution through the Michigan Transfer Agreement (MTA).
Advantages of starting at WCC include:
Lower tuition rates
Smaller class sizes
Flexible class schedules
Online classes and programs
Full-time professional faculty
Personalized attention
Many 3+1 transfer programs
Check out our transfer programs in Business, Criminal Justice, Liberal Arts, Math and Science and General Studies just to name a few at WCCNET.EDU/PROGRAMS.