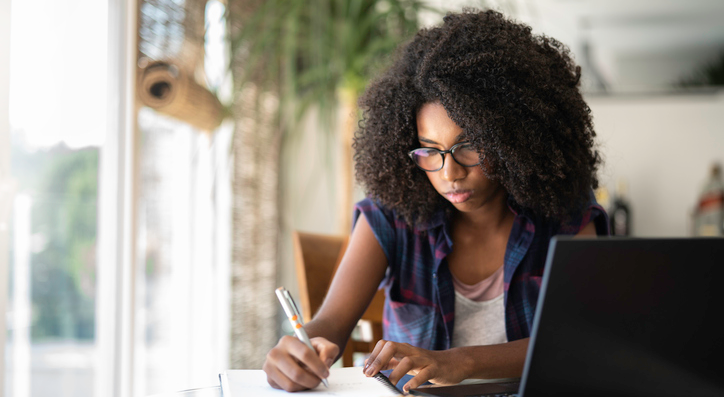 Dual Enrollment at WCC offers academically qualified high school freshman, sophomores, juniors and seniors the opportunity to take courses at WCC while still attending their home high school or homeschooling. Students must be enrolled in at least one high school class to be able to register for classes at WCC.
Dual Enrollment At-a-Glance
With careful planning with the high school counselor, students can earn an associate degree along with their high school diploma!
Flexible class schedule and delivery (day, afternoon, evening, hybrid, and online course options) at multiple campus locations.
Students pursue both transfer, and career and technical education programs.
Students are engaged in organizations and participate in campus activities
Did you know?
If you take just one WCC class each fall and winter semester while you're in high school, you could earn 18 credits! That's more than a full semester's worth of credits, giving you a great head start on college!"
See our Academic Calendar See our Course Schedule
Dual Enrollment Steps
IMPORTANT! It is strongly recommended that dual enrollment students attend Orientation.
Submit Your Application


Submit your application online anytime. Applying is free and only takes about ten minutes to complete. Use your personal email address for login to the application account. The application will allow you to upload your high school transcript or your unofficial college transcripts if applicable, and other application materials. It can take up to one business day for your application to be processed. You will receive an email with your WCC Student ID number in your 'Welcome to WCC email.'

Set up your NetID
Your netID is your online identity with WCC. It allows you to access all online services at WCC ranging from your WCC email account to MyWCC where you can view MyChecklist for admission requirements, register for classes, check your grades, and more.

Note: This is a different login than the account you created for your application. You will set up your netID after you receive your WCC Student ID number, which will be emailed to you once your application has been processed.


Complete your Admissions Checklist*

Steps to view your checklist: Login through MyWCC and click on your Applicant tab → Check My Checklist → Click on an item to get instructions for completing it.

Get Admitted
Dual enrolled students must demonstrate college level skills in both reading and writing to be admitted to WCC. There is no minimum math requirement for admittance to WCC. Students who wish to take a math course or register for a course with a math requirement will need to meet the math requirement for that course prior to registering for the class.

College readiness minimum requirements for reading and writing:

3.0 GPA | If you are currently in 12th grade and have a cumulative GPA of 3.0, submit your high school transcript
SAT | Reading 24 Writing 24 or PSAT 10 PSAT 11 | Reading 23 Writing 23

Submit your pdf score report of your SAT or PSAT 10 or PSAT 11 scores

Writing Sample | The Writing Placement test is used to calculate academic levels for reading and writing and may be completed on any device.
Accuplacer | Reading 253 Writing 250

*You may sign up to take the Accuplacer test by clicking on the link order your test. Your submitted request will automatically be sent to

[email protected]

A proctor will send you instructions and a link to sign up. Please note: You must have internet, PC or laptop with a webcam and microphone. Accuplacer does not work on Chromebook or tablet.



Complete Dual Enrollment Paperwork
The Dual Enrollment Packet is available for download. Students who are unable to submit printed copies are able to send approved paperwork via email to [email protected].

*Tip: Scan or take a picture of the signed document and email it from your phone, or you can have your school email WCC directly to approve your participation.

Proof of Age or Grade
Signature of Principal/Counselor
Signature of Parent/Guardian



Select your Classes & Register
Check the class schedule to see what classes WCC is offering, and review your degree requirements to see which classes are required. Pay special attention to prerequisites and corequisites, which are classes or skill levels that are required before you can register for a course. Register for classes by clicking on Student Services in MyWCC and selecting Registration-Add/Drop Classes to register for the classes you want.

Note: The "Schedule Planner Registration Cart" is not where you register; it's just a tool that can help you plan your schedule.



Pay for School & buy your Books
In many cases, your school district will pay your WCC tuition. However, payment policies vary among school districts, so ask your high school counselor for more information. Students are always able to pay out-of-pocket for classes, and the information in the dual enrollment packet explains what you need to submit to WCC if your school is paying your tuition. Payment or payment authorization needs to be submitted for each semester you are enrolled. Students can also connect with the WCC Cashier's Office at [email protected] or 734-973-7703 to set up tuition payment or payment plans. Bookstore Each class lists the required books and supplies, including their cost. Check out Open Educational Resources by subject disciplines (OERS), too!



Frequently Asked Questions