Bee Campus Initiative
June, 2022
Washtenaw Community College has been recognized as a Bee Campus USA affiliate for the third consecutive year for enhancing pollinator habitats and educating the community. Read the article
Bee Campus USA
December, 2019
Washtenaw Community College is buzzing with excitement about its latest honor. The college was granted the Bee Campus USA designation by the Xerces Society earlier this month for its work improving landscapes for pollinators, such as bees. Read the article.
Bike Friendly Campus
October, 2019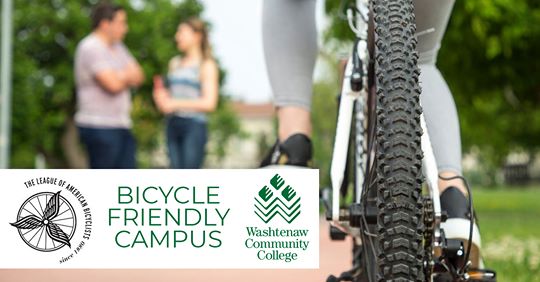 WCC is the only two-year college on the list of 48 institutions honored this year by the League of American Bicyclists. Read the article in bikeleague.org.
WCC Earth Day 2018 Celebration
Thursday, April 12 – 10 a.m. to 2 p.m.
Student Center Building, 1st Floor
Live Raptor Presentation (11 am to 12 pm)
The Activities Are Free and Open to the Public
In celebration of Earth Day, information about a diverse array of solutions to today's environmental challenges will be presented by local non-profit, business, and government organizations and WCC departments:
Greening Your Ride – Learn how to cut your expenses and your commuting carbon with, bicycles, hybrid bicycles, electric cars, hybrid cars, busing and walking.
Sustainable Communities – Build a resilient community, make friends and influence congressmen, grow a community garden, solarize your home, support your local economy with farmers markets.
Healthy Food & Lifestyle Choices – Learn many ways to keep yourself, your family and your community healthy by growing your own food, choosing a healthy diet, exercising, and quitting your fossil fuel addiction.
Our Amazing Earth –Prevent nature deficit disorder, enjoy the outdoors, understand the science behind the intricate balance of nature, protect the Great Lakes, help green our campus, find a green career.
Recycling & Waste Reduction – Put worms to work for you, discover a trove of inexpensive books, kitchenware, sporting goods, tools and building materials, learn how WCC came to have one of the best recycling programs in the U.S.
Invited Organizations: • Ann Arbor Area Clean Cities Coalition • Ann Arbor Transportation Authority (The Ride) • Butman Ford • City of Ann Arbor, Natural Area Preservation • Great Lakes Fishery Commission • Growing Hope • H.E.H. Human Electric Hybrids • Interfaith Council for Peace and Justice • Mahindra Genze Electric Scooters and Bikes • Leslie Science and Nature Center • National Wildlife Federation • Recycle Ann Arbor • Sierra Club, Huron Valley Group • Southeast Michigan Land Conservancy • Trader Joe's • VegMichigan • Washtenaw Bicycling Walking Coalition/Friends of B2B • WCC Barnes & Noble Bookstore • WCC Biology Department • WCC Recycling Operations • WCC Sustainability Council • Wheels in Motion • Ypsilanti Food Co-op and more!
Special thanks to WCC Graphic Design students for the wonderful posters you'll see around campus during April!
For more information about WCC's involvement with preserving the earth's resources, contact WCC faculty member Dale Petty at [email protected].
---
Efforts are underway to become more sustainable at WCC, in the local community and around the world. Refer to the links below and then check out what's going on at WCC and nearby. For more information, refer to the Resources page.
Sustainability Events at WCC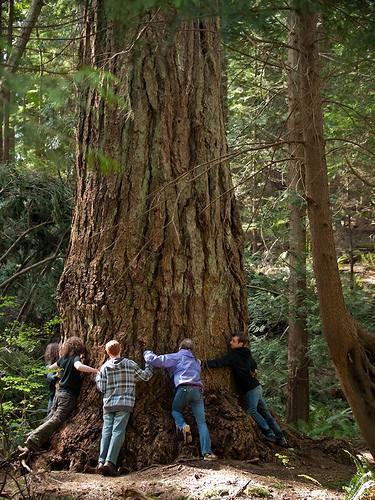 WCC Earth Day 2018 Celebration
Celebrate our magnificent home and learn about a diverse array of solutions to today's environmental challenges from local non-profit, business, and government organizations and WCC departments.
WCC Year of the Farm – 2017/2018
Tues, Mar 6, 2018, 6-8 pm, GL202
– Tomorrow (free film)
Wed, March 21, 2018, 1-3 pm
– Calder Dairy Farm Tour – reservation required
Thur, March 22, 2018, 3:45-5:15 PM, LA 305
– Book Club: One Straw Revolution
Wed, March 28, 2018, 3:45-5:15 PM, under GM arch
– Service Activity: Campus Cleanup Caper
Details at: SFS_SLTF Activities W2018
For more information contact:
WCC Sustainability Literacy Task Force (SLTF) Emily Thompson,
Or Students for Sustainability Alex Pufahl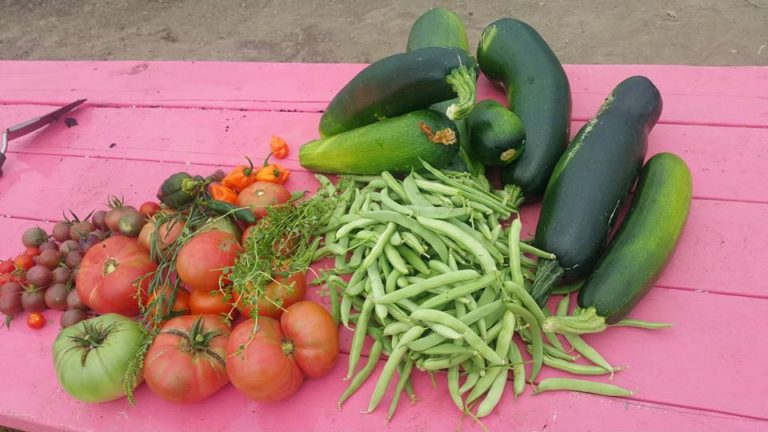 ---
Sustainability News
The Washtenaw Voice
Summer 2018, if all goes well, construction
will be completed for a 0.6 mile non-motorized pathway finally providing pedestrian and bicycle access to the campus from the south and east. The ten-foot wide pedestrian sidewalk will go from Clark Road and Huron River Drive to the College's main entrance.
Becoming a part of Tree Campus USA in 2016, college and community participants planted a tree on the south side of the Technical Industrial building during Free College Day.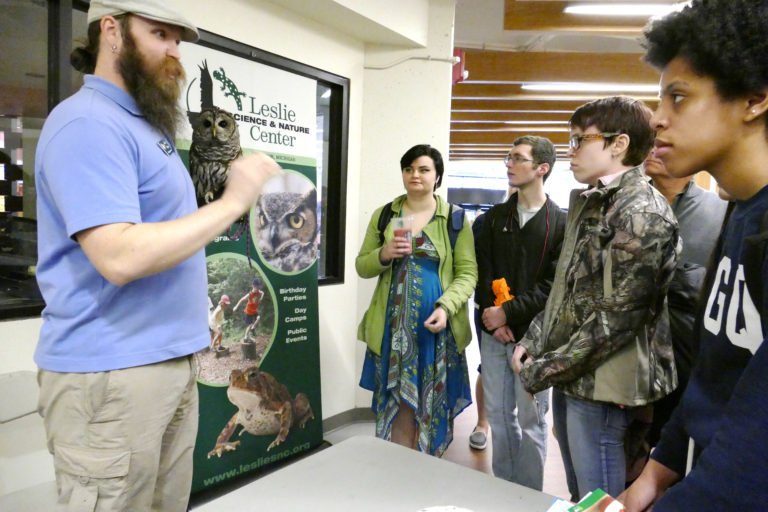 April is designated as Earth month, with a multitude of events that showcase ways to be more eco-aware and conscious about daily activities. An Earth Day event has been put on at WCC for the past 20 years, and this year the head of planning from the Sustainability Council, Dale Petty, along with Student Activities showed the school's commitment to being more sustainable.
"Our food choices are important not only for your own health, but for the people in the environment around you," says Sandy McCarthy, of the Sustainability Council of Washtenaw Community College Food and Agriculture division. The SCWCC have announced that on March 15 students, faculty, staff and the community will be able to borrow not only books from the Richard Bailey Library, but also seeds.
For information, or to volunteer to help with the Seed Library contact Sandy McCarthy.
The Flint water crisis has drawn attention to the water quality in Michigan and elsewhere. In Washtenaw County, there is growing concern about the spread of 1,4 dioxane, a known carcinogen, which has contaminated aquifers under parts of the city of Ann Arbor, and Scio and Ann Arbor Charter townships.
Discharged by a manufacturer years ago, the chemical has been traveling underground toward the Huron River, despite a variety of remediation efforts.
The disaster that happened in Flint should be a wakeup call to citizens all over the United States and especially us here in the state of Michigan. The U.S. has a growing problem with freshwater being too polluted to drink. The Michigan League of Conservation Voters report card on "How Green is Your Governor?" gave Rick Snyder a "C" for the year 2014.
For Michigan, from its Great Lakes' shorelines to the inland lakes that speckle the lower peninsula, freshwater is one of its most valuable resources. Some believe that the process of hydraulic oil fracking is detrimental to the environment, and to the freshwater more specifically; the state has recently been facing a battle about whether or not this is true.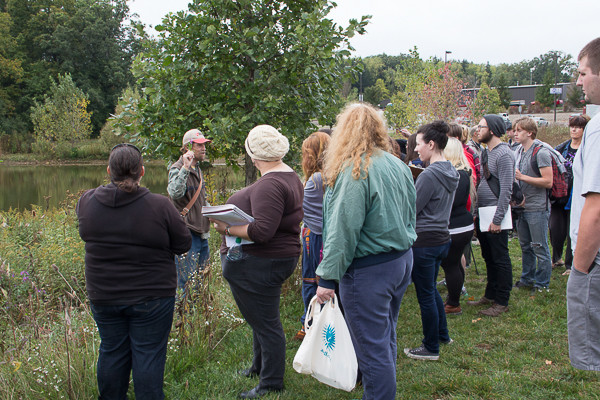 Hosting a variety of native and nonnative plant s, the nature trail at Washtenaw Community College is like a biology classroom that winds around the campus for 1.3 miles. The trail itself is not natural, but rather has been brought up around two retention ponds that were dug in order to facilitate the parking lot. However, after several years, the trail was eventually constructed into what is seen today.
When students walk the halls, study for an exam, or quickly print an essay five minutes before class starts, it may not come to mind what goes into making sure a campus operates at full capacity. At Washtenaw Community College, there is a lot going on to keep these buildings maintained and under control, but also green friendly.
Only Washtenaw's Core Garden could precipitate a conversation about the safety of transporting a beehive on the back of a motorcycle in the same breath as the rain resistance of coyote urine. It's just that kind of project — the kind that makes people think outside the box.
---
Sustainability Events Near WCC
Talks, walks, movies, meetings, service projects, and more!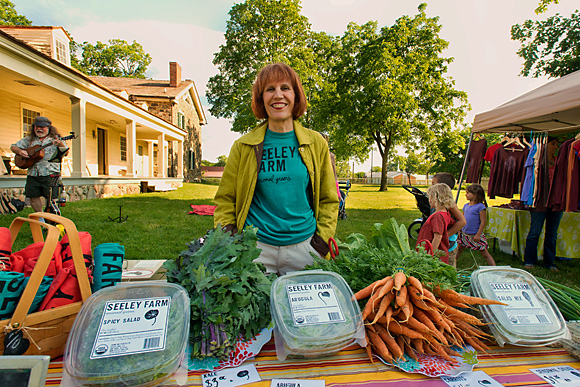 Leslie Science and Nature Center
Sierra Club, Huron Valley Group