March 4, 2021 WCC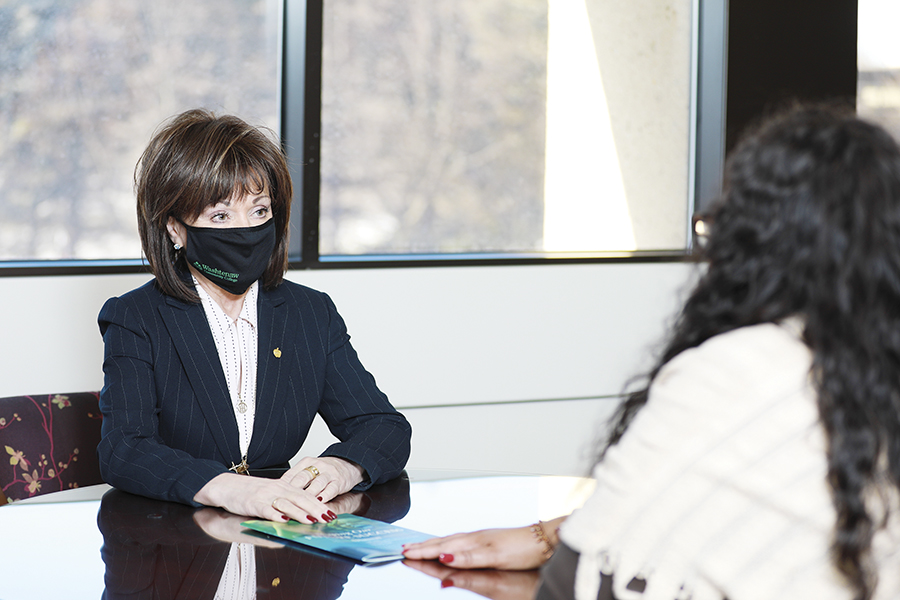 On The Record sat down with WCC President Dr. Rose B. Bellanca to discuss how WCC is supporting current students and the community to help secure a brighter future.
As we get closer to a return to normal, do you envision any lasting impact on higher education?
I don't believe things will ever be exactly the same as they were pre-pandemic, but in a good way. At WCC, we were focused over the past year on innovation that improved distance learning to help students who were not previously comfortable with online and virtual classes adapt to those modalities.
We've had accredited online instruction since 2013 at WCC and we were very good at it before the pandemic. We've been rated the top online community college in Michigan and among the top 10 in the country. Now, we're even better.
We were always focused on how to make the experience better, but the pandemic forced us to go deeper, which improved how we operate and how we impact students now and in the future.
The economy has taken a hit. How can WCC help?
Community colleges have always played a significant role in economic recovery, and that will be true as we emerge from the pandemic. WCC is ready to not only train the residents of this community who need jobs, but help employers in this community find skilled workers. We're here. We're ready.
There's really no better time to invest in yourself than right now. There are better days ahead and doing something for yourself today — learning a new skill or earning a degree or certificate — will leave you in a better place tomorrow, when the economy starts to pick back up.
I understand there are financial obstacles in place, but WCC has one of the lowest tuition rates in the country and offers a wide variety of scholarships and other financial aid. Many people may be surprised that they can, in fact, afford to take college classes right now.
Affordabilty has always been a selling point of community colleges. That must be more important than ever now?
It is, but so is all the extra financial support we offer to keep students on a path to success. Our WCC Foundation gave a record amount from its Student Emergency Fund for basic necessities to keep students in school. We have multiple ways to ensure students who need a laptop or hotspot can get one. And there are cost-saving steps that have been in place since before the pandemic, like our Open Educational Resources (OER) program that has saved students millions of dollars by using free textbooks.
Scholarship programs recently unveiled by the State of Michigan — Futures for Frontliners and Michigan Reconnect — will also play a major role in helping students afford college.
Beyond financial assistance, WCC is very focused on student academic success too, right?
Of course! More than you have the space to list in this article, I'm sure! It starts when every student is assigned a Success Coach upon enrollment and continues throughout your time at WCC with our advisors, counselors, library staff, tutors and other learning assistance.
If somebody finds themselves unemployed or underemployed right now, what is your advice?
A. Invest in yourself. Learn a new skill. Earn a certificate or degree. Make the positive change you need to make to improve your future. And it isn't a long-term commitment to get started.
We offer many certificate programs in high-demand fields that can be completed in one year. We have a new batch of accelerated programs that condense courses into a few short weeks and certificates can be earned in a single semester! Talk to the experts in our Student Welcome Center to get on the right path for you.
Fast-track programs like these can help get your foot in the door in an industry that interests you, or be the upskill you need to progress in your current field. Use them to get started and you can always continue on and complete a longer degree program, transfer program or more stackable certificates while you're working.
What is your "elevator pitch" for attending WCC?
That's an easy one. Four words: Quality, affordability, convenience and flexibility.
Can I add some more words? (Laughs.) I have a master's degree and a doctorate, so I obviously greatly value a university degree. But I also started at community college and think, 'If you can have a quality experience, good instructors and the credits transfer — why wouldn't you take classes at WCC?' You can save a lot of money by spending two years at WCC on your way to a four-year degree.
WCC plays a big role in the economic stability of our region — including non-credit professional and workforce development programs. Can you talk about that side of the college?
Just as we have in the academic side, our non-credit teams have been learning to deliver online and remote instruction of occupational programs that traditionally rely on in-person, hands-on training.
As things get better, our local industries and employers are going to be adapting just like we all have. Their business will look different. They'll need to find employees with specific skills, or teach their current employees new skills, to operate in their new normal.
Tags: Dr. Rose B. Bellanca, February 2021, On The Record, Online Learning, Student Success, Workforce Development, community involvement, ousearch_News_2021