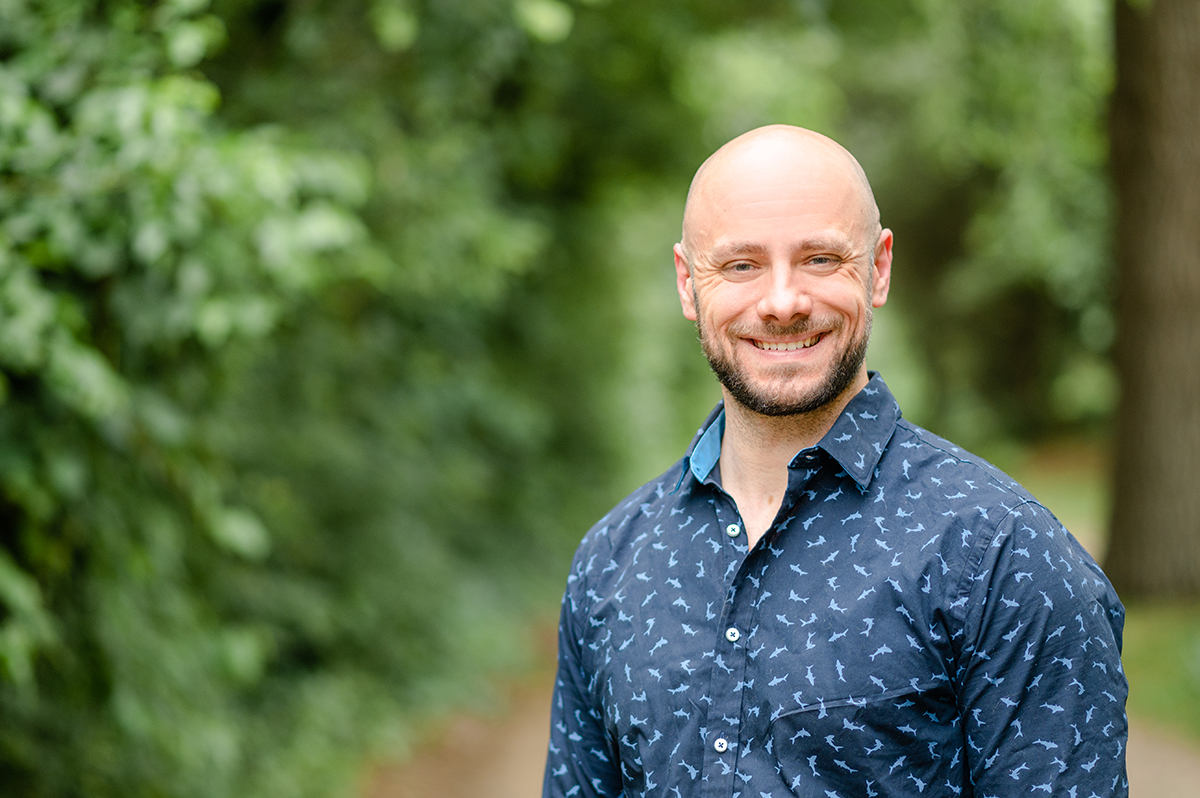 Following a stint in the Marine Corps, where he served as an Electro-Optical Ordinance Tech, Max Mercer has built himself a nice career as a commissioning engineer for Horiba Automotive Test Systems in Ann Arbor.
The 34-year-old Brighton resident and father of two is successful and happy, but has always contemplated pursuing a college degree. He found the right time and place when he discovered the Accelerated Associate in Business Degree program that Washtenaw Community College is introducing in the Fall 2021 semester, which begins August 30.
"I was able to join Horiba straight out of the military because of my electronics background and I love my job, but further mobility is limited by my lack of a formal education," Mercer said. "I'm looking to transfer into the project management aspect of the industry and I think my opportunities will be more fruitful with a college degree."
The Accelerated Associate in Business Degree program merges work experience with classroom theory, so it is specifically designed for students who have spent some time in the workforce. With its accelerated courses, students complete 60 credits in just 17 months … and can do it entirely online.
The program strategically compresses the 19 required classes into eight different six-week sessions. While that helps shave seven months off the typical path to an associate degree, it does result in a slightly more demanding workload.
That doesn't faze Mercer. In fact, he welcomes the challenge. Remember, this is a Marine who has been through Military Occupational Specialty (MOS) training.
"In MOS, we condensed two years of electronics courses into an eight-month window. It was very fast-paced and intense, and I thrived in that environment," he said. "So I'm looking forward to an education that will allow me to prioritize finishing in a shorter timeframe, but still give me the complete education I need."
Students not as confident about the condensed timeline as Mercer should note that — along with WCC's extensive study and academic support system — the program has its own dedicated Success Coach. There's also a built-in support system of fellow students who will move through the entire program together.
"Not only will students complete their degree in a shorter period, they will also move through the program cohort-style, allowing them to build relationships with instructors and peers that will last a lifetime," said WCC Dean of Business & Computer Technologies Eva Samulski.
Students can use the Accelerated Associate in Business Degree program as a quicker way to advance in their career or — like Mercer — use it as a way to transfer faster to a four-year institution. He hopes to continue his studies at Eastern Michigan University, Wayne State University or the University of Michigan-Flint.
Transfer support and information on accelerated bachelor programs at partner institutions is provided to the students in the WCC program.
"We have great partnerships with institutions that have accelerated and online bachelor degrees in business looking forward to working with students from this program," said WCC Executive Vice President of Instruction and Academic Affairs Dr. Kimberly Hurns.
Because the program is intended for students with some work experience under their belts, it's a natural fit with the State of Michigan's new Michigan Reconnect scholarship program. It pays in-district community college tuition, technology fees and contact hours for Michigan residents over the age of 25 who have not completed a college degree.
Learn more at an info session:
WCC is hosting Accelerated Associate in Business Degree informational sessions at 5 p.m. every Thursday from July 15 to August 26. You can register online for an information session and a Zoom link will be emailed.
Questions? Contact Ashley O. Starks at 734-973-3657 or [email protected].
More acceleration:
The new Accelerated Associate in Business Degree is one of multiple accelerated programs and courses available at WCC. Others include:
HR Essentials certificate
Principles of Cybersecurity certificate
Business Enterprise Basics certificate
Management certificate
Entrepreneurship & Innovation certificate
Sports and Entertainment Management certificate
Computer Network Academy certificate
C++ Programming certificate.
Learn more at wccnet.edu/accelerated.
Tags: Accelerated Business, Accelerated Programs, August 2021, Business and Computer Technologies, On The Record, ousearch_News_2021