July 21, 2021 Rich Rezler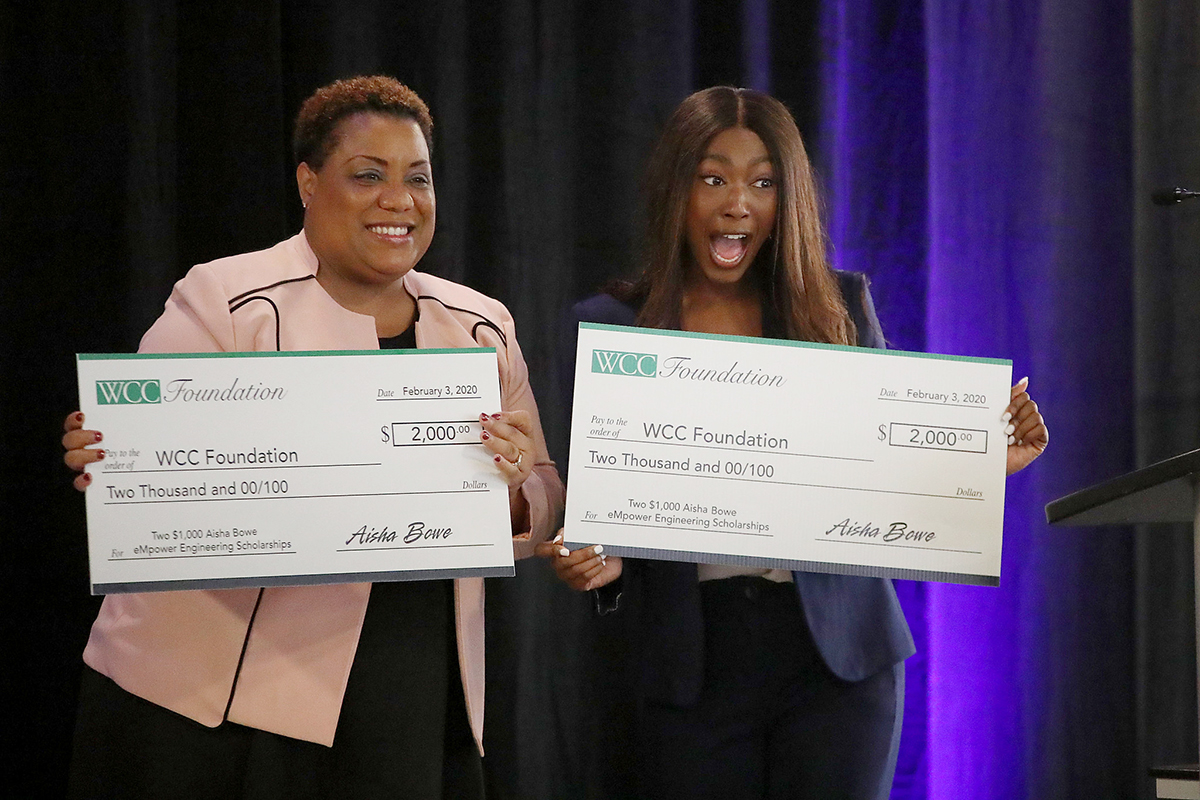 Moments before joining a videoconference from her Washington D.C.-area home to accept the 2021 Outstanding Alumnus Award from the Michigan Community College Association, Aisha Bowe shared a moment of reflection with her mother, Naema.
"We talked about when I first started at WCC and how I didn't know who I was or where I was going or how I was going to get there," said the 2006 WCC graduate. "Now people are thanking me for evangelizing about community college, but I feel like I should still be thanking them."
The MCCA — which represents the 28 public community colleges across the state — honored Bowe at its 2021 Virtual Summer Conference for her professional accomplishments, service to humanity and strong commitment to the purpose and philosophy of the community college mission.
"I am honored, but more importantly I'm grateful to have the opportunity to support a school and a system that has helped launch the trajectory of my life," said Bowe.
And "trajectory" is a perfectly pertinent word for a rocket scientist.
A self-described "unmotivated and unfocused" student in high school, Bowe found her passion and purpose while attending WCC from 2003 to 2006. She transferred to the University of Michigan, where she earned a bachelor's degree in Aerospace Engineering and a master's degree in Space Systems Engineering.
She turned a three-month internship opportunity with NASA into a seven-year career as a Mission Engineer and Aerospace Engineer at the NASA Ames Research Center in Mountain View, California, where she focused on miniaturized satellites and aircraft trajectory optimization.
Being based in Silicon Valley, Bowe was surrounded by aspiring tech entrepreneurs, and she caught the bug herself. In 2013, she founded STEMBoard, an engineering solutions company that solves technology challenges for clients in the aerospace and defense industries.
Bowe also has a passion to help close the opportunity gap in STEM fields among historically underrepresented youth worldwide and has travelled the world to inspire students from disadvantaged communities – especially girls. That led to the creation of LINGO, a hands-on, self-paced coding kit designed by STEMBoard engineers that allows students to build at home.
"Our alumni go on to achieve great things and Aisha is no exception," said WCC President Dr. Rose B. Bellanca. "She continues to be an advocate for community college education and never fails to mention her start at WCC. There is no one more deserving of the Outstanding Alumnus Award."
Bowe is quick to credit her community college experience for sparking her success and has become a strong community college advocate, regularly spreading its merits everywhere -- from nationally syndicated talks shows to her large social media platform. She told Forbes Magazine that earning an 'A' in a pre-Algebra class at WCC is what put her on a path to becoming an aerospace engineer and tech entrepreneur. She says that 'A' sparked a series of small wins in her life that snowballed and motivated her to shoot for bigger and bigger goals.
Although she's based in the Washington, D.C. area, Bowe has visited the WCC campus several times to participate in STEM-related activities and speak to various classes and groups. Every visit has culminated with her exchanging personal contact information with students that she continues to mentor.
On one visit, she announced the endowment of the Aisha R. Bowe eMpower Engineering Scholarship for WCC students intending to transfer to the University of Michigan College of Engineering.
Bowe has been recognized by multiple organizations for her achievements over the course of her career, including awards such as "Woman of the Year in Technology," "21st Century Trailblazer in Aerodynamics and Aviation" and the "NASA Ames Engineering Honor Award."
Now she adds to that list the MCCA Outstanding Alumnus Award, first presented in 1985. The last WCC graduate to win the MCCA Outstanding Alumnus Award was Diana McKnight-Morton, a current member of the WCC Board of Trustees.
"Aisha Bowe is an extraordinary example of a community college success story," said Michael Hansen, president of the MCCA. "We are excited to recognize her and all she has accomplished following her time at Washtenaw Community College."
Tags: Aisha Bowe, Alumni Profile, August 2021, On The Record, Outstanding Alumnus Award, STEM