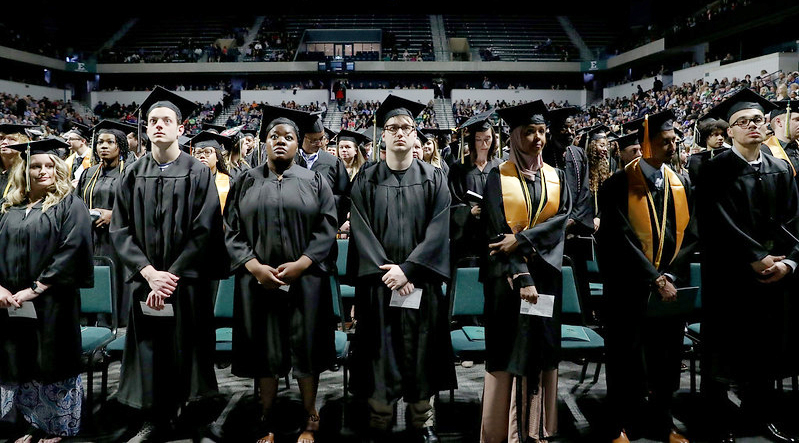 Washtenaw Community College will award nearly 2,000 degrees and certificates on Saturday, May 21, during its first in-person commencement ceremony since the pandemic began in 2019.
WCC graduates from Fall 2021 and Winter 2022, and graduate candidates from Summer 2022 have earned 1,413 associate degrees and 479 certificates.
The ceremony will begin at 9:20 a.m. at Eastern Michigan University's George Gervin GameAbove Center in Ypsilanti. Family and friends of graduates unable to attend the ceremony in person can watch a live stream on WCC's YouTube channel and view an online version of the event program online.
"We are proud of our graduates and congratulate them on their perseverance and remarkable achievements during times of uncertainty. Their agility and resiliency matched with their exceptional WCC education will pave pathways to success," said WCC President Dr. Rose B. Bellanca. "We are pleased to be able to return to an in-person commencement to honor their hard work."
Following the COVID-19 outbreak in the United States in March 2020, WCC hosted a virtual graduation salute in 2020 and a drive-through parade on campus in 2021.
Caelan Saunders, a high honors graduate of WCC's Associate of Arts in Secondary Education program, will deliver the student message on Saturday. Saunders served as an officer in the WCC chapter of the Phi Theta Kappa Honor Society and worked at the college's Writing Center. He plans to transfer to Eastern Michigan University to pursue his goal of becoming a high school social studies teacher.
Paul Krutko, President and CEO of Ann Arbor SPARK, will be awarded an Honorary Associate Degree in Community Service. SPARK is responsible for economic development for the greater Ann Arbor region and implements a strategic framework designed to maintain and enhance the region's global competitiveness. Krutko has led SPARK since 2011 and is being recognized for his extraordinary support of WCC, its students and the community.
WCC will also host an Honors Convocation at the EMU Gervin GameAbove Center at 4:30 p.m. on Thursday, May 19. That ceremony recognizes the academic success of:
Full-time WCC students who achieved high honors (3.8+ GPA) or honors (3.5-3.79 GPA) during the Summer 2021, Fall 2021 and/or Winter 2022 semesters.

Part-time students who achieved high honors (3.8+ GPA) while completing at least 15 credits over three semesters.

Graduate candidates who achieved high honors (3.8+ GPA) or honors (3.5-3.79 GPA) throughout completion of their program.
Tags: Class of 2022, Commencement, Graduation