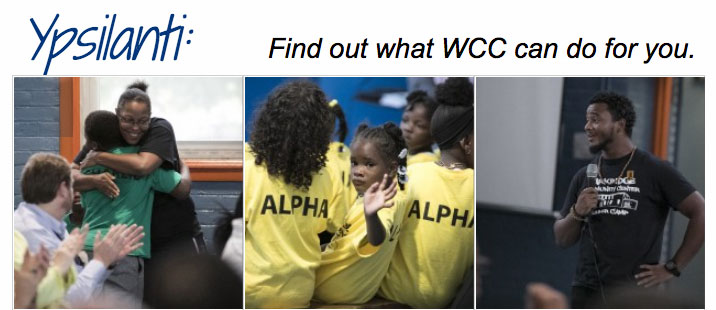 Call Today: 1-833-WCC-YPSI (1-833-922-9774)
High School | College | GED | English as a Second Language
Dual enrollment at WCC allows Ypsilanti Community Schools (YCS) High School students to earn college credit while enrolled in high school.
Through dual enrollment, career and technical education, and early/middle college programs, students can earn up to 60 college credits with tuition paid by the school district.
WCC offers these popular programs to Ypsilanti students:
Certificated Nursing Assistant (CNA) Program: Prepare for a job at a hospital or nursing home or prepare for nursing school or other health-related fields. Students who complete this program earn six college credits.
Introduction to Manufacturing Processes: Manufacturing offers high-paying, in-demand careers. In this program, students learn blueprint reading, 3D modeling, and how to control manufacturing systems. Students who complete this program earn 16 college credits.
Child Development Certificate: This program prepares students for employment in childcare centers or daycares working with infants, toddlers, and preschoolers. Students who complete this program earn 12 college credits.
For more information about these programs contact us at 734-973-3543, email [email protected] or visit us online.
Washtenaw Community College now has an office at Ypsilanti Community High School. It is staffed Tuesday and Thursday from 7:45 to 10:15 a.m. during the school year. WCC staff will be on-hand to assist students with college applications, financial aid questions, and career exploration. Come in to find out what Washtenaw Community College can do for you!
College
With more than 137 certificate and degree programs, you're sure to find one that's right for you.
At $95 per credit hour, tuition costs at WCC are a fraction of what students pay at most four-year public colleges in Michigan. WCC also offers financial aid and scholarships to those who qualify.
Washtenaw Community College offers day, evening and weekend classes, as well as online classes including 23 degree and certificate programs that are available completely online. The college also offers child care scholarships for busy parents as well as credit for prior learning, such as on-the-job training, apprenticeships or military training.
With a veteran center onsite, the Michigan Veteran Affairs Agency recognizes WCC as a Gold-Level veteran friendly school.
Visit Student Welcome Center on the second floor of the Student Center building, 4800 E. Huron River Dr., call us at 734-973-3543, or send an email to [email protected] Regular hours for the office are Monday through Thursday from 8:00am to 7:00pm, Friday from 8:00am to 5:00pm, and Saturday from 9:00am to 1:00pm.
GED
Helping you find a path to career success!
Build a foundation for your success with the Adult Transitions Pathways program at Washtenaw Community College.
GED classes help you develop the skills you will need for college and a career.
By earning your GED, you increase your options for the future. Whether that is a job, earning a career-related certificate, or getting a degree, our staff can help you with:
College and career planning
Counseling services
Academic skills services
College transition support
Click here to find out more about WCC's Adult Transitions GED classes.
English as a Second Language (ESL)
Learn English for free.
Build your English vocabulary.
Enhance your understanding of American culture.
Gain knowledge about careers and college.
Improve your pronunciation.
Learn to use correct grammar.
Practice listening, speaking, reading and writing in English.
ESL classes are held at:
Ypsilanti Township Community Center
2025 E. Clark Road
Ypsilanti, MI 48197
Click here to find out more about WCC's English as a Second Language (ESL) classes.
Need help finding services WCC offers? Fill out the contact form below, and we will be in touch.