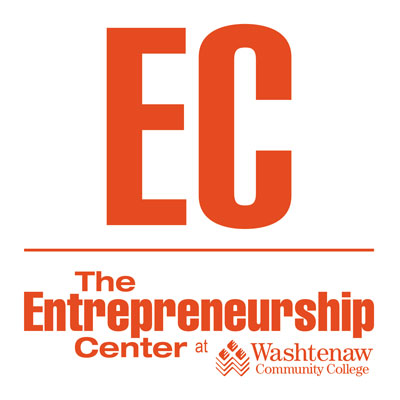 The EC Team is Here!
Are you seeking information about the center, what we offer, or business resources?
The team is available via phone at 734-249-5880, or email at [email protected] 9am – 5pm Monday-Friday except for holidays and closures.
Are you a business owner or future entrepreneur that we have not yet met?
To schedule a one-on-one appointment via phone, video, or in-person, please submit a Business Assistance Request form, and we will be in touch with available dates and times!
To learn more about the Entrepreneurship Center, please watch this short video.
5 Ways to Use the EC as a WCC Faculty Member
1. Introduce the EC to your class
We can virtually deliver a presentation on our services and customized resources depending on your class topic and your students' questions.
To set up a time for the EC to introduce your class to our services, fill out one of the following forms and our EC staff will be in touch.
BCT Faculty - Class Tour Request
All other Faculty - Class Tour Request
"When I first visited WCC, I was struck by how unique it is for a community college to have an entrepreneurship center. Now, having had a chance to bring my students to the EC for field trips, I'm wonderstruck by the staff's dedication and efficiency. The EC's staff excels at meeting one-on-one with entrepreneurially-minded students, taking their ideas seriously, and nourishing them with life-giving resources. I'm continually impressed with the sheer volume of informative events this powerhouse of a center pumps out every year."
–Doug Waters, WCC Professional Faculty, Business Entrepreneurship Center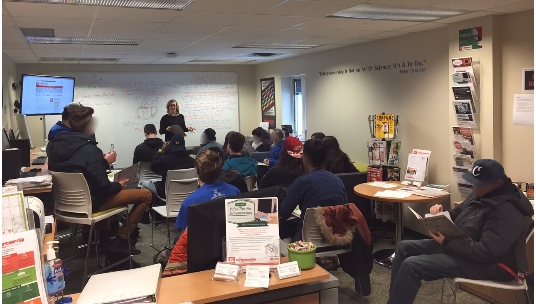 2. Collaborate to plan a workshop or webinar in your field or industry

Are you an expert in your field willing to share your knowledge with up-and-coming students? Do you see a need for additional educational opportunities on breaking into a certain industry? Work with us to bring a workshop on a relevant topic to life! Some examples of past workshops we have planned with WCC faculty include
How to Price and Exhibit your Art
Health Sciences Career Pathways: From Traditional to Entrepreneurial
Intellectual Property Essentials Panel & Discussion
Entrepreneurs on Campus Panel Discussion: Stories from Social Media Business Owners
Strengthen Your Core Skills: Life's a Pitch and then you Buy!
If you would like to collaborate with us to plan a workshop, fill out one of the following forms and our EC staff will be in touch.
BCT Faculty - Event Planning Contact
All other Faculty - Event Planning Contract
"No matter what kind of jobs my students get after college, as graphic designers they will always be freelancers in some capacity. The EC has become our go-to resource for help with pricing, business resources, and connecting with the community to get started in the industry. We are tremendously lucky to have such a rich and supportive initiative right here on campus."
–Ingrid Ankerson, Graphic Design Faculty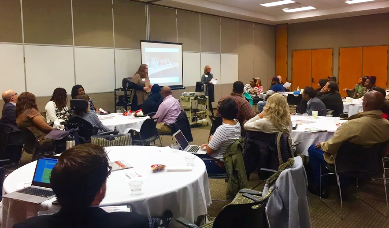 3. Build an all-day Business Boot Camp
The EC's Business Boot Camps are designed with WCC faculty to support departments on campus that produce entrepreneurs, freelancers and small business owners. The all-day Boot Camps present multiple speakers from the field who have made their way into independent business ownership, speaking on themes of time management, pricing, legal considerations, marketing, networking for professional development, getting jobs and sales, and all that running a business in that industry entails. Click logos to learn more about our past Boot Camps:
"Contrary to popular belief, you can go anywhere with an English degree — employers across a diversity of industries are excited to hire people with strong written communications skills, the comprehensive understanding of culture we get from literary study, and keen interpretive skills. Even though we're a desirable group, we often have to sell ourselves to employers & help them understand how our strengths & talents will enhance their bottom line. The entrepreneurship mindset helps professionals with writing & literary backgrounds market themselves and identify & create opportunity. Of course, most writers today are entrepreneurs, juggling freelance gigs & fellowships, so the benefits of thinking about being a small business are huge for them." – Hava Levitt-Phillips, English & Writing Faculty"
4. Bring Business Professionals to Your Classroom
Participate in Professionals in the Classroom Day
WCC's Professionals in the Classroom Day happens annually in April. Faculty can sign up to have a mentor visit their class and talk about their professional experience on this day.
Get assistance finding professionals to speak to your class
The EC can help bring in professionals in your field to talk in your class anytime! Contact us at [email protected] for more information.

"Teaching an entrepreneurship class, I think it's critical that my students know what a great resource is available to them on campus. I try to bring every class over to introduce them to the center, staff and resources. It's great that they can go in with questions and walk away with connections and resources to find the answers." – Cheri Dunn, Entrepreneurship Faculty
5. Create an Entrepreneurial Classroom
The Entrepreneurial Classroom Series includes classroom activities created by WCC faculty through a federally funded grant from the American people through the United States Agency for International Development (USAID) and the Higher Education for Development (HED) program.

Each activity was developed to help introduce students to an entrepreneurial mindset. The activities can be adapted for a variety of disciplines and are available to all faculty members.

Topics include budgeting, time-management, customer relations, industry trends, and more. You can also learn how to create your own activities and customize them specifically for your course.

Pick up a copy of the Entrepreneurial Classroom Series in the Entrepreneurship Center, or view an electronic version here:

https://libguides.wccnet.edu/entrepreneurship
---
Washtenaw Community College does not discriminate on the basis of religion, race, color, national origin, age, sex, height, weight, marital status, disability, veteran status, sexual orientation, gender identity, gender expression, or any other protected status in its programs and activities. The following office has been designated to handle inquiries regarding non-discrimination policies: Executive Vice President of Student & Academic Services, SC 247, 734-973-3536. Facility access inquiries: V.P. for Facilities Development & Operations, PO 112, 734-677-5322. If you have a disability and require accommodation to participate in this event, contact Learning Support Services at 734-973-3342 to request accommodations at least 72 hours in advance.