Have a positive student experience that you would like to share? We would love to hear it and share it with our WCC community. We are always looking for stories of what makes students WCC Proud.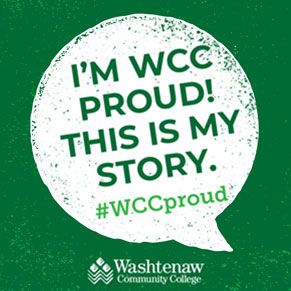 Lauren Johnson, WCC Student
Due to this unique time of uncertainty, we are forced to find alternative ways of doing things. Online classes are a great alternative to in-class learning. Not only do I save on gas money, but I'm not forced to pick class times that don't appeal to me. Having the classroom at my fingertips, I am given the opportunity to create a more flexible and personalized schedule that fits my lifestyle. I can sit at a coffee shop and finalize a paper before heading into work and listen to lectures in the comfort of my home. When I have a question or need some extra help, I'm reassured that my teachers are there to help, just a click away! Along with my teacher, I have a virtual classroom full of students I can reach out to through blackboard and get to know through discussion posts. Learning becomes more enjoyable as I get to determine the tone of my "classroom."

After taking online classes I feel more independent and confident in myself. I also gain more knowledge about my studying techniques and what kind of environments I work best in. I feel like I know myself better as a student and professional and am more equipped to be in this tech-savvy world we live in.
Christopher Rieck, WCC Student
As a student living out-of-state, having the online courses are great. Same great education, no five-hour commute each way! The convenience of the online program allows me to complete my Construction Supervision degree, no matter where my work takes me.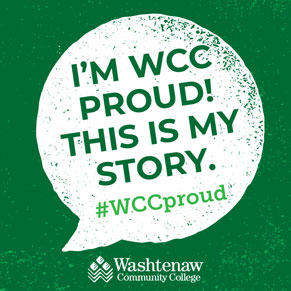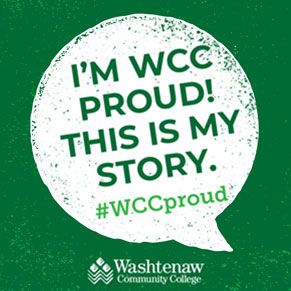 Jalen Craig, WCC Student
WCC's online learning has allowed me to have complete flexibility in my life. I can still set up personal times to meet with my instructors based on what works best for our schedules, and I can learn on the go as need be. I chose the online learning environment to create school/life balance and taking classes at WCC has made that possible.
Roger Thein, WCC Student
My experience with Washtenaw Community College started in 1990 when the United Association began its partnership with the college. I graduated from the UA/WCC Instructor Training Program in 1992. I still continue to attend ITP at Washtenaw to this day. The outstanding online classes allow me to work at my trade full time and add to my knowledge toolbelt. Thank you WCC.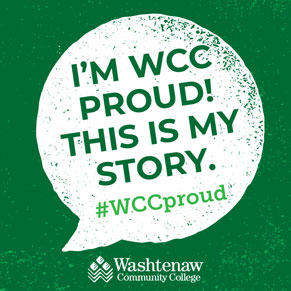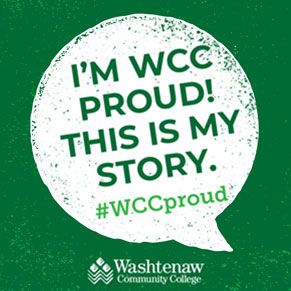 Kimberly Kozal, WCC Student
I am so grateful for your support and encouragement. I have wanted to graduate with at least an associate's degree for a long time. But I lacked confidence. Thank you so much for helping me articulate my goals and find purpose.
When deadlines come up for school, I am prepared. I feel comfortable navigating technology, schedules, and assignments because you encouraged me to be proactive. When I face obstacles, I am no longer paralyzed but look for the way through.
I can see now the opportunities available to me, even though I am a nontraditional student. Thank you for the bottom of my heart!
Andrew Berry, WCC Student
I've been taking online classes at Washtenaw Community College for a year now and I have loved every bit of it. Working full time, it's tough to find a schedule that fits with work while also having to commute, so having online classes available makes a world of difference. It also lets me take classes at my own pace. Sometimes I can commit time during the morning, sometimes the evenings, and sometimes late nights. It doesn't matter with online classes. I've also had really great experiences with my instructors. They're always prompt with their responses and make every effort to afford online students the same benefits of in-class students with office hours. Overall, I'm happy that I have access to quality education at a good price that I can work through on my own time.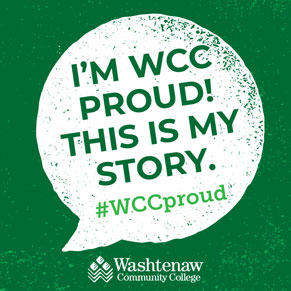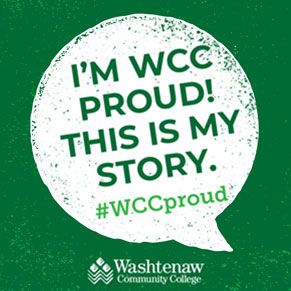 Elizabeth O'Hotzke, WCC Guest Student
Taking classes at WCC helps me get ahead as I work toward my 4-year degree at U of M Dearborn during the summer semester. I was previously a dual enrollment student and loved my online classes at WCC. The professors have been amazing and all of the classes that I've taken have transferred to my university.
Ellen Reed, WCC Guest Student
I'm currently working toward my degree at U of M Ann Arbor. The WCC courses have a wider range of class times during the day which makes it easier to fit into my schedule when I'm working. The WCC faculty are well trained at delivering material in online formats. I'm happy that I'm still learning while classes are remote.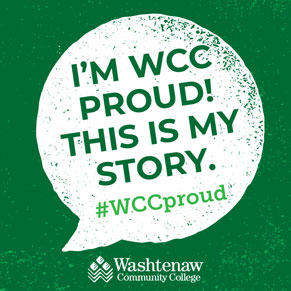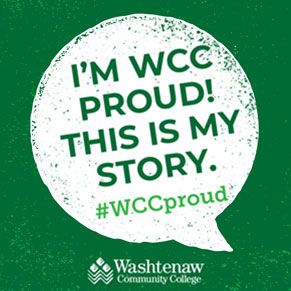 Hunter Sagerer, WCC Guest Student
I'm a student at the University of Michigan, and I live in New Jersey. When the quarantine began I thought that taking a class to lighten up my course load at college in the future would be a good idea. I'm taking a prerequisite course and enjoying my class. My professor clearly knows his stuff.
Catherine Kang, hometown: Hohhot, China, WCC ESL Student
WCC's ESL classes are very helpful. My new knowledge and skills have become a solid language foundation for my college-level classes. I'm doing well now with my college classes, and I make fewer mistakes in grammar and sentence structure. It helped me continue my learning progress without language obstacles.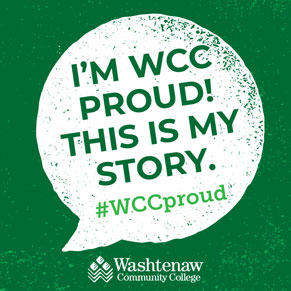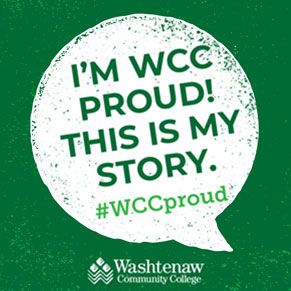 Marcia de Carvalho, hometown: Rio de Janerio, Brazil, WCC ESL Student
During the pandemic, each one of my instructors made me confident. Classes have gone smoothly and been interesting. I really know my instructors have done their best to help us.
Katarzyna Morawiec, hometown: Gliwice, Poland, WCC ESL Student
After taking my Advanced ESL Writing class, I can honestly say I feel an improvement in my writing skills, and, most importantly, I feel so much more confident!"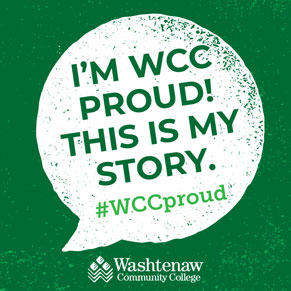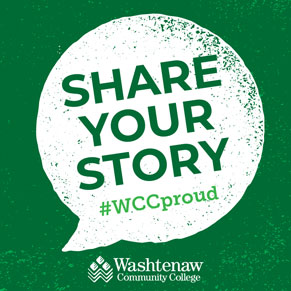 Have a positive student experience that you would like to share? We would love to hear it and share it with our WCC community. We are always looking for stories of what makes you WCC Proud.